Looking to remodel the nursery? Maybe you are looking to re-vamp, are adding another little one to the mix, or  you just need a change. Whatever the reason may be, take a look at some of my favorite easy and simple ways to decorate. It's easy to find things around your own home to give new life to in another room! Or what different colors can do to make the most of that small blank wall.  Sometimes the smallest details or little touches make the biggest impact in the nursery. Simple design elements can really make any room pop!
1. Ditch the changing table and instead opt for a dresser topped with a changing tray.  To use drawers more efficiently and keep small items separated, divide drawers with boxes or small baskets, also shelving is a useful tool for storage.
(Dig This Design On Pinterest)
2. While you may want to focus on one color over all – create splashes of color throughout the room to make it really pop. Displaying wall art in similar colors will make the room brighten with this color theme.
(Dig This Design On Pinterest)
3. It is okay to mix and match all of your favorite things into one space to create an eclectic and happy space. Even with black and and white as your theme colors, you can use fun with a striped floor! After all, babies love looking at black and white!
(Dig This Design On Pinterest)
4. Opting for bin storage, cube storage or even a bookshelf in a closet instead of hanging clothes takes better advantage of vertical storage space is an excellent idea for looking attractive and utilizing space.
(Dig This Design On Pinterest)
5. Yes, that would be a tree in this baby's nursery. Talk about whimsical! A circular crib with a hanging canopy makes for a beautiful night's sleep, and this nursery one of a kind.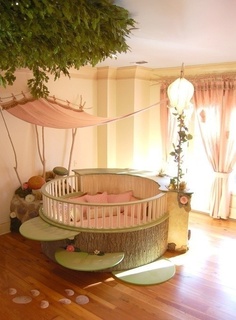 (Dig This Design On Pinterest)
6. For those who opt not to find out the gender of their little one before birth, green is always a smart choice in nursery design – and, emerald is a daring and bold color! This darling room is perfect for a boy OR a girl.
(Dig This Design On Pinterest)