Designing a baby nursery is an exciting experience for parents-to-be. It's the place where they will spend most of their time with their little one and create memories that will last a lifetime. However, it can also be an overwhelming task, especially if you're not sure where to start.
7 DIY Tips for Designing a Baby Nursery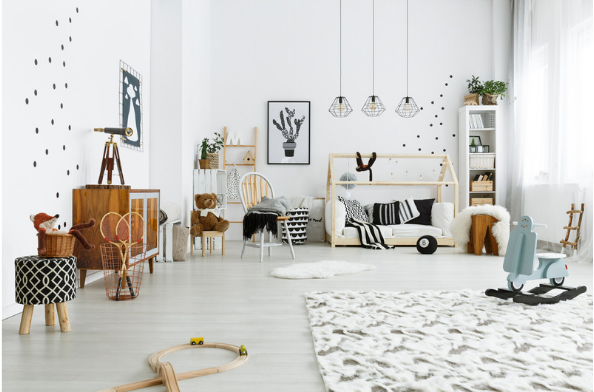 In this article, we'll provide you with some tips on how to design a baby nursery like a pro.
Start with a Theme
One of the first steps to designing a baby nursery is choosing a theme. This will help you create a cohesive look throughout the room. Some popular themes include animals, nature, and fairy tales. You can also choose a color scheme and incorporate it into the theme.
Focus on the Essentials
When designing a baby nursery, it's important to focus on the essentials first. This includes a crib, changing table, and dresser. These items will take up the most space in the room, so it's essential to plan their placement carefully.
Add Storage
Babies come with a lot of stuff, so it's important to incorporate storage solutions into your nursery design. This can include shelves, baskets, and organizers. Make sure to choose storage solutions that are both functional and stylish.
Choose Soft Lighting
Soft lighting is essential in a baby nursery. It creates a cozy and calming atmosphere that will help your baby sleep better. Consider adding a dimmer switch to the room's overhead light or adding a nightlight.
Incorporate Textures
Textures are an essential element in any room design, and the nursery is no exception. Incorporate different textures into the room through rugs, curtains, and bedding. This will add depth and interest to the space.
Add Personal Touches
Personal touches are what make a nursery feel like a home. Consider adding family photos, artwork, or other sentimental items to the room. This will create a warm and inviting atmosphere for both you and your baby.
Don't Forget About Safety
Last but not least, don't forget about safety when designing a baby nursery. Make sure to choose furniture and decor that meets safety standards. This includes choosing a crib that meets the current safety guidelines and securing any furniture to the wall.
Designing a baby nursery can be a fun and exciting experience. By following these tips, you'll be able to create a beautiful and functional space for your little one. Remember to focus on the essentials, incorporate storage solutions, choose soft lighting, add textures, and personalize the space. And don't forget about safety!
Other posts you might enjoy:
Baby Chic – How To Style Your New Child's Nursery
A Simple Guide On How to Decorate a Nursery
Share This Story, Choose Your Platform!