Entertaining this spring or summer? These two salads are fun, colorful and delicious. Change up your traditional "party menu" and offer these great spring salads instead!
Spring is here and that means it's time to shake things up a bit. There are a variety of ways to freshen up your salads and bring spring to your table. Fruit is one of my favorite things to add to my salads this time of year. Refreshing watermelon and juicy tomatoes give the taste, as well as the color, of Spring. Also, adding mint shouldn't be limited to drinks this time of year, add it to your salads too! Below are two of my favorite Spring salad recipes.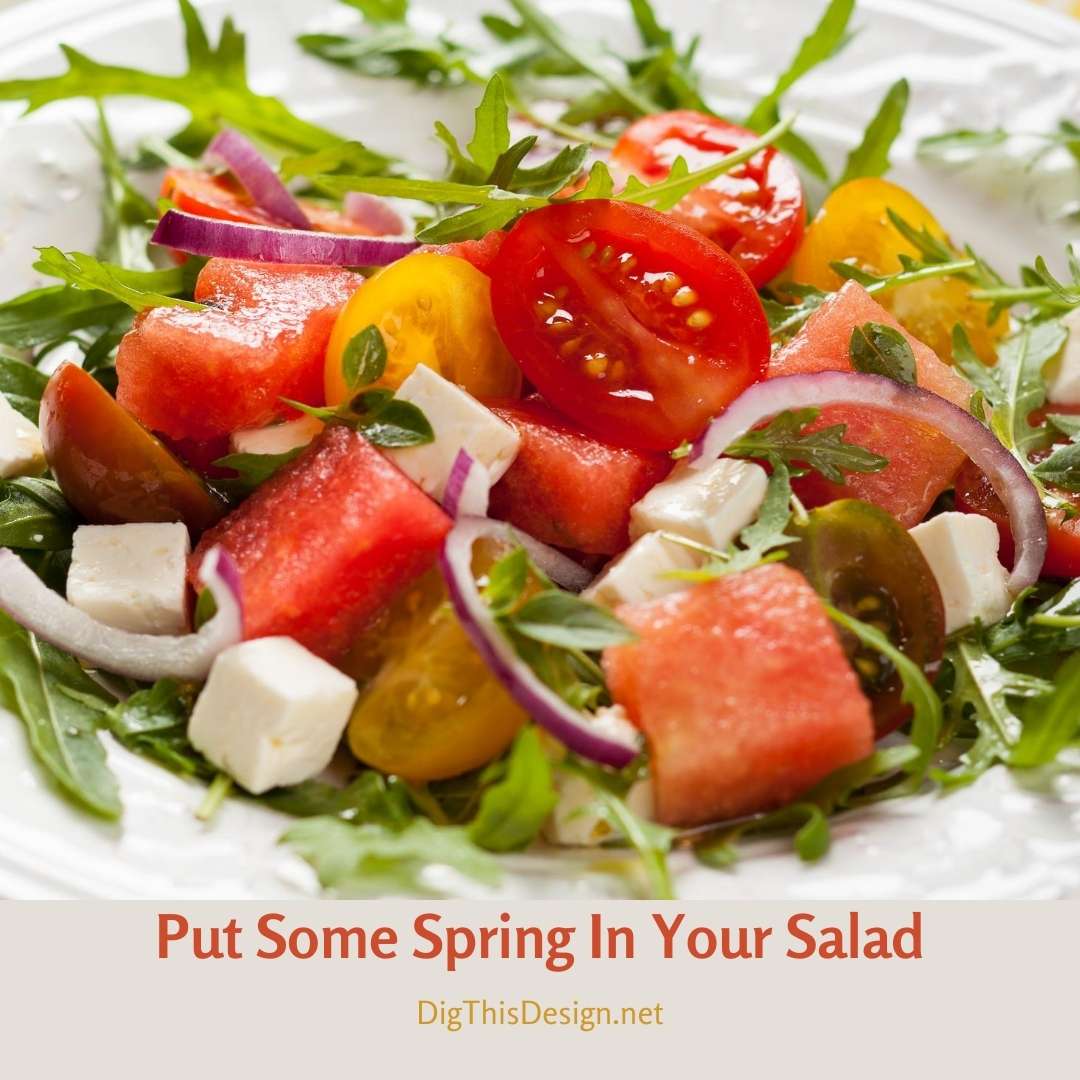 Watermelon and Tomato Salad
An ingredient mixture of cool crisp watermelon, juicy tomatoes, and fresh basil with balsamic vinegar creates an extraordinary and invigorating light salad.
Makes 10 (1/2-cup) servings
INGREDIENTS
4 cups scooped out watermelon balls or chunks
1/2 cup chopped red onion
1 pint cherry tomatoes, halved
2 tablespoons fresh chopped basil
1 tablespoon olive oil
2 tablespoons balsamic vinegar
Salt to taste
DIRECTIONS
In bowl, combine watermelon, onion, tomatoes and basil.
Whisk together oil and vinegar, toss with salad.
Season to taste. Refrigerate until serving.
Nutritional information per serving:
Calories 46, Calories from fat 29%, Fat 0g, Saturated Fat 0g, Cholesterol 0mg, Sodium 6mg, Carbohydrate 8g, Dietary Fiber 1g, Sugars 6g, Protein 1g Dietary Exchanges: 1/2 fruit, 1/2 fat
Cucumber, Mint and Feta Salad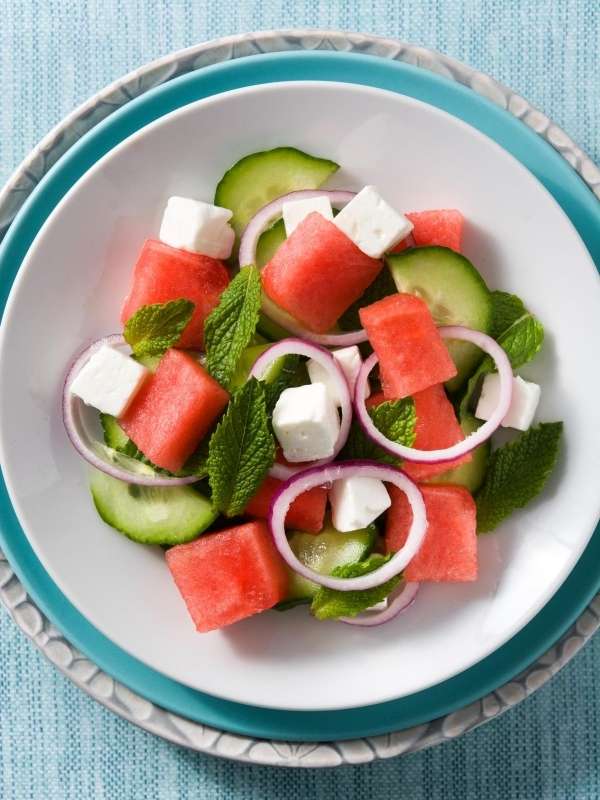 A simple combination of crisp crunchy cucumber, feta, fresh mint and toasty pine nuts in a light vinaigrette creates a refreshing flavor combination. Fresh mint is the essence of this time of year and the one herb I can grow so I know anyone can; this is one time fresh mint makes a difference. Pine nuts are pricey so if you don't want to use them, just leave them out.
Makes 4 (3/4 cup) servings
INGREDIENTS
3 cups thinly sliced peeled cucumber
1/4 cup crumbled reduced-fat feta
1/4 cup seasoned rice vinegar
1 tablespoon olive oil
3 tablespoons chopped green onion
3 tablespoons fresh chopped mint
2 tablespoons pine nuts, toasted
Salt and pepper to taste
DIRECTIONS
In bowl, combine cucumber and feta.
In small bowl, whisk together vinegar, oil and green onion. Toss with cucumber and feta. Add mint and pine nuts. Season to taste.
Nutritional information per serving:
Calories 96kcal, Calories from Fat 57%, Fat 6g, Saturated Fat 1g, Cholesterol 3mg, Sodium 320mg, Carbohydrates 7g,Dietary Fiber 1g, Total Sugars 6g, Protein 3g. Dietary Exchanges: 1/2 other carbohydrate, 1 fat
Written by: Holly Clegg, Culinary Expert
About the Author
With over 1 million cookbooks sold, Holly Clegg has become a culinary expert on easy, healthy and practical recipes through her best-selling trim&TERRIFIC® cookbook series, including the more targeted health focused cookbooks, Diabetic Cooking with the American Diabetes Association, Eating Well Through Cancer and Eating Well to Fight Arthritis. Clegg has appeared on Fox & Friends, NBC Weekend Today, QVC, The 700 Club, USA Today, Web MD and The Huffington Post. She also has a phone application, Mobile Rush-Hour Recipes. For more information, visit www.hollyclegg.com or http://thehealthycookingblog.com for more recipes and tips.
Share This Story, Choose Your Platform!