For anyone looking to host a dinner party, having a fun cocktail to serve is always a good idea. For any cocktail lover, one of the most popular in the world continues to be the Cosmopolitan. This can be a sweet and refreshing beverage, that can also be easily made at home. For those wondering how to make a Cosmopolitan, some various tips and steps can be followed. 
Tips on Serving a Great Cosmopolitan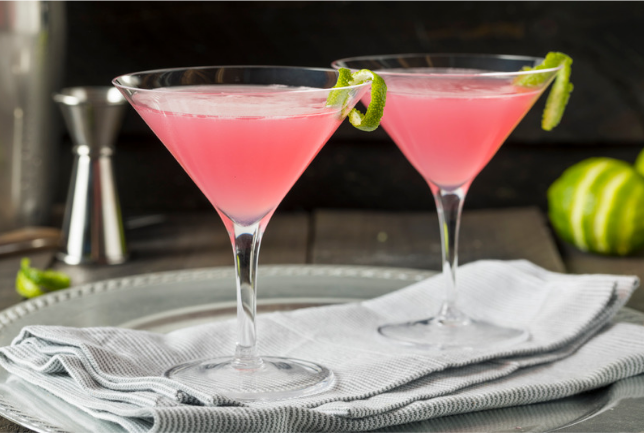 Cosmopolitan has been a popular beverage all over the country for several decades. The history of the drink dates back to the 1940s when a drink called Kamikaze was popular. The evolution to become the Cosmopolitan continued into the 1970s and 1980s when adding a shot of cranberry juice was used to make it a bit sweeter. While it has continued to evolve, the Cosmopolitan continues to be a popular beverage.
Prepare the Cosmopolitan
To prepare this cocktail, you will need some ice cubes and vodka that is typically flavored with citrus fruit, triple sec, lime juice, cranberry juice, and orange zest. You will also need a shaker, strainer, mixing spoon, and martini glasses. The orange zests should be peeled and can be added as a garnish to the drink.
Once you have gathered all of the ingredients, the process of preparing them is quite easy. Generally, you will want to add ice to the mixer and then add the following quantities of each ingredient per serving:
1.25 ounces of vodka

0.75 ounces of triple sec

0.5 ounces of lime juice

0.5 ounces of cranberry juice.
The actual quantities used should vary based on each person's tastes and tolerance. In all cases, these ingredients should then all be mixed and shaken with the ice for at least 15 seconds. This should help to chill the drink enough to be served.
Serve the Cocktail
Once the cocktail has been shaken, you can serve it in individual martini glasses. It should come up looking fresh with a light pink shade to it. You can then finish the drink off by adding a slice of orange peel and rubbing it around the rim of the glass.
Serving Snacks With a Cosmopolitan
If you are looking to serve Cosmopolitan cocktails at a party or dinner event, it would be a good idea to also consider food to share along with the drink. Cosmopolitans are a popular drink to serve before a larger meal. Due to this, also serving lighter fare and appetizers is a popular option. 
One popular snack that people like to serve along with a Cosmopolitan is brie with crackers. Brie is a very soft and rich cheese that can help bring out the cocktail's sweetness. Providing crunchy crackers and an additional jam to spread can also be a good addition. Other options can include serving it along with a cheese and olive board, appetizer salads, or other lighter dishes to get the meal started.
Other Posts You Might Enjoy
Labor Day Cocktails That Refresh
Clean Drink Happy Hour – Top 5 Healthy Summer Cocktails
Share This Story, Choose Your Platform!