Whenever there's any talk about healthy food options, the majority of people instantly think about steamed bland veggies paired with some type of unseasoned fish. The truth is, there are healthy recipes that are anything but tasty. Conversely, there are a lot of healthy food options that actually taste great.
On that note, we've prepared a list of three healthy recipes that are not only good for you but actually taste divine.
3 Terrific Healthy Recipes for Your Family
❥ Peanut Butter & Banana Breakfast Burrito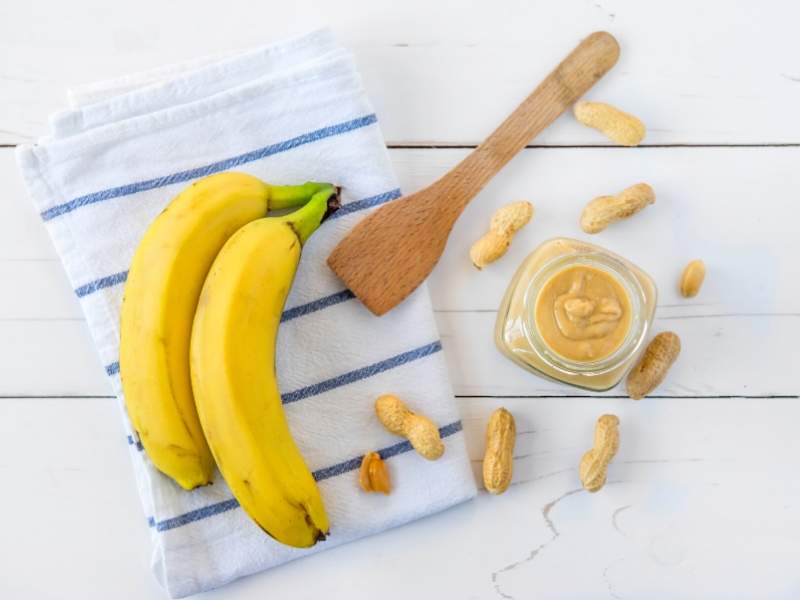 One of the biggest mistakes people make is skipping breakfast. Because we're living in a fast-paced world, many don't stop to eat this most important meal of the day. However, this healthy peanut butter and banana breakfast burrito is a good example of a yummy breakfast meal that you prepare in advance.
Ingredients:
Peanut butter
Vanilla Greek Yogurt
1 Banana
2 tbsp of Granola or Nuts
Whole wheat wrap shell
To make this delicious meal you first need to mix equal amounts of Greek yogurt and peanut butter and spread the mixture evenly on the wrap shell. Next, add a sliced banana (or any other fruit) and lay it flat on the wrap. Finally, add 2 tablespoons of granola or nuts – or one tablespoon each – and wrap the burrito. The best part is that you can make this the night before and store it in the fridge.
❥ Spanish Bean Stew
Besides eating healthy, also try and squeeze in a couple of exercises a week in order to stay physically healthy. Aside from having the proper exercising gear from this website, you also need enough fuel to keep you going. That's why we've chosen Spanish bean stew as our lunch option.
Ingredients:
1 pound of dried cannellini beans (soaked overnight)
1 tbsp of fresh thyme
3 cloves of garlic, minced
1 carrot, peeled and chopped
4 medium tomatoes, diced
3 tbsp of extra virgin olive oil
Salt & pepper
Use a large pot and add beans, thyme, garlic and enough water to cover everything by about 1 inch. Bring to boil on high heat and reduce the heat to medium once the mixture is boiling for about 5 minutes. Cover the pot and simmer the mixture at medium temperature for about 1 hour. After an hour, add carrots and tomatoes, bring up to boil again, lower the heat once more and let simmer for about 20 more minutes. In the end, add olive oil and seasonings before serving.
❥ Spicy Chipotle Chicken Kebabs with Honey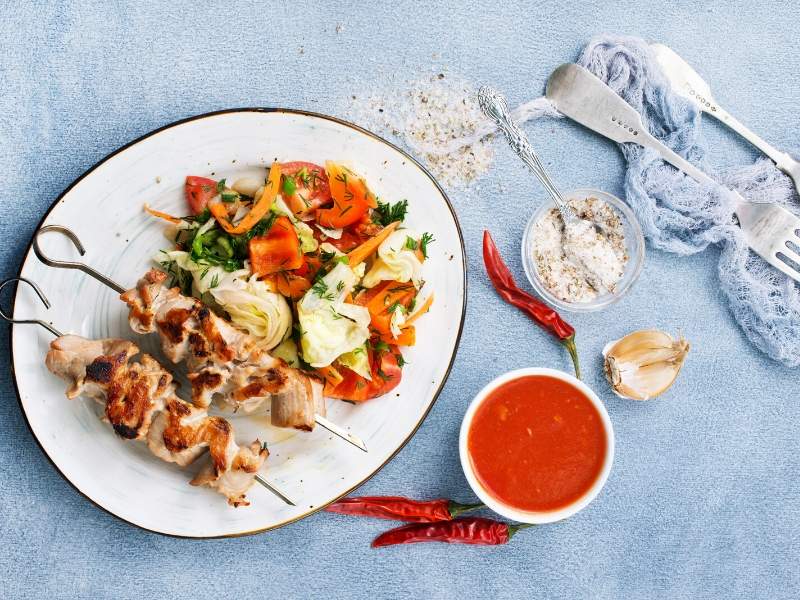 To finish the day off, make these spicy chipotle chicken kebabs with honey. This is a healthy and quick dinner option for anyone who enjoys a good mix of different flavors, and it is super easy to make.
Ingredients:
2 ½ pounds of chicken thighs or breasts, boneless, skinless and chopped to bite-size
½ cup of organic honey
¼ cup extra virgin olive oil
2 tbsp of spicy chipotle sauce
Salt & pepper
Mix together honey, olive oil, and spicy chipotle sauce in a bowl and add salt and pepper. Take about ¼ of the marinade and place it in a Ziploc bag with sliced chicken. Massage the bag lightly so that every piece of chicken gets covered in marinade. Leave in the fridge to marinate overnight or at least 6 hours before cooking it. Preheat the grill on medium, stack chicken pieces on skewers and cook for about 10-15 minutes, making sure that the chicken is cooked through. Place on a serving plate and brush on the rest of the marinade.
With fresh and tasty ingredients, it's easy to make a healthy meal that's good for you and tastes terrific. Additionally, go ahead and get creative enough to play around with different spices and flavors until you discover which food combos are best for you and your family.
Now, it's time to enjoy it with all your family and friends! If you have a fav healthy recipe, please feel free to share it in the comments below. We've also included interesting links below for your further inspiration for all things design for your healthy home.
All Images Courtesy of Canva.
Other Posts You Might Enjoy:
4 Reasons to Use Peppermint Essential Oil for Healthy Hair
Eco-friendly Materials for Healthy Design Explained
5 Healthy Home DIY Projects for 2019
Share This Story, Choose Your Platform!