Begin now, before most of the holiday season is in full swing. You know there are going to be Hanukkah parties, Open Houses, Holiday House Tours, Cookie Exchanges, Brunch at Grandma's, gift opening around the tree and don't forget New Year's!
Set aside a bit of time and plan your outfits around your social calendar. Avoid a wardrobe crisis by knowing what you'll be wearing to each event in advance. For a really special event, be sure to have a "dress rehearsal" and try on your whole outfit including shoes, hose and accessories. Then you'll have time to make adjustments before the big day.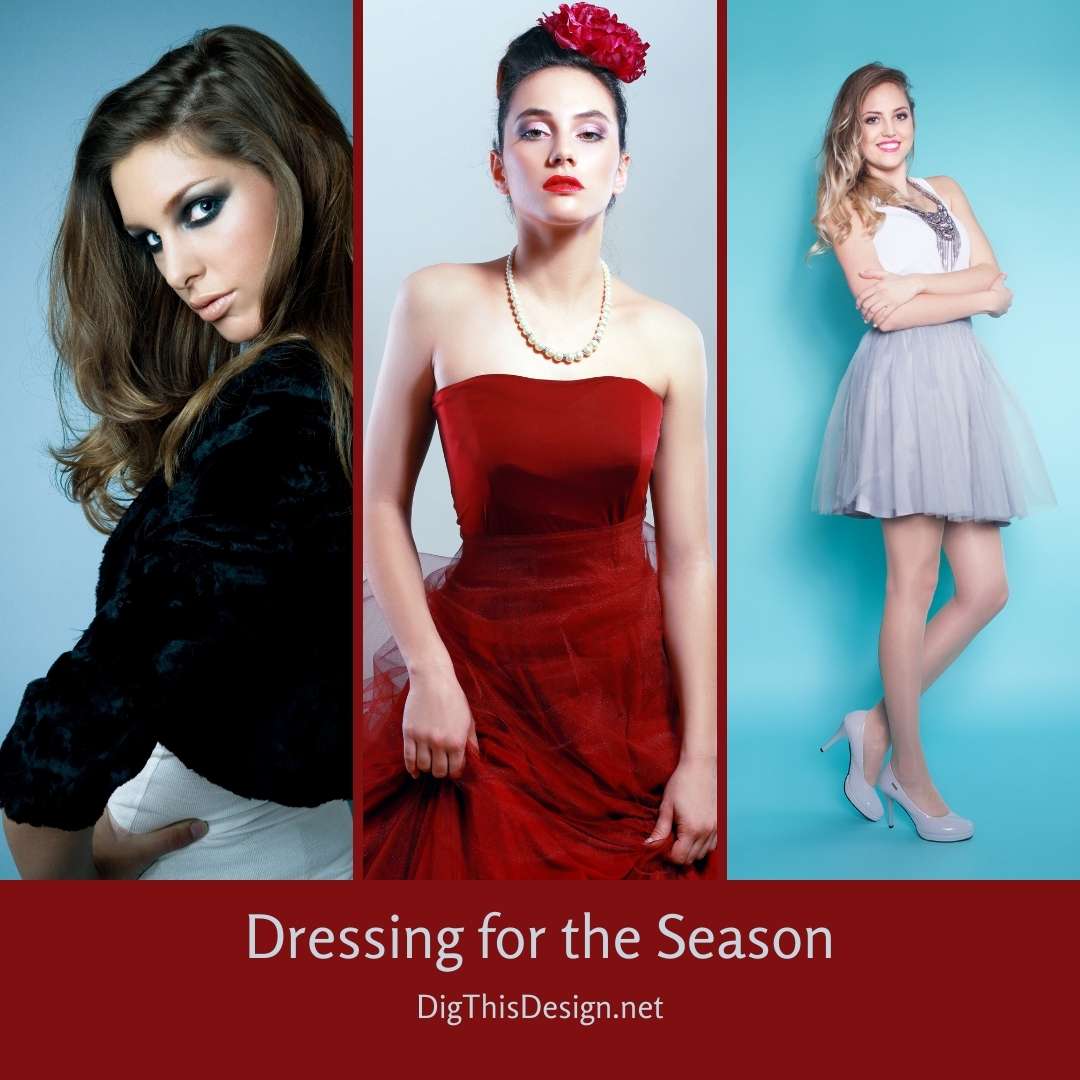 Menswear
Yes, for the holidays! Menswear is everywhere! A tuxedo jacket, oversize white shirt, pants with a tuxedo stripe, lace up oxfords or just about any men's inspired item are great as a starting point for an outfit. Pair it with something girly: A sparkly top, a strapped open toe shoe or sandal, a fluffy sweater, a Peter Pan collar necklace or some chandelier earrings. You don't want to look like a man necessarily, think borrowed from the boys.
Vintage or Thrift
Hit up a vintage or thrift shop or raid Grandma's closet! A vintage or retro looking piece can add that something special to your look this holiday. Look for rhinestone pins, fur stoles, silk clutches and designer items.
Skip the Shoulder Strap Dress
Favor comfort over excessive mid winter skin-baring and shun the usual collection of short shoulder strap party dresses. Skater skirts are a cuter option and more forgiving in nature. Fit and flare dresses are also a good choice. Besides, it's cold out – cover up a bit!
Do the Opposite
If you are the corporate type and normally dress in suits, choose something more relaxed to change up your usual look. If you are always in jeans and a t-shirt – put on some makeup and dress up for that party! If your hair is always in a pony tail, let it down or style it. If you always look perfectly styled for day, put less effort into your hair for once. Try to change it up.
Wear Red
An instant mood lifter, red flatters most complexions and skin tones. Try it on lips, nails, shoes, coat, bag or even a cozy sweater dress.
Written by: Ann Morrison Tufts, Owner, RealStyle
About the Author:
Ann is a Wardrobe Stylist and Trained Professional Organizer who loves to blog about fashion and clothing. An avid reader of magazines, a graffiti lover and a raw vegan, Ann lives in Hamilton, Ontario with her husband and two black cats – Chip and Becks. She loves to help people find their own style and confidence. When she isn't helping clients make themselves over, she is doing it in her head for people she sees on the street!
Images Courtesy of Canva.
Share This Story, Choose Your Platform!