The festive season is almost upon us, and one of the highlights of this joyous occasion is the much-anticipated Christmas dinner. As you prepare to host your loved ones and serve up a delectable feast, you might also want to consider jazzing up your dining area. A stunning Christmas table can set the mood and make your gathering even more special. 
Here are some top tips to make your Christmas table look utterly spectacular.
Tips for Making Your Christmas Table Look Festive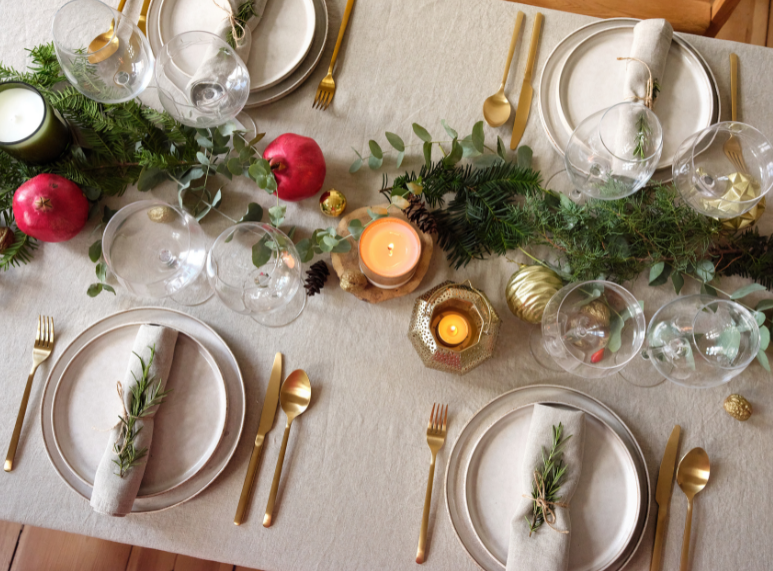 Start With The Right Foundation: Your Tablecloth
Picking the perfect tablecloth can make all the difference. Not only does it act as a foundation for your table setting, but it also protects your table from spills and heat. When selecting a Christmas tablecloth, opt for festive designs that resonate with the overall theme of your decor. 
And for those who want the best of both aesthetics and functionality, a wipe clean Christmas tablecloth is the ideal pick. It effortlessly blends beauty with convenience, ensuring that any spillages can be cleaned up in a jiffy without leaving a stain. By starting with a solid and seasonally apt base, you are setting the stage for a truly outstanding tablescape.
Centerpieces That Dazzle
A well-chosen centerpiece can become the focal point of your table. Consider using traditional items such as candles, lanterns, or a bowl of ornaments. 
Add fresh flowers, holly, or pine branches for an organic touch. To make your centerpiece stand out, remember to play with height. Tall candles or a stack of wrapped gift boxes can draw the eye and add layers to your table.
Personalize With Place Cards
Elevate your table setting with personalized place cards. They give a thoughtful touch to your gathering, making your guests feel cherished. 
You can either buy pre-made cards or DIY your own using craft paper, glitter, and festive embellishments. Attach a small candy cane or a miniature ornament to each card for that extra festive feel.
Mix And Match Your Tableware
There's no rule that says all your dishes, glasses, and cutlery have to match. In fact, a mix of styles can add depth and character to your table setting. Vintage glassware, modern plates, and traditional silverware can all come together to create a look that's uniquely yours. Choose a common color or theme to tie everything together, ensuring there's harmony amidst the variety.
Napkin Artistry
Don't underestimate the power of a beautifully folded napkin. Whether you opt for a classic fold, a pocket for your cutlery, or something more intricate like a Christmas tree or elf hat shape, your napkins can add another layer of detail to your table. 
Using festive napkin rings or simply tying them with twine and a sprig of rosemary can make a world of difference.
Include Festive Elements
Scatter some festive elements like pinecones, baubles, and fairy lights across the table. These small details can make your table setting feel alive with the Christmas spirit. Consider using edible decorations like frosted cranberries, star anise, or sprigs of mint. Not only do they look beautiful, but they also add a delicious aroma to your table.
Mood Lighting
The ambiance of your dining space can be elevated with the right lighting. Dim the overhead lights and use candles, fairy lights, or even a string of lanterns to create a warm and cozy atmosphere. The soft glow will make your table setting appear even more magical.
Conclusion
Crafting an exquisite Christmas table doesn't require an extravagant budget or professional design skills. With a touch of creativity, a sprinkle of festive spirit, and the right elements, you can create a tablescape that will leave your guests in awe. From the practicality of a wipe-clean tablecloth to the enchantment of twinkling fairy lights, every detail matters. 
This Christmas, let your table be a reflection of the love, joy, and warmth that the season embodies. Cheers to memorable dinners and cherished moments!
Other posts you might enjoy:
Five Fantastic Christmas Table Settings
How To Apply Minimalism To Your Christmas Party
Designing Your Dining Table to be the Centerpiece of the Room
Share This Story, Choose Your Platform!