When it's not brimming with kitchenware and food, your dining table has the potential to become a true piece of art. Don't miss out on an opportunity to take steps to designing your dining table to be the centerpiece of the room.
This article's purpose is to explore the possibilities of dining table designs and arrangements. To this end, we've gathered together some tips for each facet of your dining experience. In fact, below are some interesting design elements you might want to consider.
8 Easy and Essential Steps to Designing Your Dining Table to be the Centerpiece of the Room
1. Tablecloths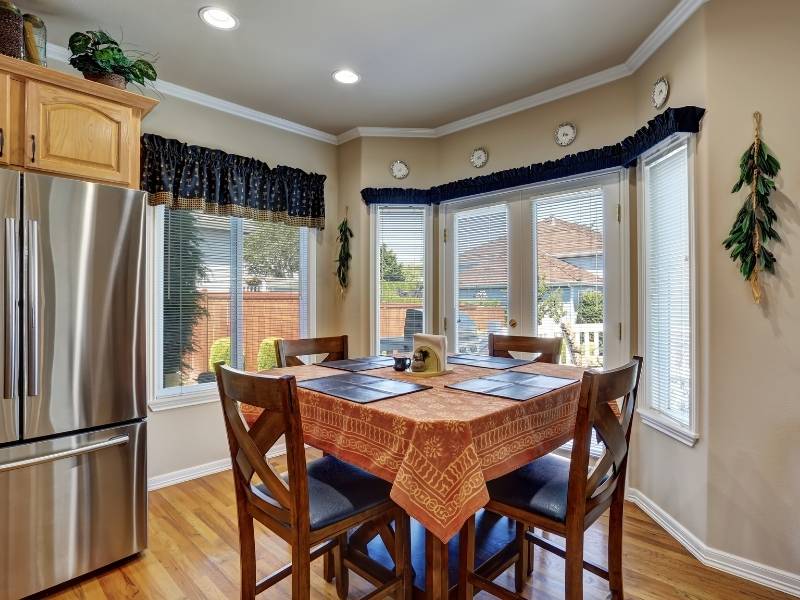 Perhaps your table is boring, old, or shabby (but not in a fashionable, vintage way.) Or, maybe your current budget prevents you from buying a new one. However, you can always cover it up with a nice tablecloth. The best thing about tablecloths is that they allow you to perfectly match the table to its surroundings. On the other hand, contrasting colors can introduce a whole new dimension to the room and break up the monotony.
However, be careful when choosing the material and pattern. If both the tablecloth and its surroundings feature complicated patterns, the design will be too busy and not as pleasing to the eye.
2. Chairs
Of course, a dining table is useless without its chairs. However, if you want your table to be the center of attention, you must make sure they don't overpower it. That's why we suggest making your chairs as subtle as possible.
Please allow me to be clear — subtle doesn't mean boring. However, the color and pattern of the chairs must be discreet enough to emphasize the table but just enough to make the table pop and no more than that. For example, patterns such as chevron, ogee, and ticking stripe fabrics are always a good and safe option.
3. Flowers and Plants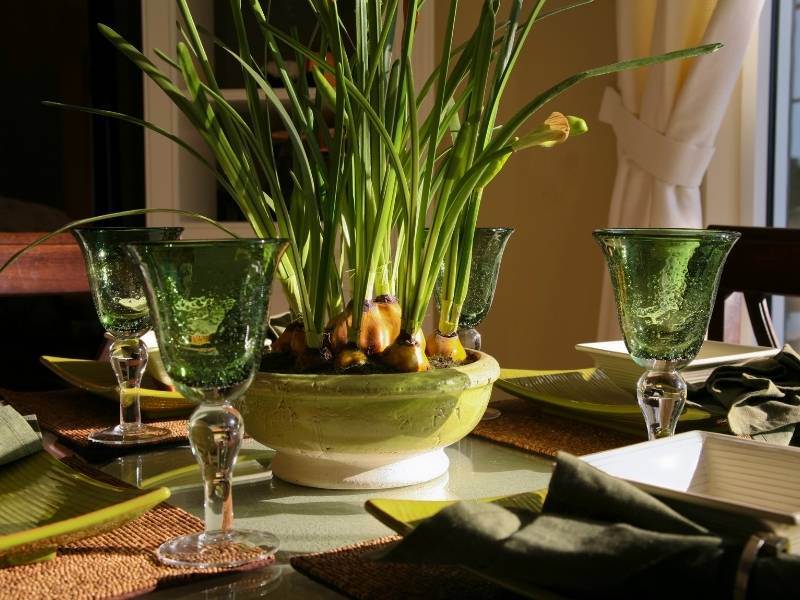 For those who like to stick with the classics, flowers are never a miss. Although artificial ones will last you much longer, fresh flowers will inject both life and color into the room. Besides that, they're a good way to commemorate the current season. For instance, the fiery red Celosia flower matches perfectly with the autumn aesthetic and also happens to be at its finest during this season.
However, if you're not much of a flower child, you might prefer displaying plants, cacti, or succulents. As they come in various shapes and sizes, you can surely find one suitable for your particular table. In addition, an array of umber clay pots could be an excellent way to break up a neutral grey palette.
4. Candles and Candelabras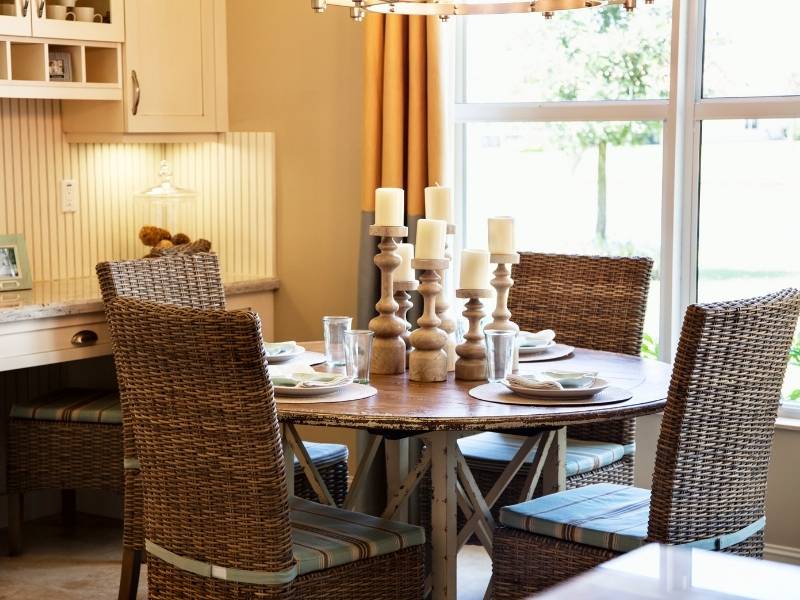 Although your mind may immediately picture a 19th-century Victorian mansion, candelabras are much more versatile than that. They range from subtle and minimalistic to completely over-the-top and lavish, so to each his own.
Much like a painter adds the glimmer in the eye at the end of a portrait to make it come to life, a candle can be a nice final touch to your room's design. Placed in a candelabra or a simple holder, candles will surely light up the room and add visual interest. And not just that — you can use scented candles to achieve any atmosphere you desire.
6. Sculptures, Souvenirs, and Sets
Again, you can add so many things to make the table stand out from the rest of the room. Show off your new matching tea set, arranging it with perfect precision around the table. If you're more into contemporary design, maybe you'd be more comfortable sporting a modern piece of art. Feeling eclectic? Perhaps it's time to put those souvenirs your friend brought you from Africa to good use.
Whatever you add, just make sure you don't make the arrangement too busy and lackluster. After all, the aim is to accentuate the table with objects, not hide it under them.
5. Vases, Jars, and Bowls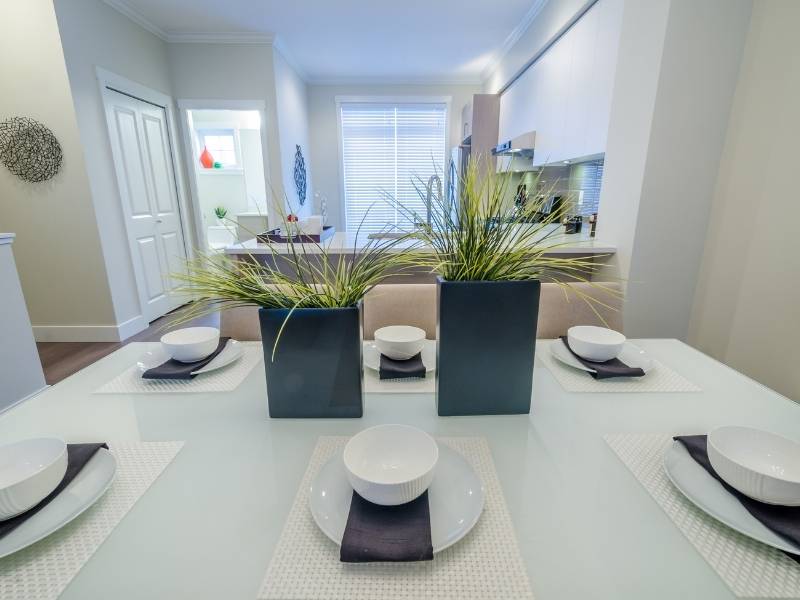 Any kind of vessel will work in this case. The goal is to create a central focal point in your table arrangement. Here's where you can get as creative and crafty as you want.
Fill jars with fairy lights and surround them with pine cones and ornaments for a true Christmas wonderland on your table. And for a summer-inspired arrangement, you can use seashells and pebbles instead. Even a simple bowl of fruit can completely transform the space, giving it a splash of color.
All in all, if you want your dining room table to be the star, you can't limit yourself to a simple vase with flowers. After all, your table arrangement can feature anything at all.
7. Books
Another way to bring all the attention to the table is by making it a conversation starter. Of course, is there a better way to start a conversation than by sharing some of your favorite books with others? Any book lover will appreciate the sight of a tall book stack. That being said, books are also a good way to add height to your dining table arrangement and create balance.
8. Seasonal Table Arrangements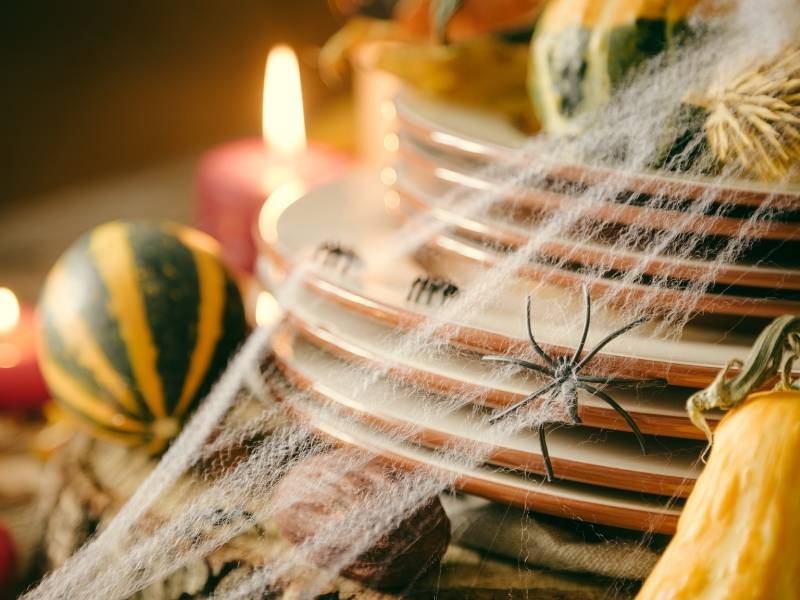 Finally, you can also make your table the centerpiece of the dining room by always adapting it to fit the current season. For instance, when Halloween comes, consider creating a spooky arrangement with small pumpkins, cauldrons, and crow figurines. And for Easter, your table arrangement must include flowers, grass, and, of course, eggs. All in all, as long as you keep it balanced, you can't go too wrong with a table arrangement!
In Conclusion
Here's to wishing your decor rivals any you've previously created by following these easy tips. If you have any more suggestions or comments, we'd love to hear from you in the comments below. Also below, you will find links to more fun articles about ALL things DESIGN for your home or business.
Images Courtesy of Canva.
Other Posts You Might Enjoy:
4 Inspirations for Fun Thanksgiving Day Decor
Fantastic November Dining Decor
Share This Story, Choose Your Platform!