November is a time of celebration with colorful decor. Sometimes, all we have to do is go to our own yard and scoop up some wonderful leaves to add to our tablescapes to make fantastic November dining decor. But, bright colorful leaves aren't the only materials you can use during this season. There are also many varieties and colors of decor to be found at your favorite craft or home store.
In fact, this is a season of abundant warm, earthy textures as you will see in the inspirations below.
6 Inspirations for November Dining Decor
Elegant Dining Decor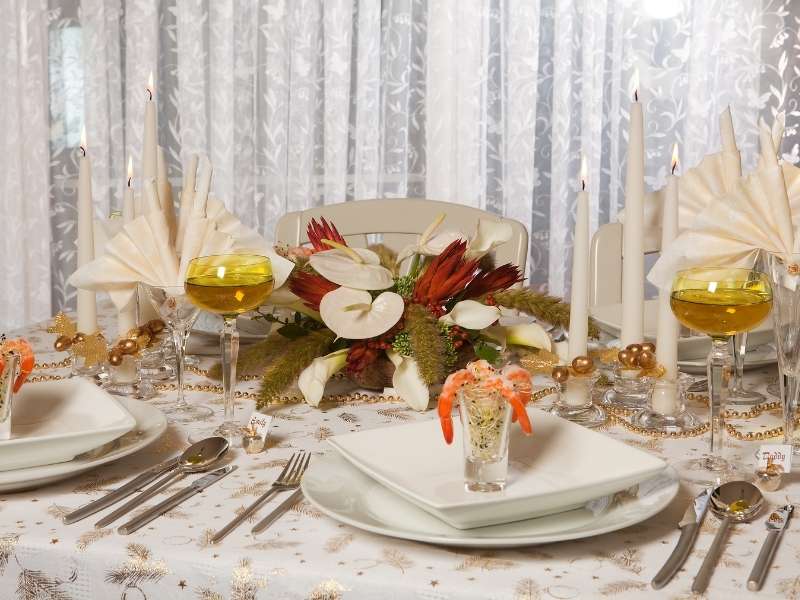 Step it up with white as a perfect base for an elegant table design for November. Adding gold as an accent always works with white and the splashes of Fall colors in a centerpiece couldn't be more graceful. Add strings of gold beads and white candles for an amazing setting.
Cheerful, Delicate Twinkle Lights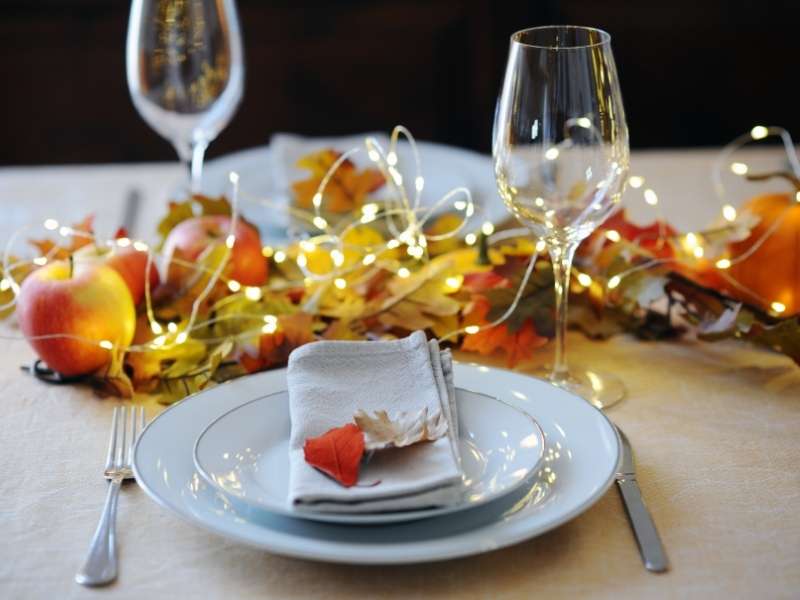 A single long table runner of golds, yellows, oranges, and reds are further accentuated by curling strings of twinkle lights. How beautiful it is with white china and crystal wine glasses adorning a neutral linen tablecloth with matching napkins
Bring on the Big Candles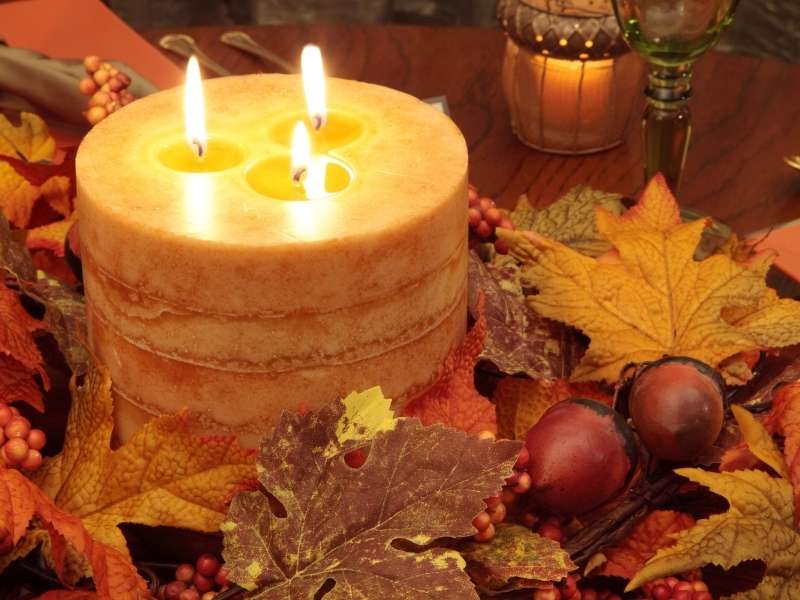 Set aside the taper candles for a more wholesome feeling with a three-wick candle. Nothing warms a table up more than the soft glow of candles nestled in an assortment of silk leaves and faux filbert nuts and red berries for a more traditional setting.
Earthy Forest Feeling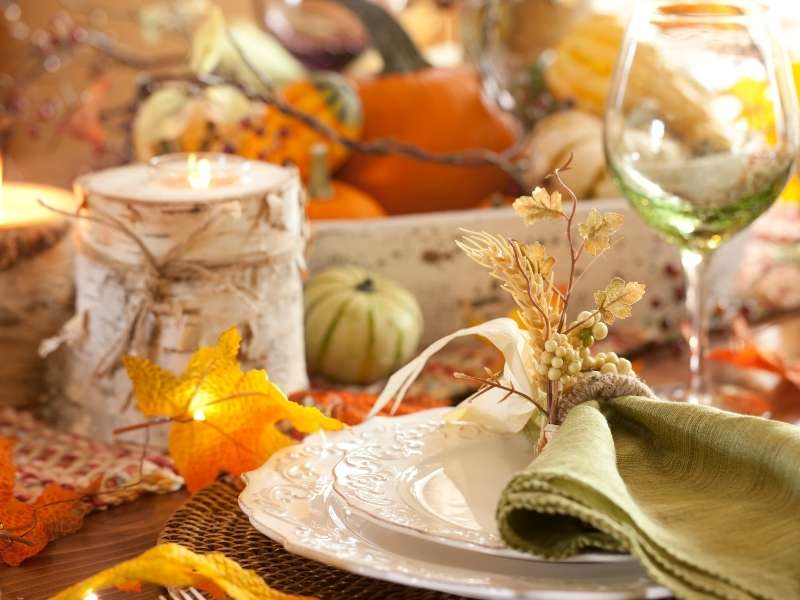 If you like to bring the outdoors in, use woodsy elements such as a candle wrapped in birch bark and tied up with string. Instead of clear crystal, use green glass ware for this setting. Don't forget to add rattan place mats and mossy green napkins for just the right earthy touch.
Cheerful November Blues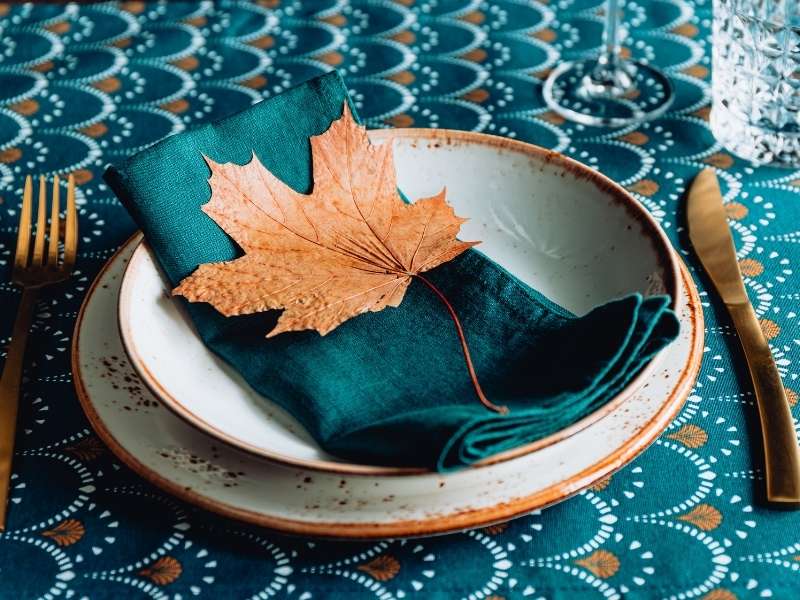 Deep teal blue is a fantastic pairing with copper accessories. For a truly elegant experience, use copper tone table ware and your best Fall stoneware along with bright chunky glasses that compliment the fantastic table covering with it's cheerful pattern.
Happy November 2020!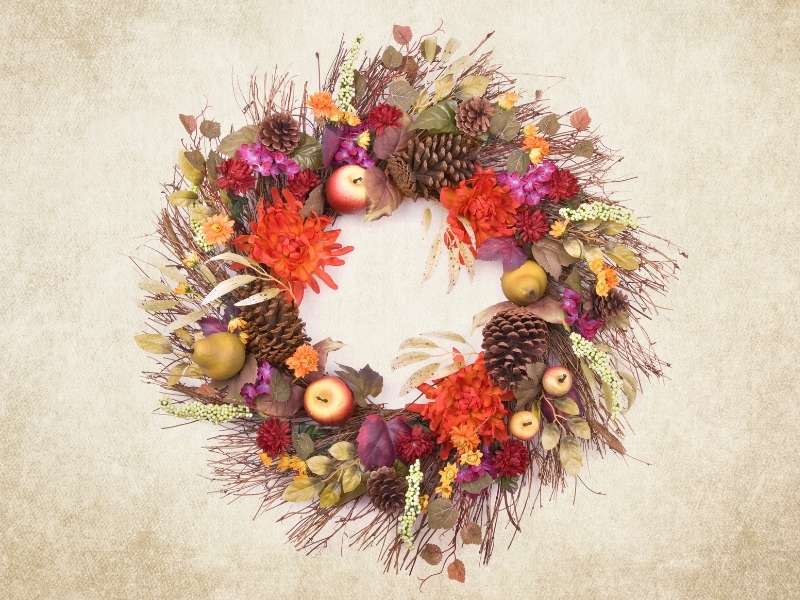 It is our wish that you derive inspiration from these entertaining examples. If you have any other suggestions, we'd love to hear from you in the comments below. Also below are links to other articles about all things design for your home or business.
Images Courtesy of Canva.
Other Posts You Might Enjoy:
Tips For Decorating Your Home With Flowers
Work Comfortably from Home with an Affordable Adjustable SmartDesk
Table Talk: 4 Tips on Picking the Perfect Dining Room Table
Share This Story, Choose Your Platform!