This is post written by me on behalf of Autonomous, a global network of innovators. This post is sponsored by Autonomous SmartDesk while the content and opinions expressed below are that of Dig This Design.
Home offices are now a staple in home design in the new world in which we all find ourselves. Of course, I refer to the pandemic experience in which many, suddenly and without warning, find themselves now working from home. Unfortunately, this sudden shift also finds many transitioning office workers without adequate home offices. Instead, you might be working from a "make-shift" office setting that is less than desirable in terms of comfort levels and productivity.
Have you found yourself in the position of setting up an instant home office and need some good advice about setting up? If so, you are invited to continue reading to learn about the affordable, adjustable standing desk that just might be exactly what you need.
The Affordable Autonomous SmartDesk for Your Home Office
I recently went to visit one of my friends and found that she was working in a makeshift office from her dining room table. Unfortunately, her dining room table was bar height which had her sitting on a bar stool. I was like, "Wow, that's got to be painful, right?" She told me it was. But, she also didn't know where to turn for a solution.
She's certainly not alone. The reality is that there are millions of people worldwide facing this same situation. But, setting up a home office doesn't need to be difficult. Rather, if you simply set your goals on healthy comfort and pleasant aesthetics, you're already going in the right direction towards optimum productivity.
So, what are some of the challenges you might face when designing your home office? First, it might be difficult to find the space for an instant home office. Next, you must take inventory to determine if you have the right office equipment at home. An even greater challenge is if the furniture you have on hand is a source of physical pain while you attempt to work a full day. You see, many people who now suddenly find themselves working at home, also find themselves at a painful and nonproductive disadvantage with inferior ergonomics.
So, when I was approached to review a SmartDesk by Autonomous, I knew right away the perfect person to test it on – my friend, Lisa. Her wish list for the perfect desk was that it be ergonomic, smart, and compact so it would fit her space and not be too intrusive. What's more perfect for Lisa's scenario than an adjustable standing or sitting desk for a small workspace?
Ergonomic Designs for Health & Productivity
Proper ergonomics in office furniture is so important. For instance, I use an ergonomic keyboard and mouse because if I don't, I start getting body aches and pains. That's why I was shocked to see my friend working in an un-healthy position, working from her dining table. That's also when I started doing some office desk research for my friend.
The beauty of this desk is that it allows you to sit or stand at the touch of a button which promotes overall healthier ergonomics and therefore, good blood circulation. In fact, Lisa now finds it thrilling to get off her tush instead of sitting painfully for hours each day. However, this desk not only boasts fabulous ergonomics, it is also affordable and fits nicely in small business or work-at-home budgets.
How Smart Is This Desk?
The SmartDesk has four programmable height settings to suit a wide variety of tasks. So, whether you do crafts or computer work, this desk allows you to program the settings to fit your specific needs. It is also completely adjustable at a moment's notice with no programming necessary.
With its state-of-the-art technology and innovative materials, Autonomous offers this incredible desk at an affordable price. These excellent attributes combine to make it a great economical and ergonomic choice for a home office.
Your DIY Standing Desk at Home
As you can see in the images below, this desk is a snap to assemble at home. When you receive your SmartDesk, it provides everything you need to put it together, complete with an Allen key screwdriver. Simply follow the easy-to-understand illustrations with instructions that come with your kit. Then, in no time, you have a modern, attractive, adjustable-height desk for your home office.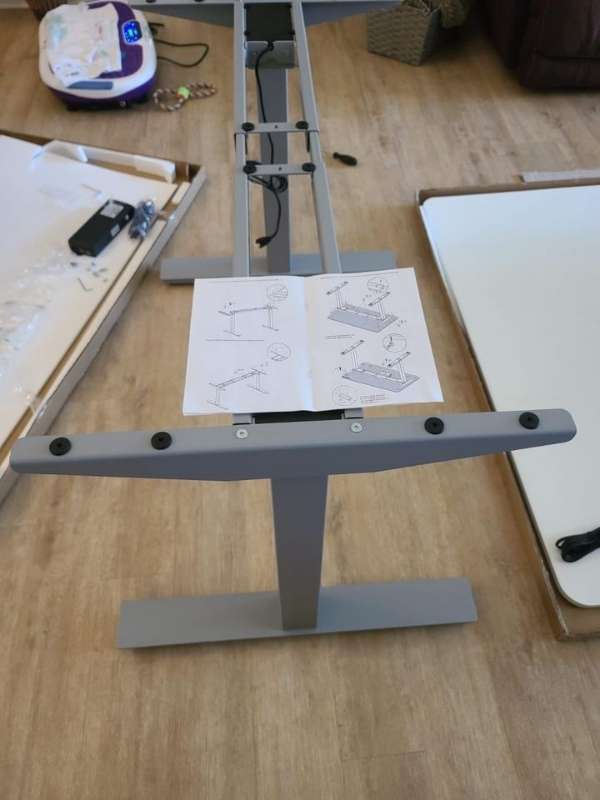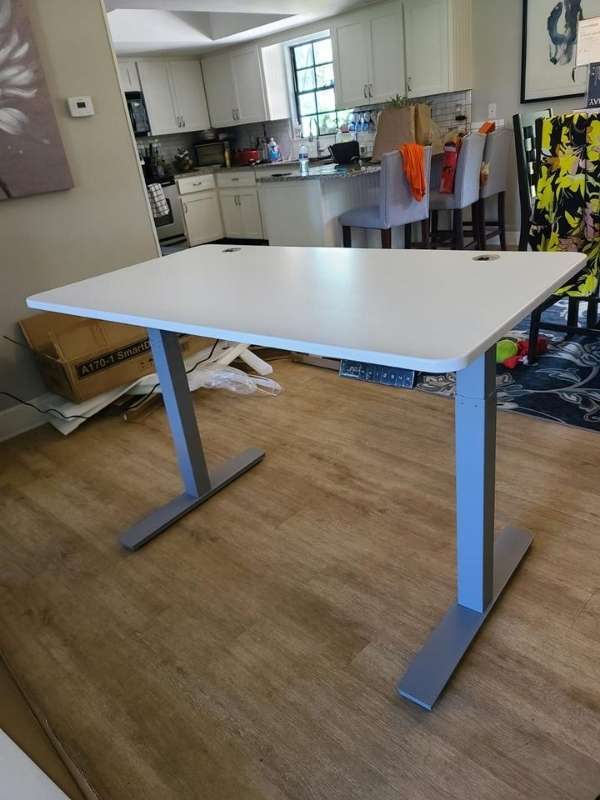 Modern Aesthetic Design
Lisa needs a desk that blends in with her décor. However, the even bigger challenge is finding a standing desk for a small workspace. So, it's a good thing that this convenient desk also comes in two standard desk sizes:
Classic size – 53″L x 29″W x 1″H
XL size – 70.5″L x 30″W x 1″H
If you have a smaller space in mind for your desk, the classic size is only 53″ long which is a nice compact space but large enough for the basic computer equipment and peripherals that most people need to do their job. This is a good choice if you're looking for a small computer desk so, the smaller size is what Lisa selected.
Additionally, the Autonomous SmartDesk comes in a variety of finishes. You have a choice of a white, black, or grey steel frame while the top comes in white, black, walnut, white oak, or bamboo. Lisa selected a grey steel frame with a white top that fits her home décor beautifully.
Another feature I am crazy about, as an interior designer, is how they conceal the electrical cords. Please refer to the image below which illustrates how cleverly Autonomous conceals the electrical cords in this well thought-out SmartDesk design.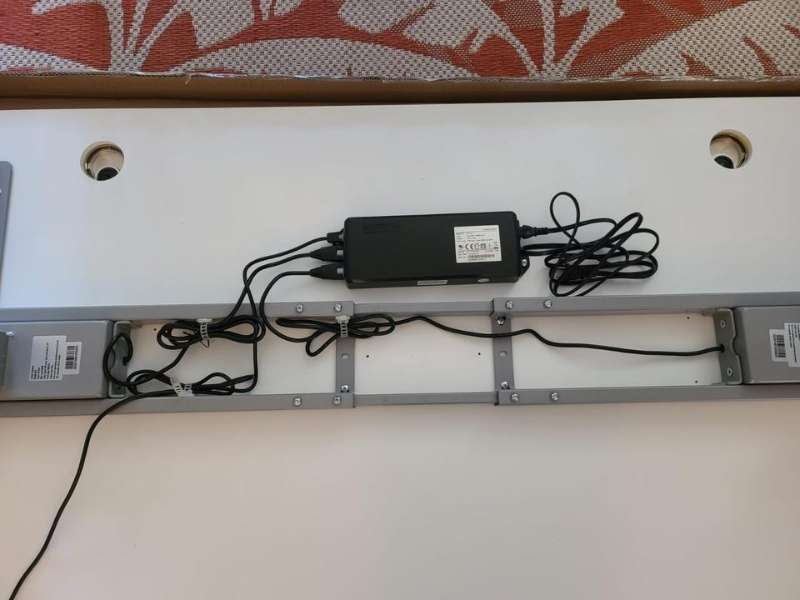 Needless to say, my friend finds her new ergonomic SmartDesk absolutely comfortable. Moreover, she's thrilled to now work in a dedicated office space that helps keep her body healthy while remaining productive. That's a SMART choice for anyone.
SmartDesk Review • Pros & Cons
Everyone wants to work smarter, not harder and there's no better way to start that journey than with the Autonomous SmartDesk. It is worth mentioning that you might want to pair this desk with the Autonomous ErgoChair 2. An important thing you need to note about Autonomous is that they don't carry a lot of different products. However, they do carry the best products at the best price possible. I think that says something very positive about their commitment to quality.
In closing, below is the list of pros and cons for the Autonomous SmartDesk from my perspective as a professional interior designer. Overall, I give this product five stars and I am pleased to recommend it as the best affordable standing desk.
Pros
Adjusts easily to variable heights
Affordable for small businesses and home offices
Available in two attractive sizes
DIY easy assembly at home
Ergonomic design for health and productivity
Offers a selection of finishes
High quality artisanship for years of use
Cons
Get Your Promo Code!
If you want to purchase your SmartDesk 2 with a 10% discount, use the following promo code: DIGDESIGN
Photography by Patricia Davis Brown Designs, LLC.
How to Add Outdoor Lighting to Your Landscaping
Organize Your Closet Like a Pro with These 5 Accessories
Foolproof Options for Incorporating Color in Your Interiors
Share This Story, Choose Your Platform!