A closet or wardrobe with good organization leads to a more efficient lifestyle. In today's fast pace, you don't want to wake up in the morning to begin the day with chaos when looking for the perfect outfit or shoes. While installing a closet system in your room is useful, you might only need to add a few strategic accessories. Therefore, the first step to organize your closet is ensuring you have the right accessories on hand. So, if your wardrobe is in a jumble, go big with a complete closet overhaul by selecting the right accessories.
Here are five accessories to organize your closet with enjoyable efficiency for a smoother morning routine.
5 Accessories You Need to Organize Your Closet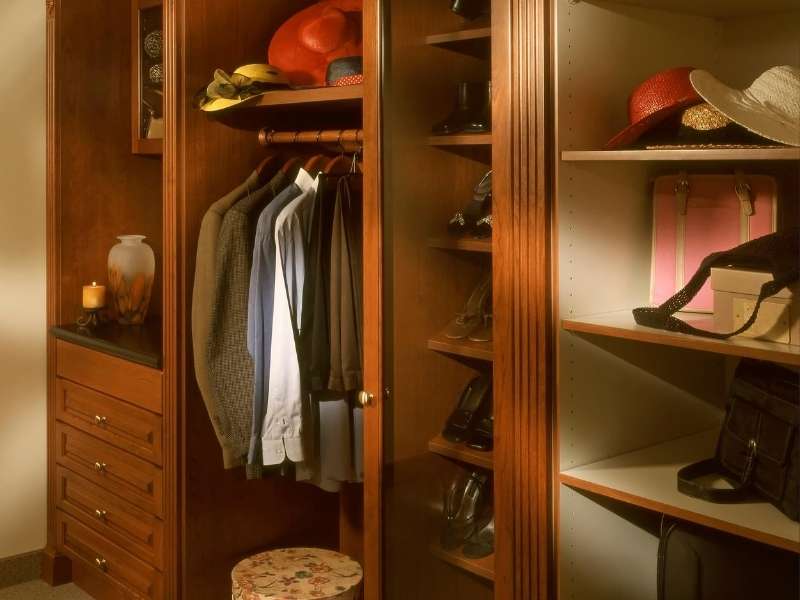 1. Durable Wooden Hangers
Hangers are a must-have accessory in every closet. They offer top-notch clothing care and protection while helping you organize your closet. Clothes spend most of their lifetime on hangers. So, without them, maintaining the quality of your bespoke suits and other formal attire is impossible. While hangers help increase the longevity of your garments, not every hanger style is helpful.
Plastic and wire hangers should never be used as they can harm your outfit. In fact, they often cause indentations on shoulder padding or stretch the collar fabric out of shape. Plastic and wire hangers also cause lumps on the fabric and break under the pressure of heavier garments. 
The best hangers to organize your closet and maintain the shape of your clothing are of high-quality natural wood. Investing in a set of durable wooden hangers keeps your closet organized and super-fresh all year long. Their stylish finish also adds elegance to your wardrobe.
2. Quality Garment Bags
Garment covers and bags are great accessories to help protect clothing and organize your closet. Use them to cover suits, dresses, pants, tops, shirts, jackets, coats, and more. However, not every garment bag is good for your clothes. For instance, bags made using plastic, and non-woven material are ineffective, causing damage to your garments instead of protecting them. Instead, use high-quality suit or tuxedo covers like these from Butler Luxury. These covers maintain your garments in stellar condition for as long as they are in storage.
The convenience of garment bags lies in their durability to safeguard clothes during travel, shipping, or moving.  Therefore, it's important to cover every piece of clothing that requires special care with a garment bag. This prevents moisture, dirt, or moths from ruining the fabric. It also prevents garments from rubbing against each other and keeps them wrinkle-free regardless of the duration of storage.
3. Shoe Racks
A shoe rack is a great addition when you're looking to organize your closet. There are several options for storing your shoes, depending on the space available. Feel free to combine any of these shoe storage solutions to make the most out of your closet.
Adjustable shelves. They are the absolute best for shoe storage. You simply adjust the size of the shelf for the height of shoes you want to store. This makes storing different size shoes easy and attractive.
Over the door shoe organizer.  These organizers hang from the door and have individual storage compartments. Naturally, this helps keep your floor clear of shoes. 
Hanging shoe organizer. With big pockets, this tip is ideal for hanging a wide range of shoes or other miscellaneous items.
Free-standing racks. These shoe cabinets work well in rooms where the floor space is larger than the closet space.
Under-bed shoe organizer. If you have limited space to organize your closet, you can use these for storing seasonal shoes under your bed. 
4. Drawer Dividers
Most closet systems designs include several sections for effective organization of items. These might include pull-out shelves, sliding baskets, and drawers.
Mounting dividers in these compartments also enhances your closet organization. The dividers store small items such as underwear, baby clothing, jewelry, eyeglasses, socks, ties, and belts. This saves you valuable time when looking for these small accessories in a hurry.
Interestingly, there are different types of drawer dividers to organize your closet. Some designs fit a specific length while others are adjustable vertically or horizontally. Adjustable dividers are great because they allow you to create custom spaces depending on the items you wish to store. They provide more storage space and are more secure, especially on drawers equipped with locks. Additionally, there are no limits to the number or arrangement of drawer dividers you use for organization.
5. Custom Accessory Hangers, Hooks, and Racks
These closet additions are especially great if you are looking to double up your space and organize your closet. A closet rod with hooks provides the ideal storage space for ties, lightweight scarves, and necklaces. So, instead of digging deep into your closet – there they are. A good point about closet hooks and racks is that you can place them strategically for easy access.
For instance, a hanging jewelry rack with dozens of pockets can be placed behind the closet door. This makes the most out of the empty space behind the door. It also gives you easier access to your favorite accessories.
An closet rod extension with hooks also provides the ideal storage space for hanging your hats and belts. You might also consider getting a couple of boxes or closet baskets. Their ample space works great, especially for towels, soft linen, and baby items. Nothing is off-limits when you want to organize your closet from floor to ceiling. It all depends on the available space as well as your creativity.
Quality Closet Organization Accessories to Organize Your Closet
With the right accessories to organize your closet, you closet will go from messy to efficient. A closet with great organization not only protects your clothing but also makes your room look more attractive.
Next time you shop for men's or women's organization accessories, check out Butler Luxury collection of handy closet organizational tools. They have a wide range of modern closet accessories in different styles. In addition, they offer wood finishes that suit every type of wardrobe or personal style. So, grab some that work well with your closet design to keep it in top shape!
We invite you to leave your questions or suggestions in the comments below. Also, check the links below for other articles about all things design for your home or business.
Guest Author • Mike Cregan
20 years ago Mike Cregan embarked on a mission to create a state of the art hanger. His passion drove him to open Butler Luxury, an online store featuring luxury hangers for the discerning fashion enthusiast.
Mike's hangers feature a highly-functional yet beautiful aesthetic, built from the finest wood products. These sturdy accessories include solutions for suits, shirts, pants, and skirts.
Butler Luxury's hangers enjoy a high-end clientele, including top designer brands, tailoring houses on Savile Row, and 5-star hotels such as The Dorchester, Claridge's, The Connaught, and The Savoy.
For the first time since their founding many years ago, Butler Luxury is offering their luxury hanger inventory directly to the public. Explore their collection today at www.butlerluxury.com.
Images Courtesy of Canva.
Foolproof Options for Incorporating Color in Your Interiors
ClickFunnels Tips to Easily Design a Landing Page
How to Furnish Your Small Living Room
Share This Story, Choose Your Platform!