Adding colors to your interiors is always an exciting project! According to a study funded by the Environmental Protection Agency, people now spend 87% of their time indoors and approximately 6% in their cars. These statistics show the need to have the best-looking indoor space. After all, few people want to spend 87% of their time in a drab place. So, the question is how much color do you want in your interiors?
While the furniture and accessories you select to decorate your space make a big difference, color is one of the essentials that uplift your look. Too much color in an area will, however, leave it looking cheap and overdone. The trick lies in introducing color to rooms with neutral-colored focal elements like furniture by using a few small pieces.
Here are your foolproof alternatives for adding color in your interiors.
Adding Color in Your Interiors with Foolproof Techniques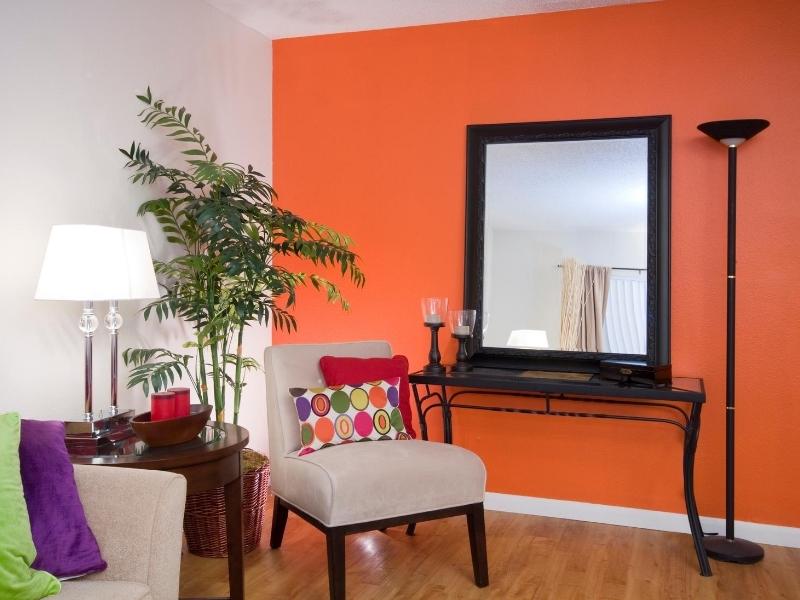 Paint One Wall
Choose a lively color for one of your walls to transform it into an accent wall. Opt for a large wall so that you can introduce as much color as possible. The ideal color for your accent walls should be bold and contrast the large pieces in a room. Alternatively, you can choose a subtle color for the accent wall if it is in the same color family as the other pieces in your space.
Add A Few Toss Pillows
Also, consider adding bursts of color in a space with a few strategic toss pillows. For the best look, pick floral pattern toss pillows for solid-colored furniture, and solid-color pillows for floral furniture patterns. Additionally, you might consider a mix and match pattern to soften solid-color furniture.
Introduce Bold Artwork
One large colorful art piece introduces textures and color onto a wall in ways that few elements do. The perfect choice for covering a large area is a mural from https://www.photowall.com/wall-murals. It's best to keep the space around the mural simple so that the artwork takes center stage, much like in a gallery. So, instead of re-purposing your old art pieces, go out and get a new ones!
Bring Nature Indoors
Nature features some of the most glorifying colors to uplift a space. In fact, you might bring some nature indoors with live plants and flowers. In this instance, opt for greenery that thrives in low light conditions for easy care. As an option, if you are not keen on gardening, you can always opt for artificial plants that look realistic.
Light a New Lamp
Lighting makes a big difference in interior décor. Introduce color into your space by revamping your lampshade with bold colors or buying a new lighting fixture. When lit, the color you choose illuminates your room and changes a room's mood. Green in color psychology is, for instance, associated with creative thinking, making it perfect for offices while red makes an ideal choice for bedroom walls.
Spread Color Underfoot
Pops of color need not be exclusively on your walls. You can add color underfoot using a brightly colored area rug in front or beneath a solid-colored piece of furniture. Try layering the bold area rug with a simple hardwood floor or carpet in a contrasting color for the perfect look. You can also choose a neutral-colored rug then add color in stripes and patterns.
Bright Colorful Throws
Quilts, blankets, and throws are no longer confined to bedrooms. An oversized faux throw or a soft handmade quilt will add depth, color, and coziness to your living room. Moreover, they will help you keep warm when watching TV on those cold days. Blankets, quilts, and throws can be draped over a chair or neatly folded in a corner.
You do not have to break a bank or win the lottery to have an interior space you want to show off. The above options for adding color to interiors are thankfully easily accessible and low cost. Furthermost, they work for all décor styles.
Images Courtesy of Canva.
ClickFunnels Tips to Easily Design a Landing Page
How to Furnish Your Small Living Room
Learning to Negotiate: 10 Pro Tips for Real Estate Negotiation
Share This Story, Choose Your Platform!