When it comes to giving a kitchen a complete makeover, many questions come to mind. For example, which is the best kitchen accent wall color? Often, the accent wall is the one opposite the entryway or a window. But regardless of location, bold color hues or wallpapers will create an attractive kitchen accent wall. 
This post is for everyone out there looking for accent wall ideas for their kitchens so dive in as we explore more together.
8 Ways to Create Your Designer Kitchen Accent Wall
A Splash of Warm Colors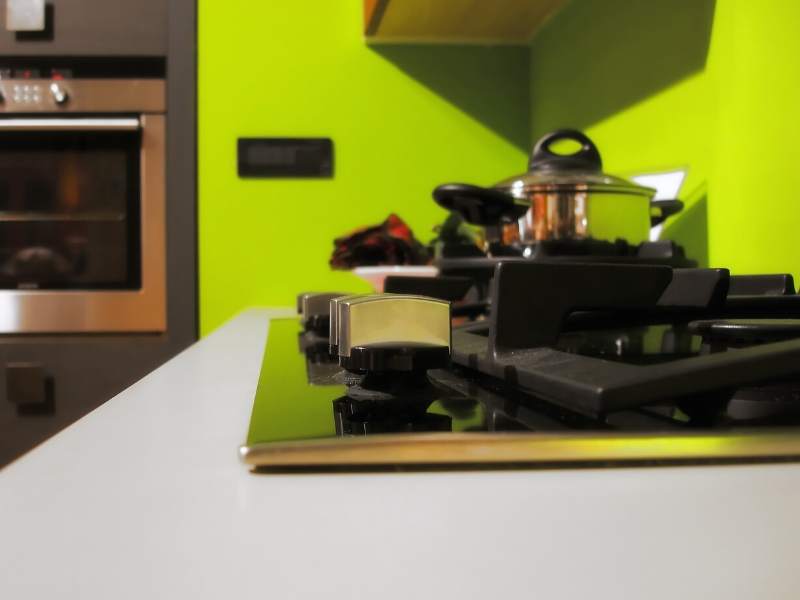 You can always defy what is popular and still get it right by accentuating the look of your kitchen walls. If you don't want to go with modern design ideas, a splash of bold warm colors will do. Most people like to go with earth-themed colors because they blend well with white cabinets but even brown does the trick.  A splash of Chartreuse is this year's top color choice, especially among homeowners who prefer something fresh for a truly inspiring accent wall for the kitchen.
Textured Wallpapers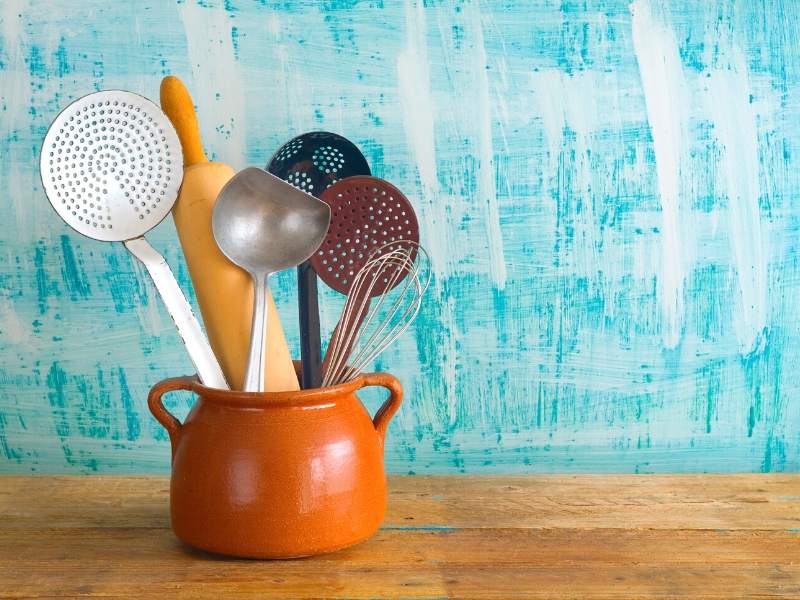 You will never run out of options when looking for kitchen accent wall ideas. In as much as color remains a top choice among many homeowners, textured wallpapers have become handy these days.  The good thing about wallpapers is that you can always switch to some different any time. They are also removable and do not damage cabinets and walls.
We emphasize textured wallpapers because they mimic everyone's natural color addictions. It could be brick-textured wallpaper, stone or wood. Most importantly, choose wallpapers that blend well with your quartz countertop.  For extra kitchen décor ideas such as choosing the best countertop edges, these tips on Caesarstone will help you make the right decision.
Tropic Hues Accent Walls
With tropical accent wall for kitchen, think botanical natural colors. But instead of painting your wall in tropical-themed colors, go for wallpapers. You can choose from wide-ranging prints such as those featuring palm trees or reeds. Most importantly, how you blend a tropically accentuated kitchen wall with everything else in the kitchen makes the difference. Because you have decided to go natural, also consider having bamboo stools around the countertop. Woven baskets, wooden cups, and rugs made of straw will also jest up the look of your kitchen, especially if the accent wall features a tropical wallpaper print.
Designing Black & White
Classical design for the accent wall in your kitchen is attractive, especially if you choose to go black and white. Even in the unforeseeable future, black countertops overlooking white cabinets with black handles will remain magical. Most importantly, go with a pattern that inspires your creative muse and mood. Because black and white remain a timeless option when it comes to the accent wall colors for the kitchen, you will never go wrong with it.
Green is Still Fresh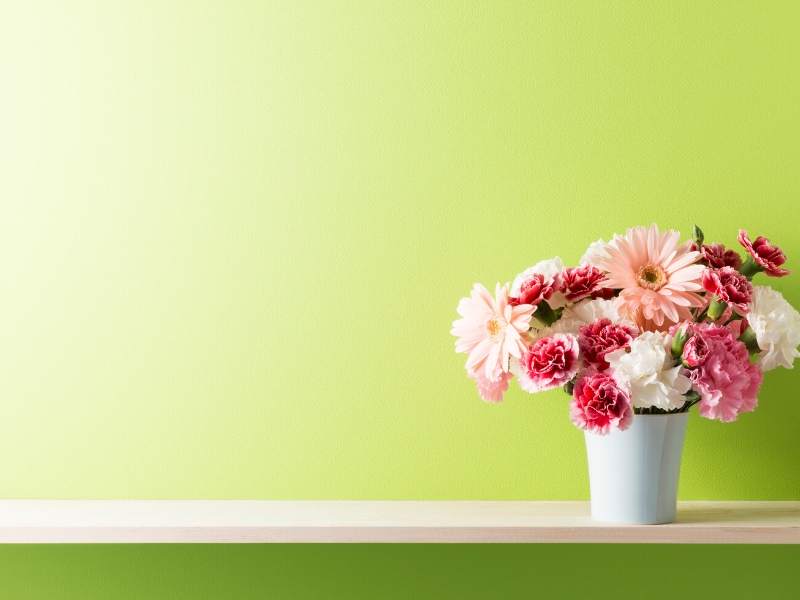 There are several shades of green that make for perfect accent wall colors for the kitchen. Light green color always does the trick with cream cooking top, a brown kitchen island, and yellow flower vases. However, if you choose deep green, consider using darker paint to realize the best contrast.  The catch here is that with a little twist of green, you can give your kitchen a premium look with little effort.
Float the Shelves
Accent walls do not always have to be blank spaces. Floating shelves will accentuate the look of your kitchen walls. They are the magical appeal everyone would want to have in their kitchen. However, do not just put them on any wall for the sake of turning a blank wall into something admirable. Consider mounting floating shelves on the kitchen accent wall opposite a large window for proper illumination.
Chalkboard Walls For Fun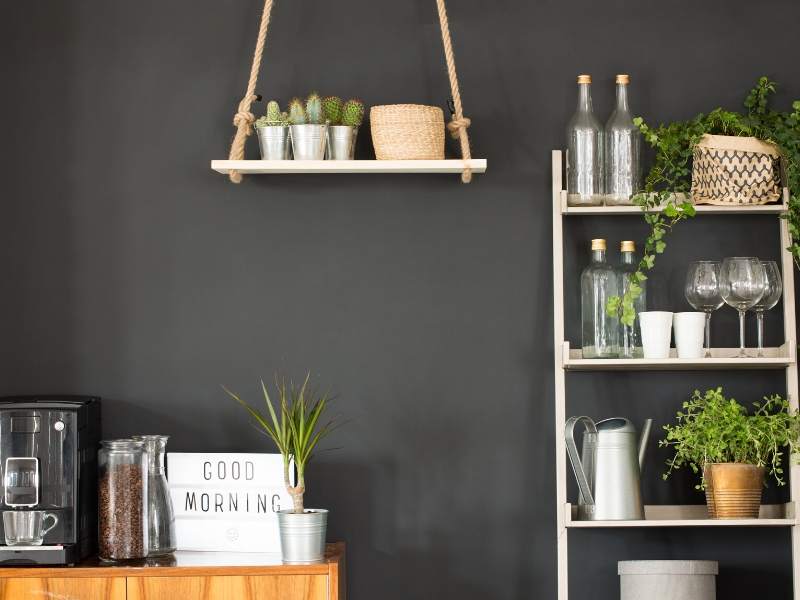 Chalkboard walls still make for great kitchen accent wall ideas. It is especially recommended for people who love art! The inviting appeal that a chalk wall brings into your cooking area makes this a great option. This eclectic and unusual addition to your kitchen will never disappoint.
A Stony Mural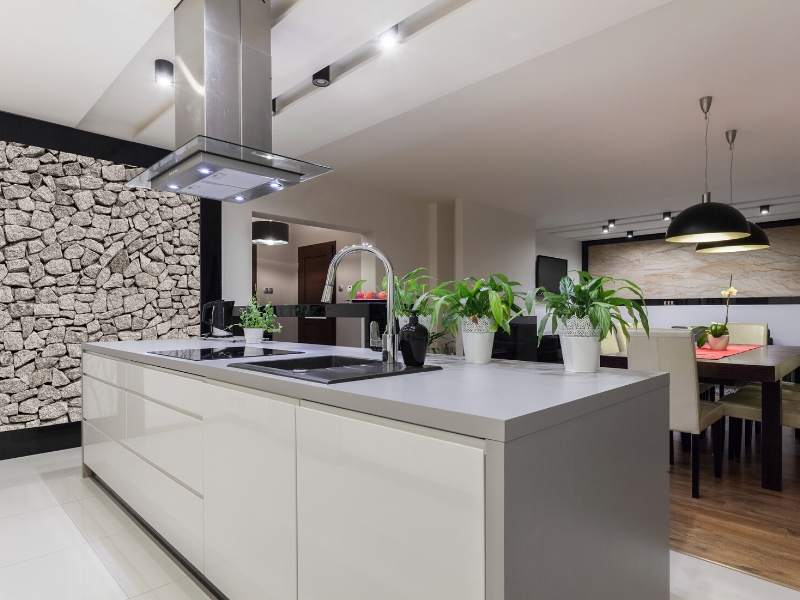 Apart from coffee murals, you can always amplify your love for stone walls in the kitchen. There are several stone-themed wallpapers with a little twist of creativity to make your accent wall come alive. It costs only a few bucks to get the print. The best part is that if you have run out ideas regarding accent wall colors for kitchen, stone wall murals would create the much-needed charm in your cooking area.
The Bottom Line
Giving your kitchen a fresh new look boils down to exploring limitless possibilities of interior décor. Whether you choose to go with natural colors, wall murals or settle for different shades of quartz, aim at realizing a perfect blend with everything.
How To Get Rid Of Bed Bugs, Rats and Pigeons
6 Types of Architects: Choosing The Right One For Your Project
How Modern City Property is Developing in 2020
Aesthetics and Security: 8 Steps to Select the Perfect Fence for Your Home
Share This Story, Choose Your Platform!