While getting people to visit your website is important, what businesses really crave is conversion. With the right landing page design, visitors show enough interest in the organization's unique value to sign up, subscribe, share with friends, get updates and are ultimately loyal customers.
But how do you convince those visitors to take the plunge on your website? Interestingly, there are many factors that a top-notch landing page requires and making these factors" the best" they can be, depends on your page goals. Also, there is a mistake that's expensive. When looking at your own website homage, it might leave your readers with the impression that it's the most navigable and perceptive page on the internet. Although your homepage may, in fact, be an amazing design, it's still not a good candidate for your landing page.
Let's put it this way, if you're advertising to a new audience on Facebook, then most likely, the people you're directing to your website have never seen it before. Therefore, they have no idea how to navigate from your main page to the information in your ad. The good news? By designing a landing page, you set yourself up to drive more conversions for your business.
Want ClickFunnels? 4 Tactics You Need to Know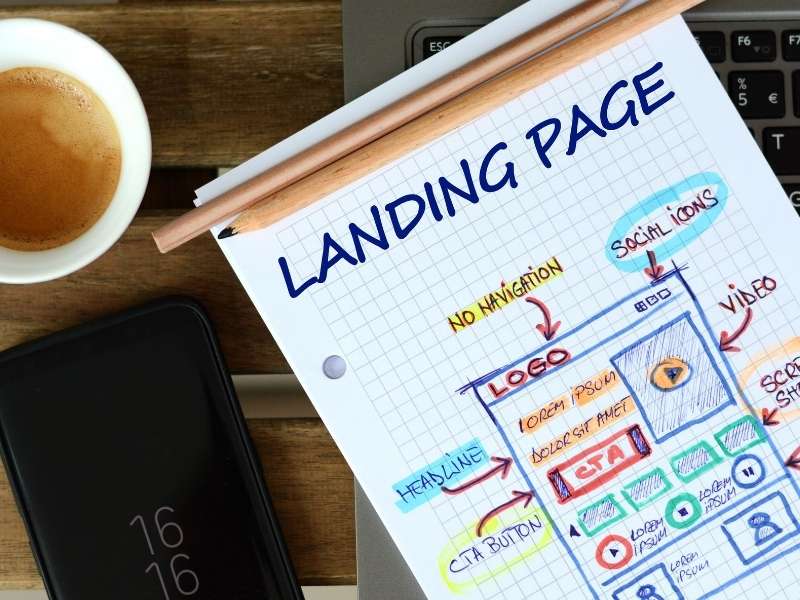 What Makes a Landing Page Important?
Marketers regularly use the term" landing page" to define a sales tactic with its focus on getting prospects to take one specific action. Today, however, landing pages are an important element in the marketing arsenal for every imaginable business. A valuable landing page's purpose is to make it very clear what a user gets from a page and how to get it. Interestingly, the landing page is on the same domain as the company's website, but what makes it unique is its navigation and purpose.
Whereas the overall website is sort of a digital brochure, the landing page is to guide for potential customers to register their contact information and make a purchase without any further interruptions. However, selling online is a challenge and increasingly, more marketers rely on sales funnels to build immediate trust and effortlessly compete with other online businesses.
The ClickFunnel Difference
Sales funnels provide marketers with a whole new sales experience. Advancement of tools like ClickFunnels allows you to build a series of sales pages with a single goal in mind. That goal is, of course, to guide the prospects one step closer to conversion. However, writing high-converting copies, sales letters and email scripts, or even Facebook ads take time, patience and practice. You most likely have the skills, but its simply not as easy without the power of Funnel Scripts. Funnel Scripts is a standalone marketing tool for automation of custom copy writing. Funnel Scripts still costs only $297. In fact, for the advanced features and bonuses, the one-time pricing might be the right deal for you.
What does Your Landing Page Need to Sell?
➼ Enticing Headline 
A headline is the first impression you make on a potential customer. With that in mind, without a persuasive promise that turns a searcher into a reader, the rest of your copy may as well not even exist. Like many other marketers, the main goal of your headline is to get visitors to read at least the next line of your copy.
To put it simply, you must captivate them. In fact, your headline must captivate your target market in such a way that they want to find out more about what you're selling. You can simply ask yourself "What sort of headline would I not be able to withstand?" As long as it is not something dishonest, make sure you write something that is absolutely irresistible for your potential customer. 
➼ Promising Subheading 
Besides enticing headlines, coming up with promising subheading is the second step in the copy writing process. Subheadings can be divine when written patiently and adequately. Why? Because in subheadings you can say everything you need to say in just a single headline. 
While the headline has the power to grab the reader's attention, your subheadings must reel the reader in. It helps to compel the prospect to read, look, click, scroll, or to do whatever it is you want them to do. However, you must write use your subheadings strategically with the other two core elements in mind: the headline and the call to action. These three elements work together like a rapid, perpetual burst of information and opportunity. Here's a simple outline of this formula:
Headline. Grab prospects attention.
Subheading. Roll them in.
Call-to-Action. Tell them what to do.
Social Proof
It might seem counter intuitive but publishing a sales page without any sort of social proof is a bad move. Statistics, for instance, are a powerful social proof statement when making online sales. Why are they important? To further entice prospects after your headline and subheadings promise through your headline. This is where you prove your facts to help you fulfill that promise. Credibility badges, testimonials, and even start ratings are all effective ways to accomplish this tactic. 
Branded Design
Look at it this way. First, you're compelled by an ad for a service or product you're interested in. Then, when you finally get on the landing page, there's confusion because the logo and page design are different colors. At first glance, you're not even sure if this is the brand you want. This is the exact experience that drives your potential customers away.
The tactics in this scenario are pretty simple. Always keep your landing page up to date with the rest of your marketing materials. Instead of surprising prospects with new fonts, colors and logos, only show people continuity of branding for your product. Remember, your landing page is the first thing people will see after your ad, so do the work to make a spectacular first impression and therefore, conversion!
If you have any questions or other suggestions, please let us know in the comments below. You will also find interesting links below to take you to more articles about all things design.
Images Courtesy of Canva.
How to Furnish Your Small Living Room
Learning to Negotiate: 10 Pro Tips for Real Estate Negotiation
Share This Story, Choose Your Platform!