There are so many benefits to having flowers in your home. Of course, they look and smell wonderful! Plus, they have proven mood-boosting and de-stressing effects.
It's just difficult sometimes to decide what to do with flowers apart from putting them in a vase on the window sill. However, there are many ways of decorating with flowers. Here are some tips to help you with your flower decor.
Decorating with Flowers in Your Home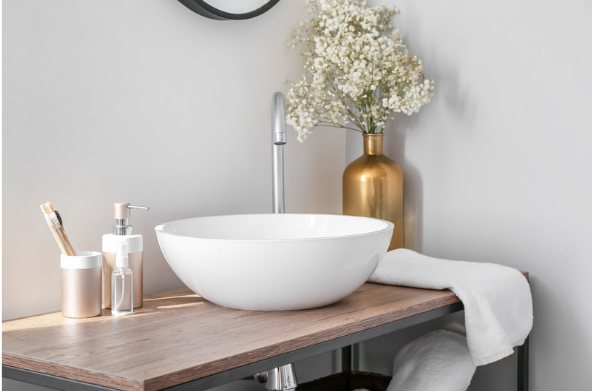 Real Flowers vs Artificial Flowers
Flowers are a really beautiful way to decorate your home, and many people like to use artificial flowers for the convenience of not having to buy fresh flowers regularly.
Now, while artificial flowers have changed a great deal since the days of unrealistic, shiny flowers, they still don't compete with the authenticity or scent of real flowers.
The other problem faced by artificial flowers is that they are often made of plastic, and in this eco-conscious world, we should be trying, as much as possible to reduce our use of plastic.
However, should you choose to go down the artificial flower route, it is worth spending a little more to get more convincing artificial blooms. Remember to dust them regularly so they don't get an unhealthy dust build-up.
If you decide in favor of real flowers, have a look at your local florists, so that you can support a small, local business. If a local florist isn't available you can always order flowers online too.
Flowers in the Hallway
Nothing is more welcoming when you open your front door to visitors than having a large arrangement of flowers in the hallway to welcome them. This will instantly make your home feel more welcoming,
You don't have to have a large hallway to do this, even the tiniest of entryways can benefit from a flower arrangement, just tailor the size of the bouquet to the size of the space. A larger selection of flowers for a bigger hallway, to a more modest selection for a cozier entryway.
You want to strike the right balance, so that the flowers don't overtake the space, but neither do you want them to fade into the background so they are not noticed. You could also place some of the more fragrant varieties of flowers to provide a welcoming, calming scent to your guests.
The easiest thing to do to ensure a constant supply of fresh flowers is to set up a subscription with a company such as Toronto flower delivery service, and you will always have fresh flowers on hand.
Create a Table Centerpiece
A classic place to put flowers is as the centerpiece on your dining, or coffee table. Traditionally, flowers have been put in a large vase in the center of the table, however, modern fashions for more intimate gatherings are trending more towards lower arrangements, with a slightly wider bowl.
For a larger, more traditional event, large vases with bigger arrangements may still be suitable.
Another lovely look is to use a variety of different-sized vases or mason jars. This creates a much more unique display with some depth and texture to it.
They Add Color When Placed on a Shelf
Decorating shelves, or even a mantelpiece can be a great way to bring a small bit of color to the room.
Choose a few flowers in colors that complement your current styling, and use small vases, bottles, or jars to hold just one or two stems – this is a great way to upcycle your glass waste.
The trick with shelf or shelf or mantle styling is to not overcrowd it. These areas are often full of books and other bits and bobs, so you don't want the space to look cluttered.
Just add a few stems, and this will add to your room beautifully.
Aroma Therapy for a Bathroom
Flowers in the bathroom are often overlooked, and people forget the smallest room in the house often needs some care and attention. A lovely idea for a bathroom is to have something with a nice smell, which will relax you when you are taking a bath or a shower.
A good option is eucalyptus, not only does this smell amazing, but it is also good for de-stressing after a long day at work. Hanging eucalyptus in a shower means that the steam releases the essential oils, for a decadent shower experience.
You can also dry the eucalyptus leaves, add dried lavender into a muslin pouch and steep them in your bathwater for the most relaxing bath you've ever taken.
Door Wreaths
Traditionally, we have used door wreaths at Christmas time, to add a touch of holiday spirit to the entryway of our homes. However, it is becoming more and more common to have different wreaths for different seasons.
In the fall, for example, you can have a wreath made of brown, yellow, and orange colors with pine cones.
In the summer you can add beautiful summer flowers in pinks and whites to add a seasonal touch of happiness for your guests, and the postman!
Wreaths generally need to be made in oasis foam and need to be gently sprayed with water regularly to stop them from drying out too soon. Wreaths work better on a slightly protected door so they don't get blasted by too much heat or rain, depending on the time of year and the country you live in.
Overall, flowers bring a touch of luxury and nature into your home. There is no right or wrong way to decorate with them, just experiment to find what works for you.
Have a chat with your neighborhood florist, and they will be able to recommend what type of flowers look and work best in an arrangement. Remember also to consider other members of your household, for example, lilies are fatal if ingested by cats, so just be aware of the flowers that you are buying.
If you have any questions or suggestions, we'd love to hear from you in the comments below. Also, take a look at the links below for more fantastic information about all things design.
Images Courtesy of Canva.
Other Posts You Might Enjoy:
7 Essential Summer Flowers for Breathtaking Beauty
Your Checklist for Garden Flowers That Thrive All Summer
8 Brilliant Ways to Decorate Your Yard for Spring
Share This Story, Choose Your Platform!