Tables are an important element to establish the aesthetic of a room that you must never ignore. While you often see different types of tables in different rooms of your home, none are as important as the dining room table.
A dining room table is at the epicenter of your family life, and for the big family events and holidays. It's the place where we break bread with our loved ones, where important conversations take place, and even where our children do their homework.
Here are four things to keep in mind while shopping for the perfect dining room table for your home.
4 Steps to the Best Dining Room Table for Your Home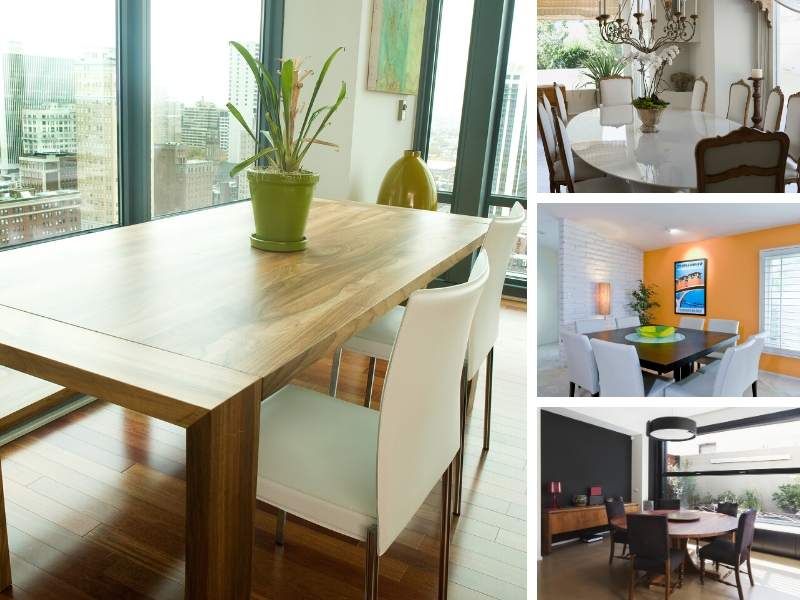 ① Area
While a dining room table traditionally is in the dining room, many modern homes don't actually have separate dining rooms. This is why you need to first consider the area before selecting the new dining room table.
Dining rooms aside, the most popular spaces for dining tables include:
The kitchen
The family room
The patio or deck
By determining which room your dining table will call "home", you're better able to pick one that will meet your needs.
② Shape
There are many different shapes of dining tables available to you. In a world of customized everything, you can pick a dining table in pretty much any shape you'd like. Here are the four most common shapes of dining tables:
Also, remember that the shape you pick limits the dining table surface area and size in general. Instead, you should pick a shape that works with the shape of your dining room so you can still walk around it easily. Which brings us to our next point.
③ Size
The size of the dining table is perhaps its most important factor. If you have a big family, a four-seater just won't cut it. If you ride solo, a 12-seater will be a colossal waste of space.
Determining your size needs will determine the shape options available to you:
Rectangle, square, round and oval tables that are four feet in diameter comfortably seat up to four people
Tables that are rectangular or square as well as oval or circular comfortably seat up to six people as long as they're 5ft to 6ft in diameter
With a round or square table, you will struggle to seat eight people while oval and rectangular tables can easily accommodate that number
For upwards of 10 people, a rectangle table is your best bet
④ Material
You want a dining table that not only looks good but is easy to clean and will last a long time, right? Then bear the following bits of info in mind:
The easiest to clean materials for a dining table are plastic, laminate, quartz and metal.
The most durable materials for a dining table are wood, metal, quartz, and marble.
Depending on your design aesthetic, the most stylish materials for a dining table are glass, metal, marble and wood.
Keep in mind what material, color, and overall aesthetic you use in other furniture for the room. If you want to have a more modern look, go with something like metal or marble. If you go more classical, good dark wood would be better.
Still Stuck?
Picking the right dining room table for your needs can be tough, even with posts like this to help you. If you need a little more inspiration, turn to sites like ours, Style Nations, and Pinterest or get a professional interior designer involved to help get those interiors — or exteriors — decorating juices flowing.
Happy table hunting!
Images Courtesy of Canva.
Persian Rugs vs. Oriental Rugs: What's the Difference?
5 Common Interior Design Mistakes You Should Avoid
How To Buy Timber Flooring in Melbourne
Share This Story, Choose Your Platform!