Imagine coming home from your stressful work to a bedroom with an ambiance that makes you feel like you can relax. A room with a bed with a soft fabric makes you want to snuggle in it all day. Moreover, bedroom walls with refreshing new coats of paint are always uplifting. Your bedroom is your safe space; this is where you can be yourself and clear your mind. So, investing to make your bedrooms look nicer and comfortable is a must. To help you with some ideas, here are the five best bedroom upgrades.
5 Best Bedroom Upgrades for Living Comfortably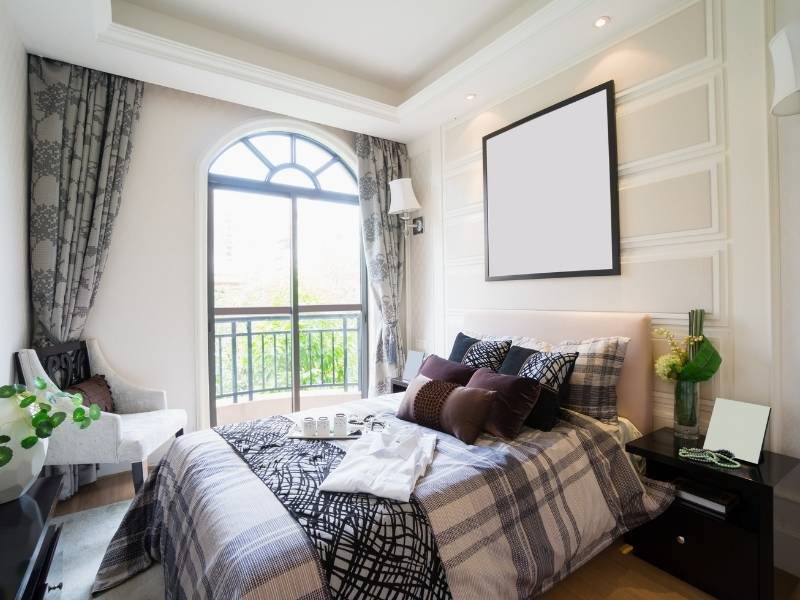 1. Replace your mattress with new ones.
Using worn-out mattresses affects the quality of our sleep. Therefore, it is necessary to replace it. The most common sleeping position is when people sleep on their side, and there is a great side sleepers mattress suitable for them. If you're interested in these kinds of products, visit News Week to explore more about them.
There are several kinds of mattresses available on the market. Do some research regarding those and find the one that fits your preference. Additionally, replacing your bed can help ease backaches and reduce the stress you experienced because of its excellent quality.
2. Paint your bedroom walls with new refreshing colors.
Painting your walls with new color helps refresh your room's old and gloomy ambiance into a much brighter one. You can select what color you want to paint your walls with, whether warm or cool colors. However, it is preferable to paint your room white to make your room look more significant, and it blends well with any color.
Coat your wall with a primer first before adding the final paint coating. It will help absorb the final paint easily and emphasize the color much better, especially when you shift from dark to lighter. The primer can protect your wall and your paint since it acts as a barrier between the two.
3. Clear out the furniture you don't need.
An effortless way of keeping your room nice and clean is getting rid of unnecessary items. Shifting to a minimalist design helps save time cleaning. Additionally, it helps you design the calming environment you want.
You will have extra space once you get rid of the furniture you don't need in your room. However, with that extra space, you can now be more active with room to move around. You might do yoga, work out, or anything you want.
Also, if you are planning to buy furniture, choose those which are multi-purpose. Doing so minimizes the unnecessary things and gives your room have an aesthetically pleasing view. A more spacious environment is very beneficial in the long run, especially if you're active.
4. Use organizers to sort out your stuff.
Nobody wants a messy household. Bad things happen when a person when their surroundings are in disarray, First, it adds unnecessary stress. It also overwhelms your brain, making it hard to focus. Instead, use organizers to arrange your belongings. Strategically place your organizer drawers or boxes in your room and put your things in specific spots to prevent them piling.
It is useful to work with space under your bed to organize your stuff as well. You can use drawers that fit under them and place your shoes, socks, or whatever you have decided. You can also conveniently access them a lot easier.
5. Add plants to your room for the best bedroom upgrades.
If you feel like your room is still bland, try adding hanging plants for decorations. Plants are unique and pleasing while cleansing the air that you breathe. Whether it's snake plants, succulents, or any plants that you prefer, use it to enhance the beauty of your room.
Adding indoor plants to your room is a practical design. It can make your room more pleasant and boost your mood at the same time. It also improves your air quality, which later enhances your mental health with fresh, clean, breathable air.
In Conclusion
The five tips mentioned above are only a few of the countless upgrades you can do. It doesn't matter if you choose to have a small or significant upgrade to your room. What matters is that you are living comfortably in your haven.
Never forget that adding little details to your room helps in pulling off that relaxing vibe. With this vibe, connect with your inner thoughts and be at ease. Invest in making your room feel nice to live in and enjoy the perks that come with it. So, here's to your best bedroom upgrades ever! If you have questions or suggestions, please leave them in the comments below. Also, look below for links to more interesting articles about ALL things DESIGN for your home or business.
Images Courtesy of Canva.
Other Posts You Might Enjoy:
5 Ways to Brighten Up Your Bedroom
Feng Shui Tips For Decorating The Bedroom
5 Inspiring Ideas for Your Bedroom Design Renovation
Share This Story, Choose Your Platform!