Whether you're planning on updating your bedroom design soon or just know you need a newer mattress to enjoy the sleep you need, it pays to look for ways to save money in this area.
Mattresses aren't cheap, so it's important to not only find the right comfort, you need to find the right price as well. To save yourself a bit of cash, it's worth looking into ways to purchase a mattress that doesn't blow your budget. Consider the following ideas worth testing out:
How You Can Save Money on a Mattress Purchase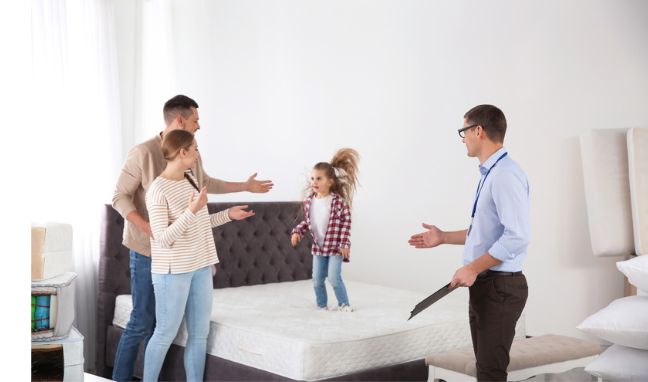 Shop Online for Mattress Sales
While your inclination may be to head straight to some local brick-and-mortar bed or department stores, consider shopping online. Retailers who sell digitally can often offer a great deal on an affordable mattress because they don't have the same overheads as companies who have to pay a lot for expensive physical store space. As a result, you can purchase an excellent new bed for less.
Ensure that the firms you check out online enable you to return a mattress if it doesn't suit you. Most online retailers (and many brick-and-mortar ones) enable customers to test out a bed for 30, 60, or 90 days to see if it suits them and to return a product for a full refund if not. Before making a purchase, check the terms and conditions to see if this is possible, so you don't have to worry about getting stuck with a bed that doesn't suit you.
Sign Up for Alerts about Mattress Sales
Another way to save money on a new mattress is to look out for sale periods. Most retailers choose times throughout the year when they offer discounts on their products, and you can get a great deal as a result. For example, common sale periods include Black Friday, Cyber Monday, the end of the financial year, Christmas, and Easter. Waiting until one of these periods thus enables you to purchase a mattress at a lower rate.
Furthermore, you might like to sign yourself up for the newsletters of mattress retailers and follow them on social media so you can learn ASAP about any great offers they have coming up on their database. Loyal members and followers often get early access to deals, so you can save a lot of money by getting in quickly before stock runs out or discounts expire.
Consider Bundles
An option people don't think about enough when it comes to buying a mattress is taking advantage of bundled pricing. It costs more upfront, but you can save yourself some cash over the long term. Check out retailer stores and websites to see what they offer in the way of packages that include multiple things you need for the bedroom, such as a bed frame, the mattress on top of it, a chest of drawers, bedside tables, etc.
Many retailers package these types of products into one great deal that enables you to save money on each item in the group.
Read Testimonials and Reviews on the Mattress
Before you pay any money on a mattress, be strategic by reading testimonials and reviews about the brand, reseller, and specific products. You will waste your money if you end up with an inferior mattress, so it's wise to spend some time at the start researching your options closely than rushing the process and eventually realizing you've bought a dud.
Don't just opt for a shopping expedition with the closest retailer to you who offers mattresses. Instead, be open to traveling a little further for quality items or checking out online avenues for inspiration and purchasing.
These are some of the top tips to help you save money on a mattress. There are other ideas to consider, too, such as keeping an eye out for coupons you could use, negotiating prices with stores, and asking if you can get free or discounted add-ons, such as delivery or extended warranty.
No matter our age or position in life, we all need proper sleep to be as productive and happy as we'd like. Having the right mattress significantly impacts this and should help remind us to take the plunge and buy a new one sooner rather than later. When the time comes, keep your budget top of mind, and don't be afraid to look for ways to cut costs wherever you can.
Other posts you might enjoy:
5 Factors of a Great Mattress for Your Children
Tips on Maintaining a Clean and Bug-Free Mattress
3 Reasons to Make Green Mattresses Part of Home Redecoration
Share This Story, Choose Your Platform!