Designing a bedroom is a creative activity that anyone can enjoy. There's a lot to consider when choosing furniture, bedding, and accessories. You first decide on a style you want to achieve and then consider your budget.
How to Create a Custom Design Bedroom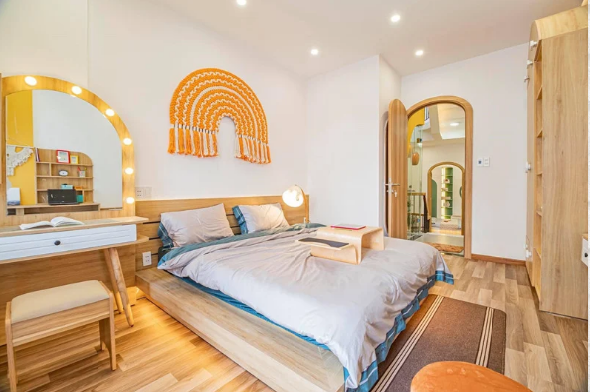 The following tips to help you achieve your dream bedroom customized for you:
Measure Your Bedroom
Before you start designing your bedroom, measuring the space is a good idea. Knowing the dimensions of the room, and the dimensions of the furniture will help you decide on your floor plan. Also, keep in mind how much space you will have between pieces so you have enough room to move around. It is always recommended to work with an interior design professional who can develop a plan for the space.
Choosing a Color 
Palette 
Color has a direct impact on one's mood. You want to think about colors that give you comfort when you are designing your bedroom as it is a place for rest and relaxation. Benjamin Moore offers suggested color palette's for the untrained eye if you are not confident in choosing a color scheme. You might consider consulting with an interior designer. Many interior designers can be hired through an hourly consultation.
Comfort is Essential in Bedroom Design
Sleep is vital to your health so it might be wise to invest in a good mattress. A good mattress should be comfortable and supportive. It should provide proper cushioning for your body and not cause any pain to your body like your neck or back. There are a lot of other factors to consider when selecting a mattress like size, and density.  A custom mattress can usually be made specific to your needs, so you don't have to compromise on a generic one. 
Create Wall Art
Wall art is important in any room and especially in your bedroom design. Art should stir emotions and when designing a space for tranquility like a bedroom design it should be calming. For some people, water makes them feel at peace, for others it might be flowers. Think about what gives you joy and shop for that theme.
Designing custom shelving in a bedroom helps to personalize it. Shelving allows you to add personal touches like photos of friends, family, or even pets. This is where things that touch you in a personal way should be on display. Of course, most of us have books and books can be decorative too.
Custom Window Treatments for your Bedroom Design
Choosing the right window treatment for your bedroom design important. The following are what you should consider when picking out window treatments for your bedroom design: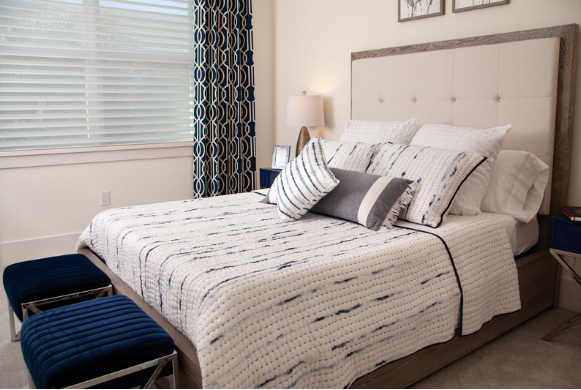 Design by Patricia Davis Brown Designs
Privacy – Make sure the window treatments you choose have blackout capabilities. Shades are best for keeping the sun out of your bedroom in the morning.
Decorative Curtains – Curtains can be fully functional with blackout lining or they can just be a drapery panel adding another layer to the design. They become an accent to the shade.
Plantation Shutters – This style of window treatment can give you privacy, but if you have a view outside your window, I would choose a shade. A shade can rise up and not impede the view while the shutter will only open and close the shutters so you do not have a full view of the window.
Create an Accent Wall
Accent walls are an easy way to add a personal touch to your bedroom. There are a couple of ways you can design an accent wall.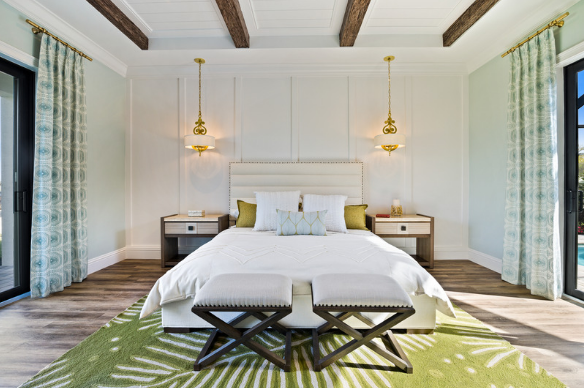 Design by Patricia Davis Brown Designs
Wallpaper – Wallpaper is easy to apply and helps hide any marks on a wall. You can buy temporary wallpaper if you are in a rental or like to change your room often.

Paneling- Wood Paneling can help draw visual attention to a wall.
Bold Paint – Use metallic paint to create a unique design, or paint the wall a darker shade than the others.
Other Posts You Might Enjoy
5 Budget Friendly Ways to Create Your Dream Bedroom
Tips to Furnish Your Bedroom on a Budget
Home Decorating Details with the Most Impact
Share This Story, Choose Your Platform!