Are you looking to furnish your bedroom on a budget? The urge to update your bedroom with every new interior design trend is strong, we understand! However, it can get expensive. Here are some helpful money-saving tips to help you decorate your bedroom space.
8 Tips For Furnishing Your Bedroom on a Budget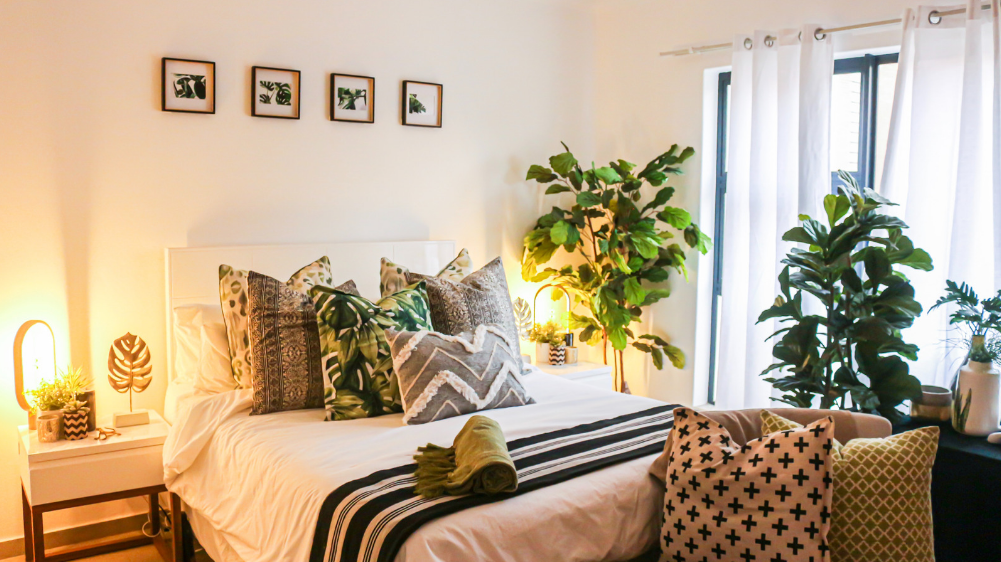 1. Decorate with Paint
Buying enough stylish artwork to cover your walls can rack up quite the bill. However, a can of paint is pretty budget-friendly! Save your money for a few bold artworks and decorate the rest of the room with paint! You can create a fun patterned accent wall, give the room a wainscoting effect, paint a modern arch around your bed, and so much more!
2. Buy your Mattress Online
A great way to save money on a big-ticket item is to purchase mattresses online. In-person mattress stores often have high markups on their products, and you rarely get to see a very wide selection. Whereas online, there are no pesky markups, and you have hundreds of mattresses available at your fingertips! With all the options available, you are much more likely to find a killer deal that way.
3. Fill the Room with Plants
Add instant sophistication to any room by filling it with houseplants. These adorable beauties come in so many interesting shapes, colors, and sizes, and many are much easier to take care of than you think. Did you know that buying just one houseplant can give you so many more in the future? Through propagation, you can easily double or triple the number of plants you have for free! Talk about saving money. Place them in cute pots for an added bit of flair!
4. Find Furniture Discounts
The easiest way to break the budget on a bedroom makeover is buying expensive furniture. Dressers, desks, bed frames, nightstands, can seriously burn a hole in your wallet. Our advice: don't buy all your furniture at once and don't buy it full-priced. Find a piece you like? Wait until it goes on sale. Hunt for furniture discounts, wherever you can, to save you big money.
5. Swap Duvet and Pillow Covers
Instead of buying all new bedding, just swap out the covers! It'll feel like you completely replaced your linens without spending a crazy amount of money. You can typically find inexpensive duvet and pillow covers online!
6. Use Your Accessories as Décor
Struggling to find décor? Use stuff you already own! You can easily display your hats, jewelry, or perfume/makeup bottles in an aesthetically pleasing way. This not only saves you money but actually gives your bedroom a luxurious showroom vibe.
7. Repurpose Old Pieces
Fixing up old pieces rather than buying new ones is a wonderful way to save big bucks. Buy a can of paint or a new stain and refinish that old dresser instead of tossing it to the curb! You can even repurpose old furniture intending to sell it and fund your new purchases.
8. Update your Window Coverings
If you're still stuck with outdated blinds, it's time to update your wall coverings. It doesn't cost an arm and a leg and adding elegant curtains to your windows will make your entire room look refreshed.
In Conclusion
There are many ways to furnish your bedroom on a budget. With new design trends always on the rise, it is hard to stop yourself from redecorating your spaces. Using these helpful tips, you can think outside of the box to spice up your bedroom.
Other Posts You Might Enjoy:
Shopping – It's All About Finding the Deal!
Top Tips for Creating a Modern Home
Home Decorating Details with the Most Impact
Share This Story, Choose Your Platform!