Trying to create your dream bedroom? Much of the time that we spend in our bedrooms is in bed, so it's understandable to assume that your bedroom needn't be decorated. All you need is a bed, a dresser, and a side table with a lamp, right? 
5 Budget-Friendly Ways to Create Your Dream Bedroom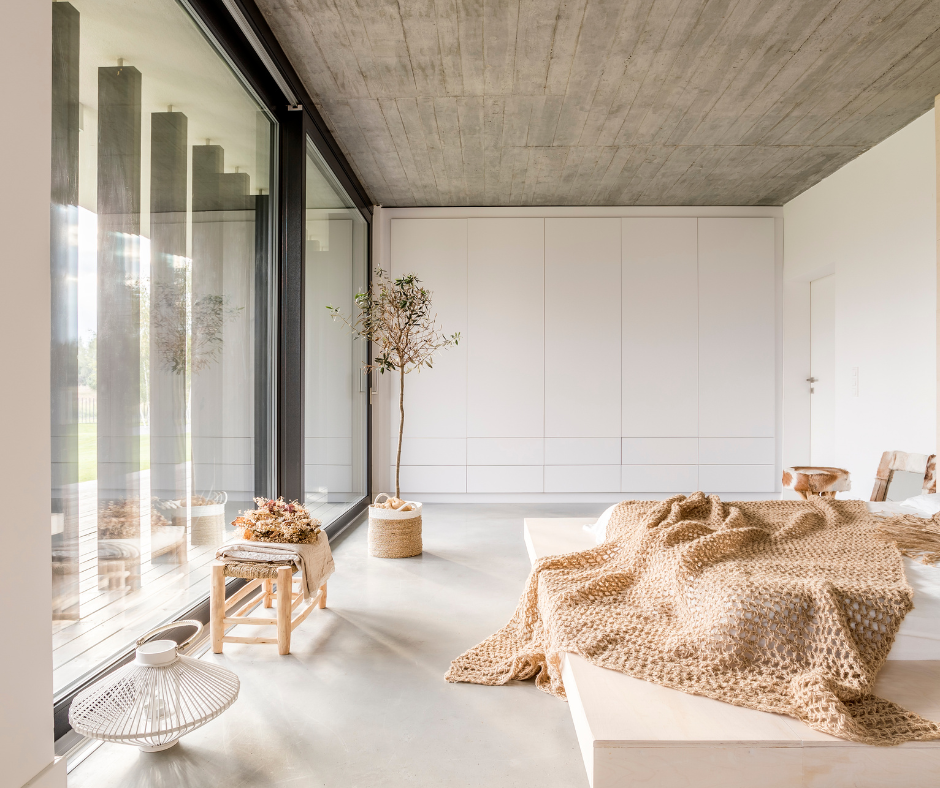 Just because we spend eight hours (give or take a few hours) asleep, that doesn't mean your bedroom can't have some personality! Here are 5 budget-friendly ways to create the bedroom of your dreams. 
1. Color of Your Dreams
Painting your bedroom can change the way your room looks and feels pretty dramatically. Since we spend so little time awake to admire it, why not go big and paint the walls a bold color. Not sure of what color to choose? You can draw inspiration from Pantone's color of the year: Veri Peri. So, if this purple is too bright for your tastes, you can opt to go a few shades darker or lighter.
Note: If you're planning on selling your home soon, skip this and stick with a neutral color palette.
2. Upgrade Your Linens
New bedding can make you feel you're sleeping on a cloud! You can find affordable sheet sets in a variety of colors, sizes, and patterns so that you can choose a set that fits your style perfectly. Also, while you're upgrading your linens, don't forget the comforter! A new comforter may be a little more expensive, but it is totally worth it when you slide under the covers and feel as snug as a bug in a rug!
3. Layers Are Your Friend
A budget-friendly way of making your bedroom feel like it's the penthouse suite at a fancy hotel is to layer up. You can add a luscious velvet throw blanket at the end of the bed for a touch of color. You can layer a woven rug on top of your carpet or add piles of throw pillows onto the bed. 
4. Re-Imagine the Bedside Table 
When it comes to bedroom furniture, a nightstand is one of the more expensive pieces. However, you don't have to have a nightstand that matches the rest of your bedroom set. In fact, we like thinking outside of the box and opting for something a little more interesting. You can use bookshelves, a stool, chair, or a pile of vintage suitcases from the thrift shop! You're only limited by your imagination. 
5. Add a Bit of Greenery – and Sunshine
One of the best ways you can elevate your bedroom is by adding a few plants into the decor. You can hang plants in the window or put them on the dresser. Heck, you can even put them on your bedside table or get a standing plant to put in the corner. But, don't forget to switch out your dark curtains and replace them with light and airy ones.
Budget-Friendly Upgrades Create a Peaceful Place to Dream
Create your dream bedroom into a place where you can sleep peacefully doesn't have to cost an arm and leg. In addition, if you have a thrift shop nearby, look for items you can use to give your room that unique touch. With a little of creativity and searching online for inspiration, you can definitely create the bedroom of your dreams!
Other Posts You May Enjoy:
Best Interior Design Software for a Clean & Stylish Home
How to Incorporate Windows Into Your Interior Design
Tons of Ways to Trim Your Ceilings
Share This Story, Choose Your Platform!