How to Create a coastal decor color palette? Unless you are fortunate enough to live right on its shores, the sea is likely to be something you know exists, but only realize the rarest experience of it. It's something you enjoy for day trips and holidays, which is a shame given how beautiful it is.
Most of us have experienced the wonder of looking out over the ocean; enjoying the beach; the smell of salt in the air as the wind whips our faces. While you can try and preserve the moment in time, you will inevitably have to leave it behind – or will you? 
Making your love of the ocean, the coast in general and its surrounding areas a theme for your home is a fairly novel one but, if you do the right way, coastal décor can bring back those beach memories.
3 Ways to Create Coastal Decor Color Palette
Color Palette: It Doesn't Have To Be Blue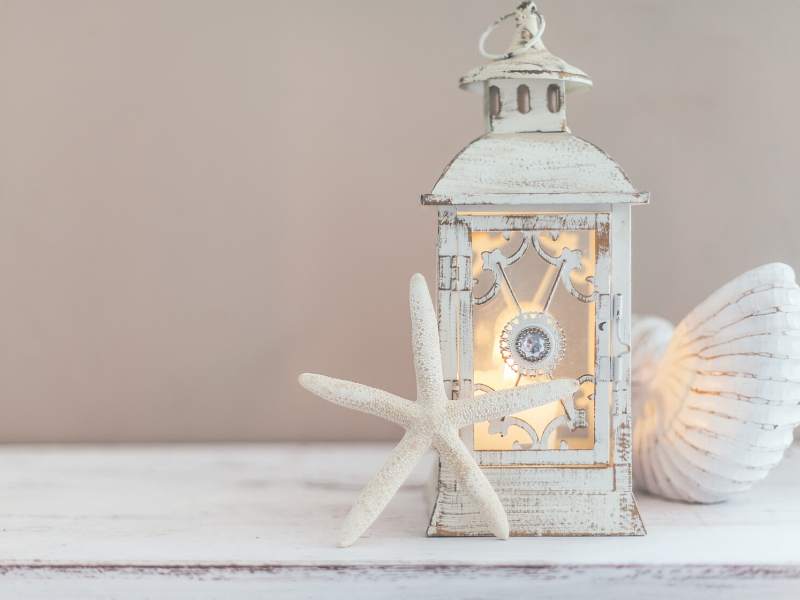 Ask anyone the color they most associate with the ocean and the answer will usually be something along the lines of blue. There's a reason blue conjures up the idea of such beauty in us; it's the promise of clear waters, nothing on the horizon as far as the eye can see.
Blue, obviously, works well for an ocean-themed interior – but it's not a necessity. You can get much of the same effect by using green colors, emphasized by sandy neutrals. If you do want to add blue in, use it as an accent rather than an overwhelming aqua splash of color.
Go for darker, richer blues and highlight with yellows or even pale peach. Staying within the realms of these colors will produce the effect you're hoping for, without the feeling you're living in a house fit for the Smurfs.
Wood Adds a Touch of Authentic Warmth to Coastal Décor
It's impossible to look past wood if you're thinking of an ocean-inspired home. It brings to mind driftwood or even the remnants of sunken ships from years gone by. Weathered teak tables, stools, and headboards should be your focus.
Keep the wood light in color; anything too dark – such as mahogany – will drown the room and affect the overall impact of the spectacular. Adding a few duck egg blue shades of wood into the mix can work well, so don't be afraid to play around.
Don't Do the Obvious Accents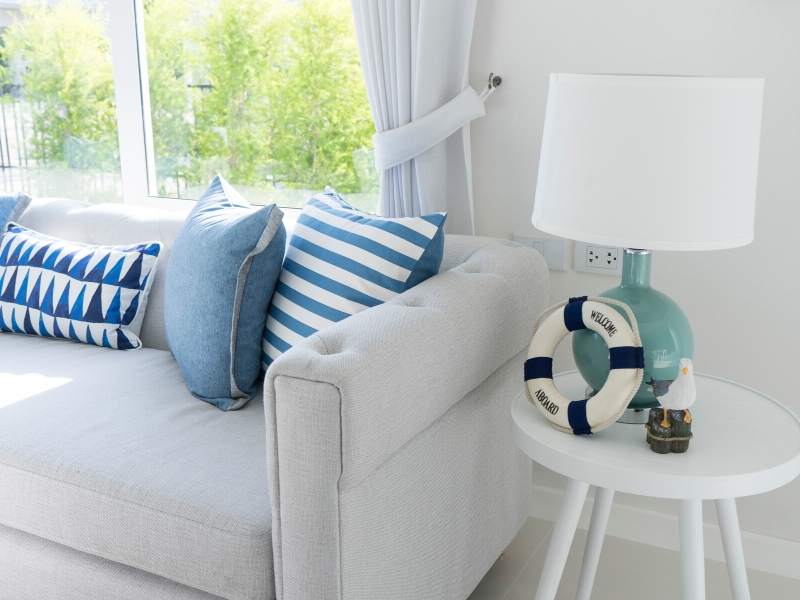 If you're thinking decor for this type of interior is all about seashells, then don't worry – there's no need to be so obvious. There are many ocean-related trinkets that can add much-needed originality to your theme. Lighthouses are a particularly beautiful image to try and capture.
You could look for a light fitting that diffuses the light, as the beam from a lighthouse would appear on the deck of a ship. You can also look for anything that looks like it might have been rescued from a sunken vessel, from trinket boxes to jeweled displays.
Also, think about sand as a decorative piece rather than just a color you want to evoke. Colored sand in glass jars can look stunning, and you can make them yourself if you wish to save a bit of money.
While you may not be able to journey to the ocean often, by following the ideas above, you'll be able to feel a little touch of the seaside right from the comfort of your own home.
Images Courtesy of Canva.
Other posts you might enjoy:
Designs for Coastal Patios and Porches
British West Indies Style Rocks the Coastal Look
In-Home Hammock Designs Adds Peaceful Décor
Share This Story, Choose Your Platform!