Coastal design style has long been associated with a casual and relaxed beach aesthetic. However, in recent years, a new trend has emerged within coastal design: sophisticated coastal design style. This elevated take on coastal decor combines the serene elements of the beach with a touch of elegance and refinement. In this blog post, we will delve into what sophisticated coastal design style entails and how you can incorporate it into your home.
Sophisticated Coastal Style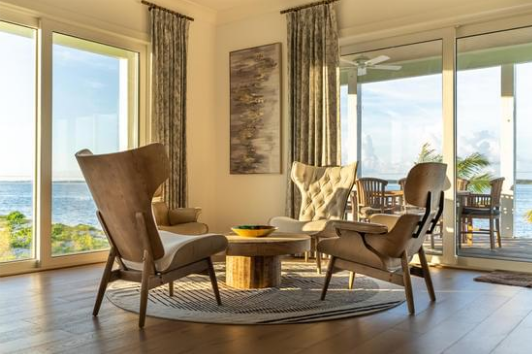 Serene Color Palette
Sophisticated coastal design style embraces a soft and calming color palette inspired by the natural beauty of the coastline. Think shades of white, cream, beige, and soft pastels. These soothing hues create a serene backdrop and evoke a sense of tranquility reminiscent of a seaside retreat. Incorporate these colors through your walls, furniture, and accessories to establish the foundation of your sophisticated coastal design.
Textures and Materials
Texture plays a crucial role in sophisticated coastal design style. Introduce natural elements such as weathered wood, wicker, and rattan to add depth and visual interest to your space. Incorporate these materials in furniture pieces like accent chairs, coffee tables, or even wall art. Additionally, consider incorporating textured fabrics such as linen, cotton, and jute to add a tactile dimension to your decor. These materials evoke a sense of coastal charm while maintaining an air of sophistication.
Clean and Streamlined Furniture
In sophisticated coastal design, furniture tends to be more refined and streamlined compared to its casual coastal counterpart. Opt for pieces with clean lines and simple silhouettes that exude elegance. Furniture with light or natural finishes complements the coastal ambiance while maintaining a polished look. Avoid heavy, oversized furniture that can overpower the space and opt for more tailored and well-proportioned pieces instead.
Nautical Accents and Patterns
While sophisticated coastal design style embraces a more refined approach, it doesn't mean you have to completely forego nautical accents and patterns. Incorporate subtle nods to the sea through carefully curated accessories like ship-inspired artwork, brass accents, and striped patterns. However, exercise restraint to avoid creating an overly themed space. Choose a few well-placed nautical elements to add a touch of coastal charm without overwhelming the overall sophisticated aesthetic.
Layers of Texture and Soft Furnishings
To create a cozy and inviting atmosphere in your sophisticated coastal space, layer textures and incorporate soft furnishings. Add plush throw pillows, cozy blankets, and luxurious rugs to create a warm and inviting ambiance. Choose fabrics in calming colors and natural textures that evoke a sense of comfort and relaxation. Mix and match different textures to create visual interest and depth within the space.
Conclusion
Sophisticated coastal design style offers a refined and elegant take on the traditional coastal aesthetic. By incorporating a serene color palette, natural textures and materials, clean-lined furniture, subtle nautical accents, and layers of soft furnishings, you can create a coastal-inspired space that exudes sophistication and tranquility. Whether you live by the coast or simply want to bring the calming ambiance of the beach into your home, embracing sophisticated coastal design style allows you to create a haven of serenity and elegance. So, let the soothing coastal vibes wash over your space and enjoy the harmonious blend of sophistication and coastal charm.
Other posts you might enjoy:
Defining Characteristics of Coastal Interior Design
A Bathroom Transformation From Dingy to Coastal Bliss
Share This Story, Choose Your Platform!