I am a fan of using all natural materials when creating seasonal décor for my home. To me it looks better and it's easier to do; it's a no fuss decorating solution. Today I am going to show you a few easy fall decorating ideas that you will be able to apply using your own personal style.
Glass vases are perfect for seasonal decorating. This one I found at my local home good store. At the same time I picked up the glass vase I purchased a bag of scented natural fall foliage. Using aroma therapy to inject the feeling of fall adds a powerful influence to your home decor.
Easy Fall Decorating with a Glass Vase
This is such an easy fall decorating accent that works well displayed on a table or add a second one to help create a table center piece.
Creating Easy Fall Decorating Table Topper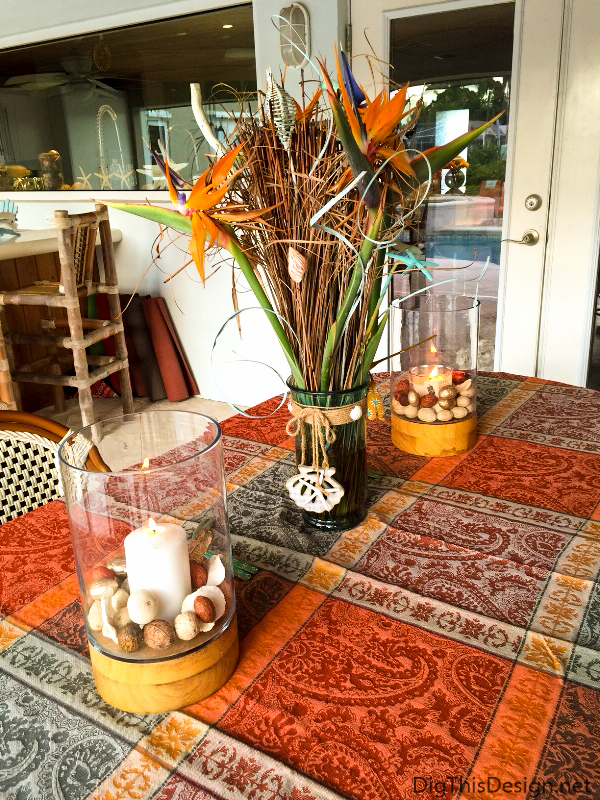 This table top center piece was so easy. I already had the materials and I just embellished them. The center vase was a coastal arrangement that a friend had given me. I went out in my yard and clipped blooms from my Bird of Paradise plant in my garden. The colors of the Bird of Paradise were perfect to bring out my fall palette.
The candle holders I have had for a while and their clear glass walls allowed me to add my fall foliage accents. Using the candles to frame my tall center piece made for the perfect tablescape.
Flowers for Easy Fall Decorating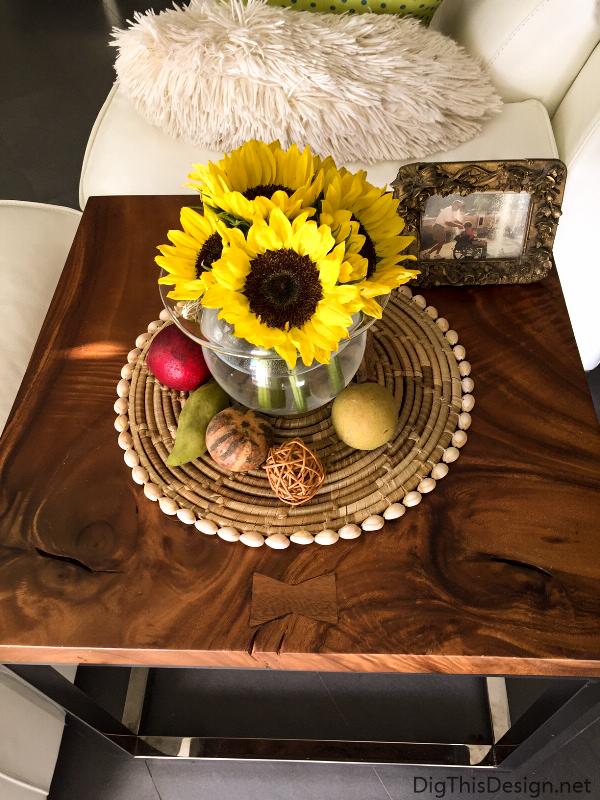 Using fresh flowers is always a great idea. I like to use a vase with a small diameter mouth. This makes for easy fall flower arranging. You simply arrange your fresh bought flowers in your fist. Hold them up to your vase to indicate where you need to cut the stems. Place your bouquet into your vase and due to the tight mouth of the vase, your bouquet will be arranged in a perfect way. I chose Sunflowers because they are used a lot in fall arrangements and then placed my seasonal foliage around the base. I placed my vase on another coastal placemat.
Other posts you might enjoy:
Unique and Colorful Autumn Wreath Ideas
Fall Entryway Seasonal Décor Tips
Share This Story, Choose Your Platform!