In-Home Hammock Designs Invites Solitude
A hammock is an open invitation to take a load off, lay down and swing your troubles away. In-home hammock designs are becoming popular especially in coastal design style. It adds a sense of relaxation to the room and invites you to hang out. Hanging a hammock requires some tools and knowledge of where the support beams are located in your ceiling. You do not want to just hang it anywhere. If you miss a stud or a beam you might find yourself flat on your back as you're sprawled out on the floor looking up at the ceiling wondering what just happened.
Tools Needed To Hang A Hammock:
Measuring Tape
Stud Finder
(2) Eye Bolts
Drill with drill bit.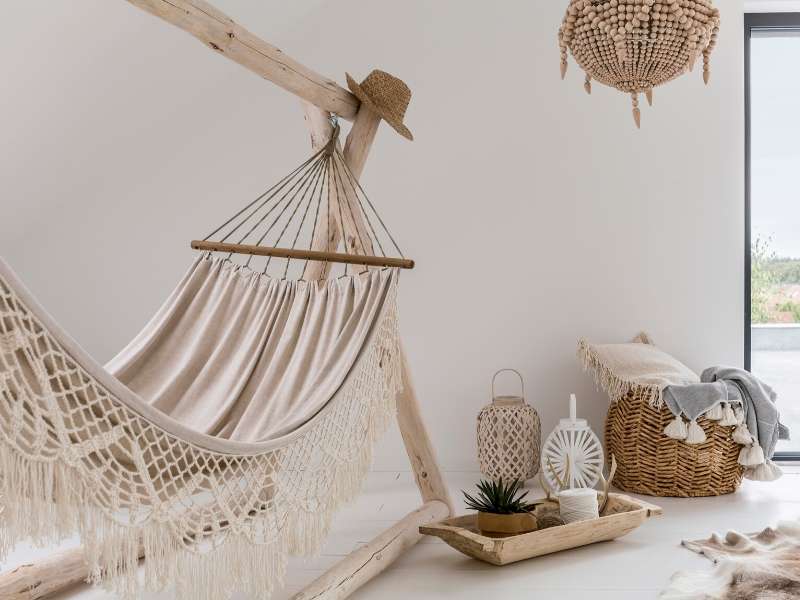 Designing An Out of The Box Design
Repurposing an old boat can be a great way to create your own hammock design. As long as you have the room for the boat and your ceiling rafters or beams can support the weight of the boat, why not create your own swinging hammock boat. This would also be a great design for an outdoor living space with custom outdoor cushions that would hold up to the outside elements.
The Hanging Bed Design
When I was a little girl I asked my dad to make me a swinging bed and he did. I was the only person I knew that had one and I loved it! All it takes is the lumber for the platform, the mattress, and ropes that can support the weight. You have to take into consideration that rope will stretch and you need to count on that and hang it higher to make the adjustment for stretch. It also needs to be in the center of the room so that it does not bang the wall each time you get into the bed. Four ropes at all corners work best for stability.
The Hanging Chair
When you just don't have the room for a swinging in-home hammock you can still have the relaxing movement that is generated in a hammock motion. The hanging chair can literally fit in a corner of a room and it will allow you to glide back and forth to find your relaxing swing time. The hanging chair is a trendy look and they come in different styles.
Other posts you might enjoy:
2016 Furniture Trends Seen At ICFF
How To Paint Laminate Furniture: Ace Hardware 31 Days of Color
How To Design A Furniture Layout for A Large Living Room
Share This Story, Choose Your Platform!