I had the opportunity to be a part of New York Cities, NYC X DESIGN, a gathering of the design world. Every year from May 10 through the 21st a mingling of architects, graphic designers, fashion-world entrepreneurs, and furniture craftsmen are brought together through exhibitions, panel discussions, installations and studio sessions. Part of this collaborative is the International Contemporary Furniture Fair where I participated in ICFF Talks with my fellow K+B Insiders. Our panel discussion was, Designing for the Modern Lifestyle: The Intersection of Technology and Design in the Kitchen & Bath.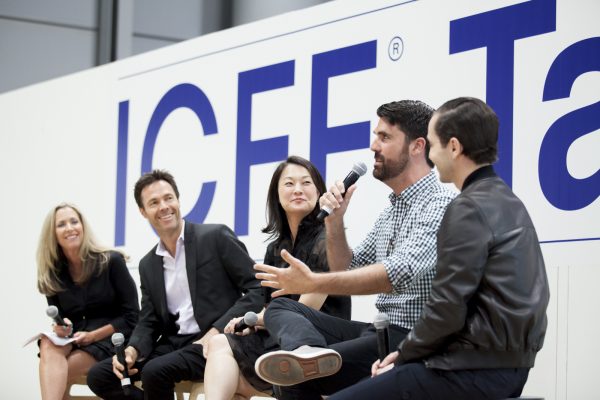 Photo Credits – Megan Swann for Editor at Large
I was also a trendspotter for the NKBA and there was plenty to view and report on.
Furniture Trends
Green and gold seem to be the "it" color for 2016, in the furniture world and as I have reported previously in the kitchen and bath world as well. This green mid-century couch really caught my eye. The legs were done in a satin gold finish putting the finishing touch that made this sofa simply sexy!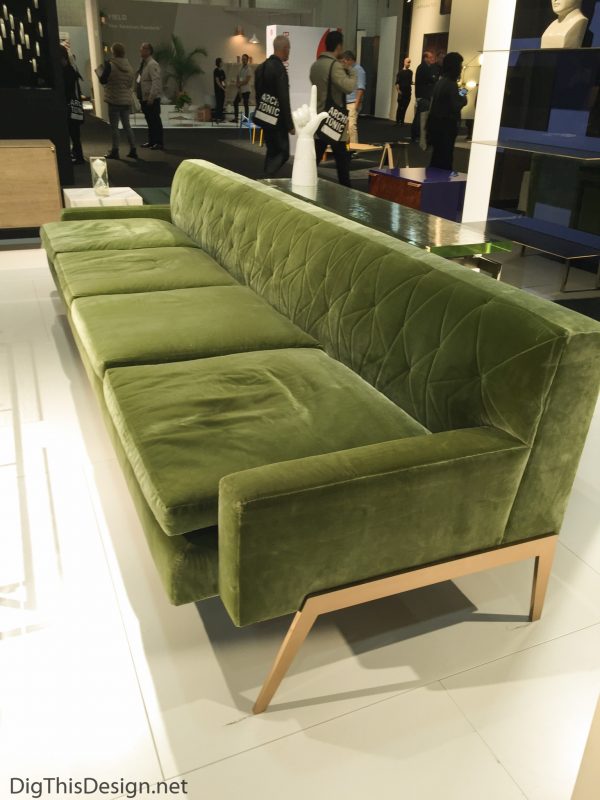 I love glass and it is one of my go-to materials for my clients. You can see the green tint which is replacing the blue tint that has been popular with glass the last 5 years. The green and gold together are a beautiful combination. I think I would also love this base with the blue tinted glass too.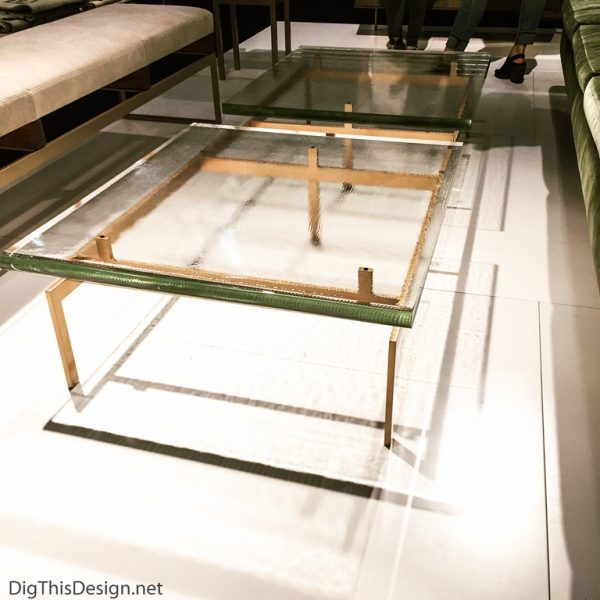 Lighting Trends
Lighting is one of my specialties, so I was not disappointed when I skipped through the show amazed at how much of it was featured. I offer lighting design as a service because it is a necessary ingredient to a well executive design project. Decorative lighting is just that, it's decorative, it shines and it is a powerful design element to any room and you want to get it right. I want to introduce you to some of my favorites at this year's ICFF show.
These sconces are so beautiful in a teardrop shaped globe. The white ones really put out a lot of light and would be a good choice for cross lighting at a vanity.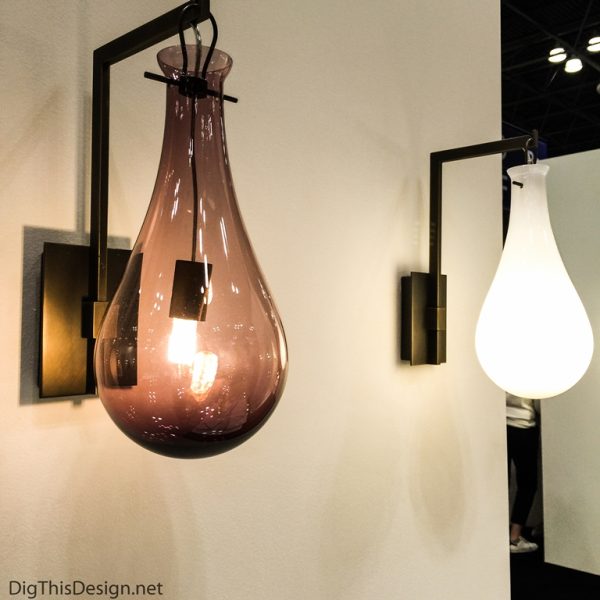 This product by aLUZejos lamps & wallpaper really would add personality to any room. Designed by Silvia Massa Studio, they are so unique offering a Mediterranea style with a retro vibe. You can match lamps to wallpaper and have a huge selection to choose from.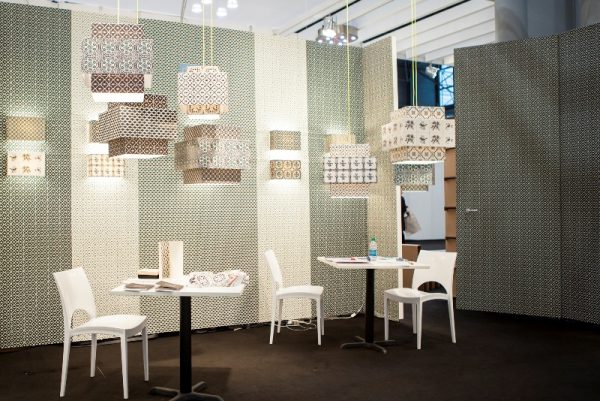 Photo Credits – Megan Swann for Editor at Large
More aha moments…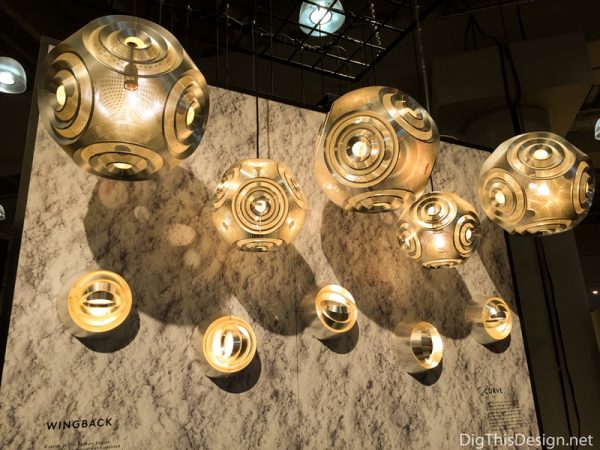 Decorative Plumbing Trends
What's trending in decorative plumbing fixtures are the number of choices one can pick from. As a designer, it is music to my ears. I never like being put in a box when it comes to finishes selections because I have a tendency to step away from the trend.
Topologies founders Aric Wanveer, a metal artist and Tim McFadden a master glass blower brought their crafts together to create these masterpieces in decorative fixtures. Each one is custom made to order and takes 4 to 6 week to get. If you think they would be fragile you would be wrong. I watched a video of a semi-truck running back and forth over one and it came out unscathed.
Artisans
Handcrafted pieces always draw me in. The simplistic design and the exotic wood used to make it rocks my world!
Designed by Richard W. Townsend
I love the beauty of natural wood. I stopped to talk to Ben Rioux, the creator of this magnificent table top. Ben is the founder/craftsmen of, From chef To Table, Inc. He told me he salvaged the material for this table from a tree in Bali that had been struck by lightening. Out of what he salvaged he has made three huge table tops.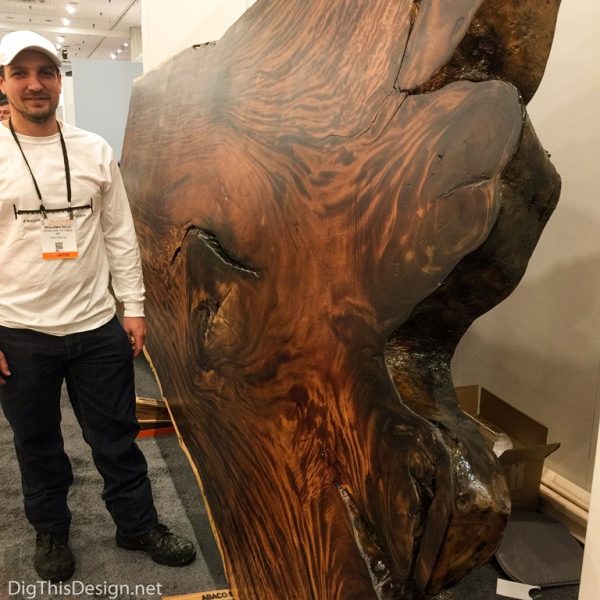 More posts you might enjoy:
Share This Story, Choose Your Platform!