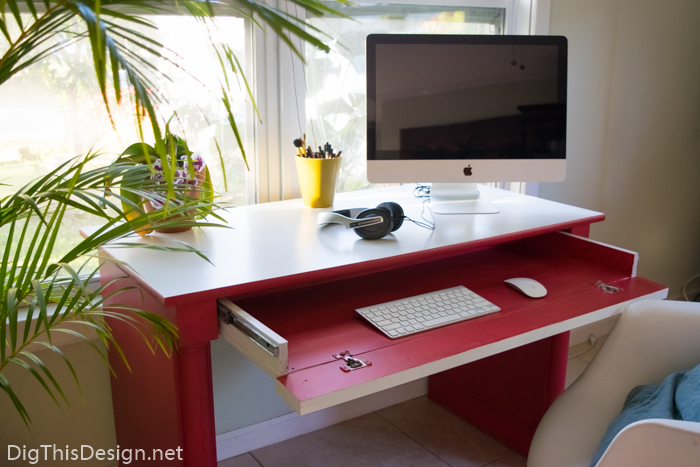 This DIY post is sponsored by Ace Hardware.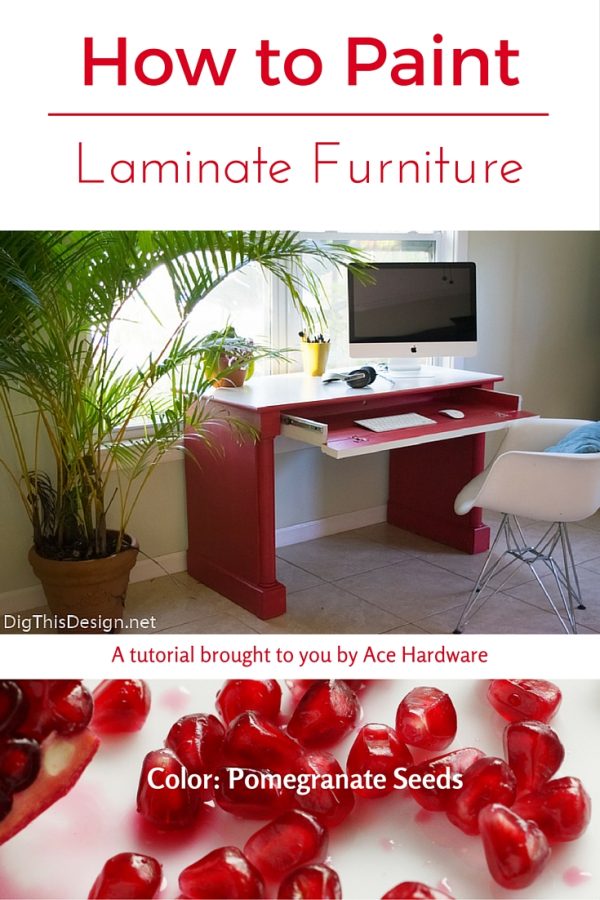 Refreshing the look of your furniture with paint is one of the easier and less expensive routes to go with a DIY project. While there is still prep work to do on any paint job, painting over laminate has a few unique considerations. This DIY tutorial will go through how to and how not to paint over laminate furniture.
I will be using paint and supplies from Ace Hardware. My color of choice was the pretty and perky Pomegranate Seeds. To browse colors, get inspiration, and learn more paint tips, visit www.thepaintstudio.com. And while you're there, enter the 31 Days of Color sweepstakes for the chance to win a $10,000 paint makeover and daily gift cards.
Materials
For this project, I will be transforming a boring dark brown laminate desk and wood mirror. It's always a good idea to collect all the materials needed before you start any DIY project so you're not caught mid–paint job realizing you need to make a trip to the store.
For prep work, you'll need two types of sandpaper: 100 to 150 grit and 240 grit. An electric sander is optional but makes things easier.
A dust mask
A screwdriver or drill
Use a wood filler and spatula to fill up existing holes from hardware or any other scratches and flaws you may need to mend.
A multi-surface paint primer
A good-quality, medium-sized (3-inch) brush
A small foam roller
A paint pan or plastic plate for rolling paint
A tarp, old sheet, paper, etc., to protect your surfaces
A damp rag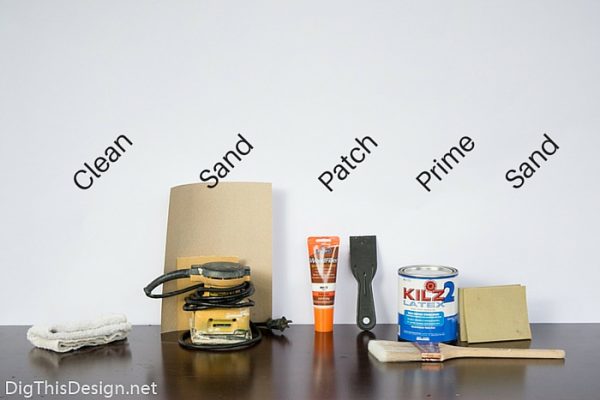 When you're ready to dive into color, collect the following:
Your desired color from Ace Hardware
Painter's tape (optional, I'll show you how I keep straight lines without tape)
A small, flat brush, approximately 1/2-inch wide
A small foam roller; you can reuse the foam roller used for primer if you don't allow the primer to dry onto it. Jjust give it a good rinse.
Decorative hardware of your choice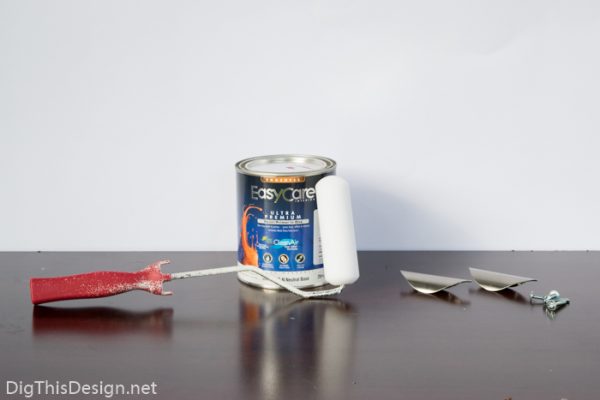 How to Prepare Laminate for Primer
Begin by removing handles or pulls, drawer glides, and any other removable hardware that is in the way. It's better to spend a little extra time unscrewing something than execute a messy paint job by painting around something.
Use the wood filler and spatula to patch up holes from old hardware or any visible scratch damage. Allow the wood filler to dry per manufacturer's specifications, and move on to the next step.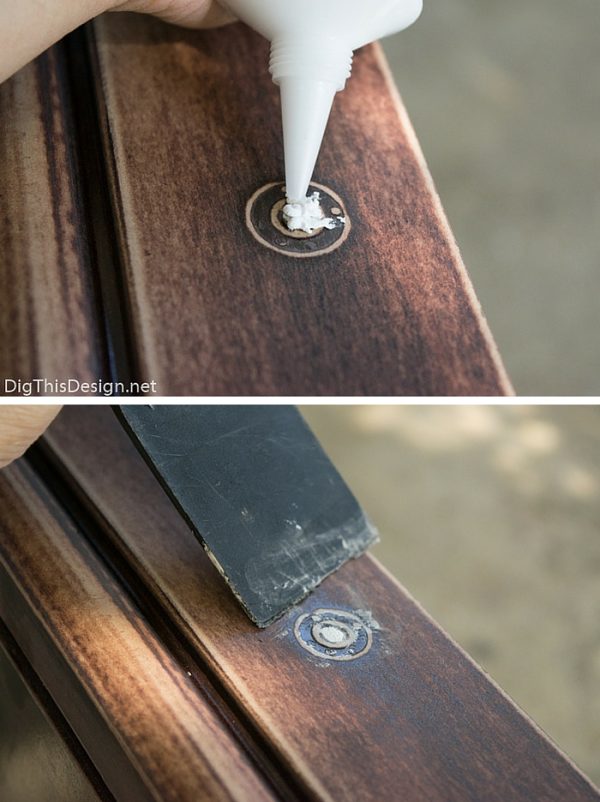 While wearing a dust mask, use the rougher grit sandpaper in circular motions to thoroughly sand over the entire furniture piece. Obviously, if you're using an electric sander this will go by without such an arm workout, but on a curved or small, detailed area, you'll want to sand by hand.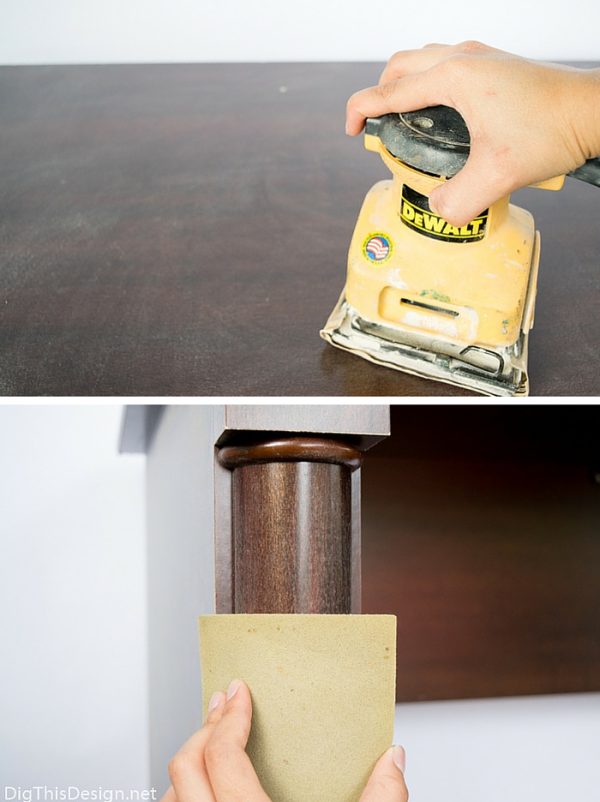 I know this is not the most fun part of this DIY, but be sure to sand thoroughly to get enough "tooth" on your surface. Laminate does not accept paint or primer very well, which is why this step is crucial. If you don't sand enough, your first coat of primer will start to separate. If this happens, you'll need to wipe it off and sand some more. As an estimation of how much to sand, you should be able to wipe away the dust and still see the surface as dusty and the color wearing off.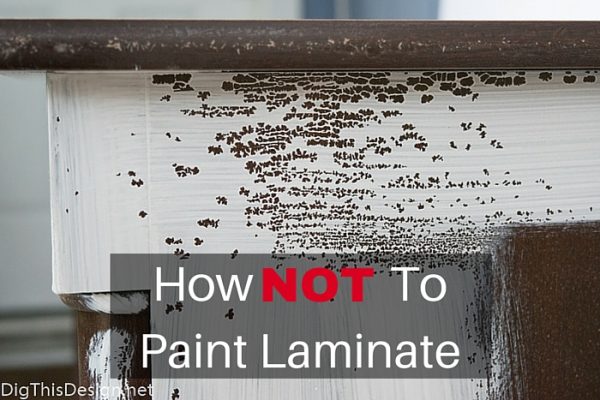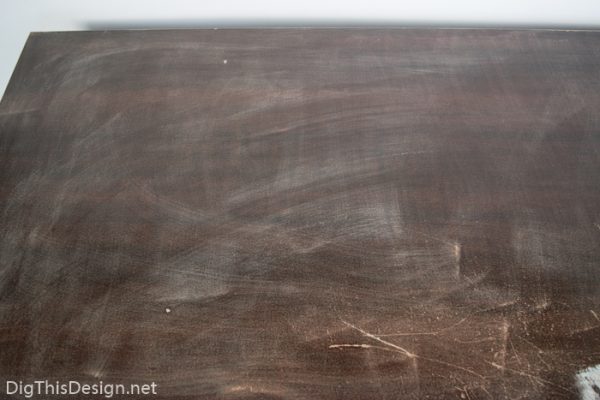 Priming a Laminate Surface
Now that sanding is finally out of the way, wipe away the excess dust with a damp rag. Start priming the furniture with the brush first to get into the hard-to-reach areas, such as corners. Pour primer into a tray (I used a plastic plate) and use your foam roller to cover the whole thing. It's better advice to allow the primer to dry for 24 hours, but I allowed 3 hours and was able to sand with no peeling problems. Wipe away the sanding dust and apply another coat of primer, wait several hours, and sand.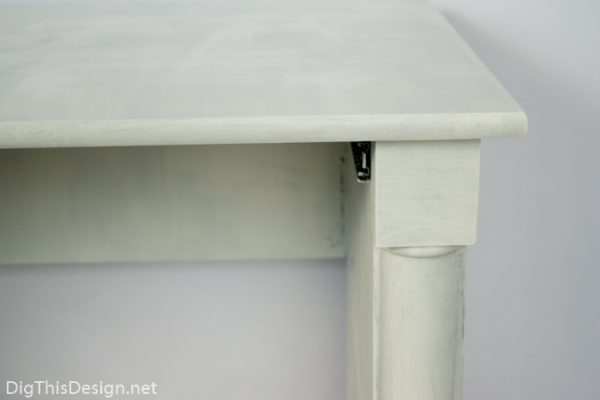 When sanding over primer, use the finer grit sandpaper to get a smooth finish. I'm using 240 but have read about others' positive experiences using 300 to 400 grit. I believe it's better to sand over the first coat of primer by hand because it's too easy to use an electric sander with an unsteady hand and remove parts of the primer layer.
Painting With Pomegranate Seeds
Now that the primer has been sanded and the furniture piece wiped clean, let's get to the fun part! I decided to use a small paint brush on the detailed and curved areas of my desk. Depending on your project, you could use the same flat brush used for primer. But for me, it left behind too many brush strokes, which is ok while priming but not during painting. Once you have your details and corners covered by the small brush, move on to the roller. The first coat will always be somewhat translucent. Have patience and let the paint dry for the day before applying another coat.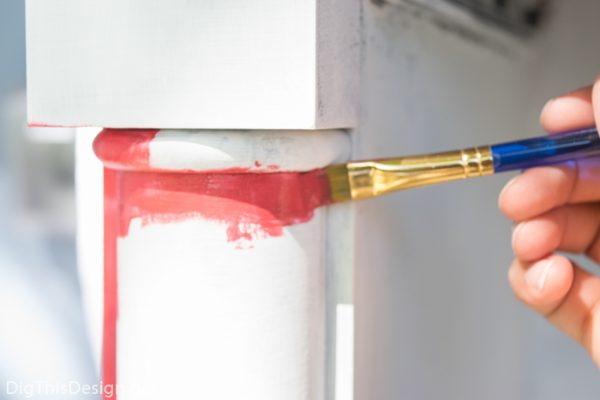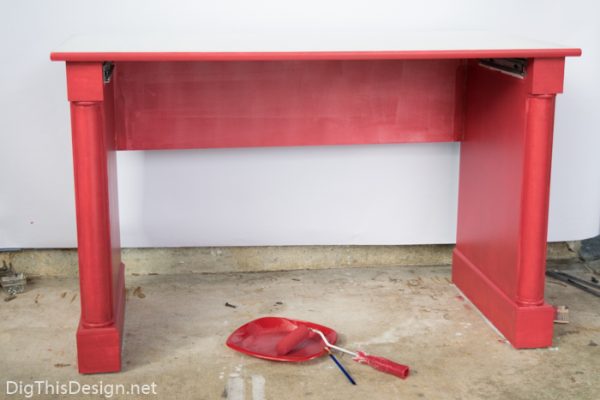 Adding an Accent Color
I thought the best accent color to allow Pomegranate Seeds to shine and look fresh was a crisp white. I decided to use white paint on the desk's top, keyboard drawer front, and the back panel. On my mirror, I'm using white on the front and accenting Pomegranate Seeds on the sides. If you'd like to add an accent color to your project, this is where the painter's tape comes in. I need to warn you though, if not used correctly, painter's tape can make things more difficult in the end, which is why I chose to do these details by hand. If you have completely dry paint so none lifts off, if your tape is perfectly straight, and if your edges are pressed down perfectly, ignore this section.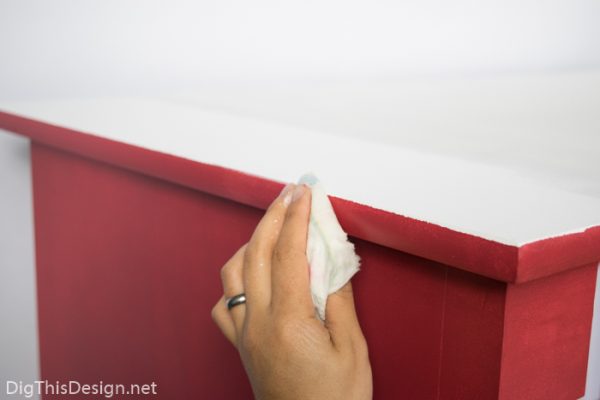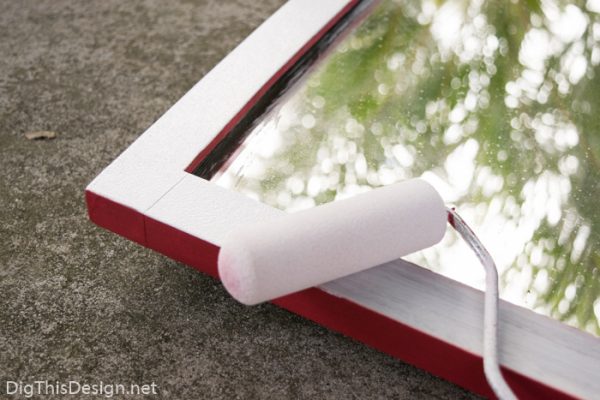 The trick is to load paint onto your brush or roller evenly to avoid globs, and paint the area slowly while keeping an eye on the edge. Keep a damp, lint-free cloth or paper towel at hand. If you see paint go where it shouldn't, quickly wipe it away. It also helps to apply even pressure on the roller or brush so that you're not angling the tool over the edge where you don't want the paint. After your paint is dry, screw on any hardware you removed and install the new hardware of your choice. Next, get ready to style!
The Finished Product
Overall, this was a fun and easy project to tackle. The biggest challenge is patience for creating good brush strokes and waiting for paint to dry. This is the type of project that is ideal for listening to your favorite music and zoning out to. I can't wait to see what other bloggers have created with Ace Hardware!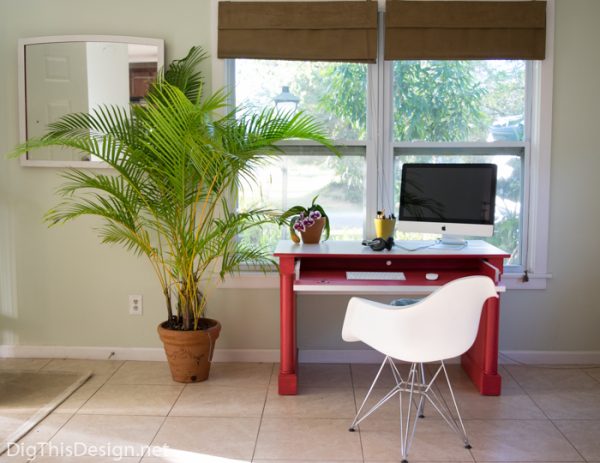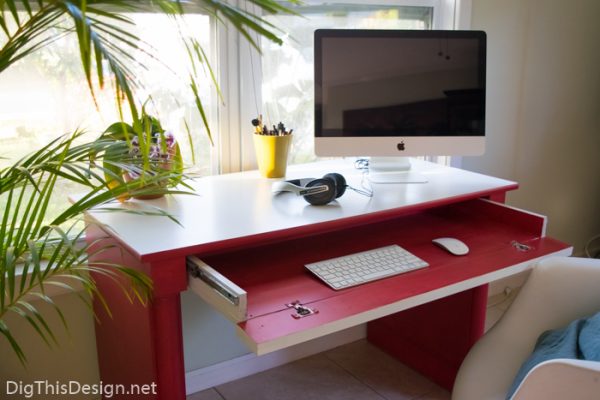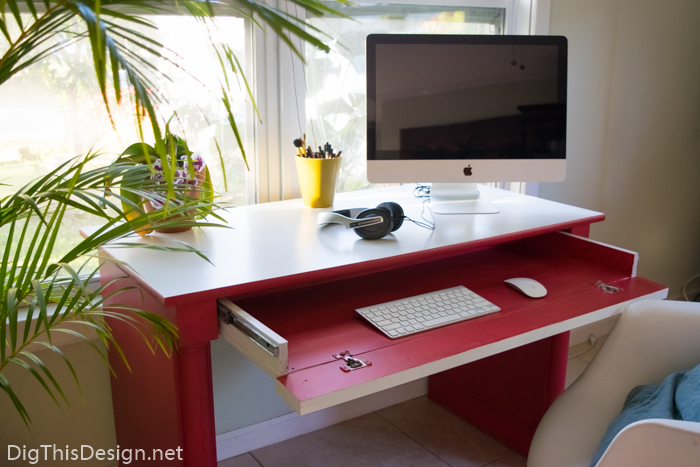 Another day, another color to inspire your home projects. Every day in March, Ace is unveiling a featured color and giving you a chance to win a $10,000 room makeover! To learn more, visit thepaintstudio.com.
No purchase or payment necessary to enter or win. Open to legal US residents residing in the contiguous United States and the District of Columbia who are at least twenty-one (21) years of age and who are homeowners. Sweepstakes will run from 3/1/16-3/31/16. Full rules located here: http://www.thepaintstudio.com/31daysofcolor/pdf/2016AceHardware31DaysofColorSweepstakesRules.pdf
https://digthisdesign.net/wp-content/uploads/2016/03/20160225-DSC_2075.jpg
467
700
Stephanie Davis
http://development.digthisdesign.net/wp-content/uploads/2016/11/OLD_DigThisDesign_logo.jpg
Stephanie Davis
2016-03-05 23:00:06
2020-06-13 12:49:23
How to Paint Laminate Furniture: Ace Hardware 31 Days of Color