Keeping It White
Painted white walls create the perfect canvas for things you want to showcase. All colors show well in a white room by allowing you to design the attitude of the room. Let's explore different ways to achieve the desired look playing with painted white walls.
Creating Sophistication with White Walls
There is something about white paneled walls and molding that give a very sophisticated look without being stuffy. It is relaxed yet elegant and offers tremendous depth with the layers.
I am not a fan of antiques, but this dining room with its vintage pieces is fresh and open. The armless white dining room chairs with their worn painted white finish add warmth and balance to the design.
Creating a Relaxed Style with White Walls
The slip covered white furniture give the comfy relaxed style in this living room. White walls set well to compliment the rustic distressed furniture piece. This is the kind of room you just want to settle into with a good book for an afternoon read.
The distressed open beamed ceiling is loaded with great character. Mixing the ceiling with the white paneled wood is the perfect balance for this relaxed room design. The heavily distressed wood ceiling I think was necessary for this design because of the height of the room, it really scaled it down and warmed it up.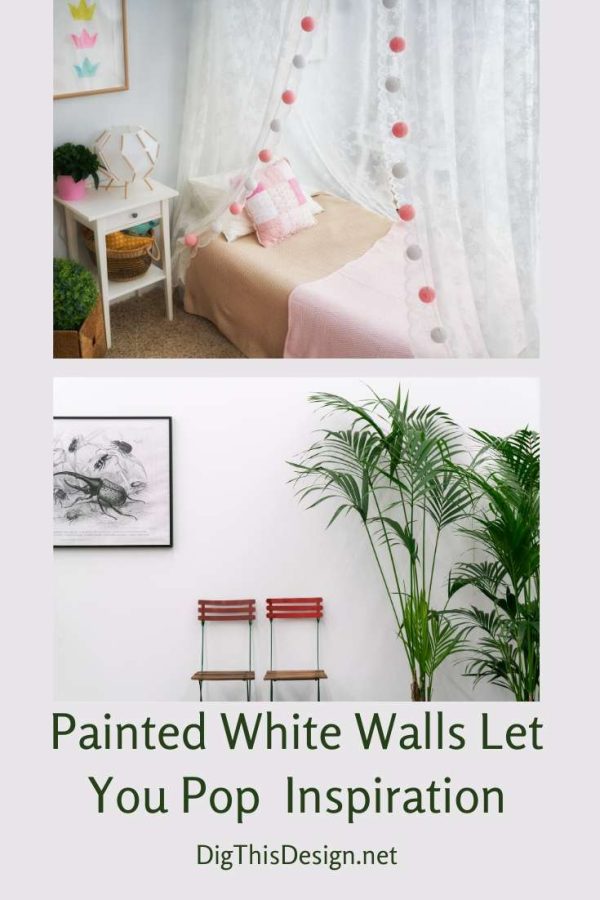 Creating a Playful Style with White Walls
White walls in a kids room leave room for imagination. I think people make a big mistake by over doing color in kids spaces which can become chaotic and overwhelming. The simplistic design of the children's bedroom with the work "PLAY" above the beds is perfect. The board and batten molding gives a nautic feel to the room.
Colors on a white wall really shine as these books and accents displayed in this living room design demonstrate well. A white wall is also great for family photo galleries or artwork.
Creating Pops of Inspiration with White Walls
The bold elements in this kitchen  really stand out from the white walls. If you want to make an impact with a focal point keep the walls white.
What is great about a white room is you can change the accents in the room for the season easily. You can see how the pillows pop the design. You could change to seasonal colors and give the room a whole new fresh feel.
Images Courtesy of Canva.
Other posts you might enjoy:
Every Room Design Needs An Anchor Piece
Bohemian Room Design – 4 Easy Tips
Before & After – Makin The Most Out of a Narrow Family Room Design
Share This Story, Choose Your Platform!