Are you like most people and procrastinate when it comes time to clean your gutters? This is one of the most overlooked yet necessary tasks of home maintenance. While it helps improve the exterior look of your home, it is more than just that.
Cleaning your gutters is essential for maintaining the integrity of your home's infrastructure, as it drains excess water off of your roof. Neglected gutters can cause condensation and mold that could cause harmful consequences.
If you'd like to know more about setting up your maintenance routine, we invite you to continue reading for some good tips about cleaning your gutters.
Clean & Maintain Your Gutters with These 3 Easy Tactics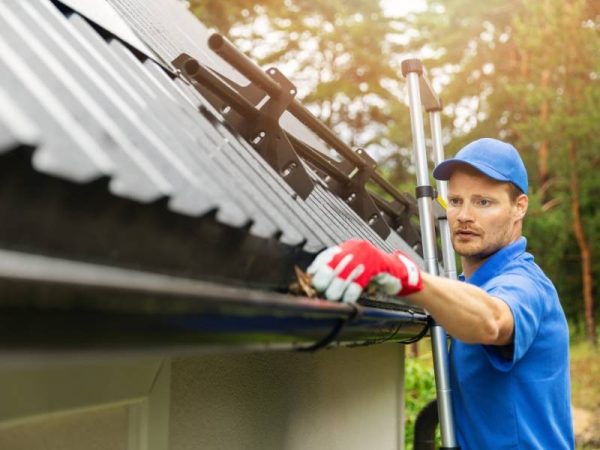 ➊ Clean Your Gutters Regularly
Cleaning gutters is probably the least of your favorite activities to do. However, it is a must. If you do it regularly, the task becomes less tedious. It's best to clean it about three times a year so it would be less labor and time-intensive on your part.
Remember, clean gutters can help prevent water damage and rusting. If you're not up for it, you can always insist on hiring gutter cleaners. This is especially true if your gutters accumulate debris from the entire past year or longer.
Clogged gutters cause more than just annoying waterfalls from your roof or icicles during winter. In fact, the presence of excess water is detrimental to the overall integrity of your home's structure. Because a home's gutter system is designed to remove water from the roof and away from the house, dammed up water in the gutter always finds its way to areas of least resistance. This causes it to seep into your home's walls and ceilings.
Additionally, the accumulation of leaves, twigs, dirt, and mud causes your gutters to carry additional weight, and it won't be long before it gives way. Instead of a simple clean-up, you'd end up having it replaced entirely.
➋ Gather the Right Tools & Equipment
➼ Access
To reach your gutters, prepare a sturdy ladder. Then, be sure to wear rubber shoes, so you don't slip on the ladder. Also, find someone to hold the ladder for you as a good safety tactic.
➼ Cleaning
First, wear gloves because you don't have any idea what debris has settled in your gutters. Next, take a bucket where you can put the collected leaves and dirt. You may also want to use a rake if you don't like using your hands to scoop up the trash. Or, you might try the scoop and drop method when clearing the debris.
Another good tip is to lay a plastic tarp or old blanket next to the ladder. Then all you have to do is scoop up dirt from the gutters and drop in on the tarp or sheet. If you do this, you don't have to spend so much time collecting rubbish once you're done clearing debris.
➌ Step-by-Step Process to Clean Your Gutters
Remember to scrape debris away from the downpipes to prevent blocking the drain. However, it's easier if you scoop the leaves, dirt, and muck by sections. Also, don't try to stretch too far as it may cause you to fall from your ladder. Then, proceed to clean one part at a time and move your ladder as you go along.
If you are using a metal trowel or rake to clean out the gutters, be careful not to scrape the bottom of the trough. While you're at it, don't forget to check for leaks. To check, pour a bucket of water into the gutters or use a hose to spray the gutters. This method will allow you to clean the drain more thoroughly while checking for possible leaks.
If there are leaks, check how big they are and repair them with sealants. If the damage is too extensive, you might want to reach out to your contractor to get a quote for a gutter replacement.  
Incorporating gutter cleaning into your regular home maintenance ensures that you don't have to cough up extra money for home repairs at a later time. Regular maintenance is the key!
If you have any tips you'd like to add to these, we'd love to hear from you in the comments. You will also find links below for other suggestions and inspirations for everything design.
All Images Courtesy of Canva.
Other Posts You Might Enjoy:
4 Simple Steps That Improve Your Home's Exterior Appearance
Excellent Ideas to Give Your Home a New Exterior Look
4 Inclement Weather Summer Design Solutions for Your Patio or Deck
4 Modern Styles of Window Shutters for the Exterior of Your Home
Share This Story, Choose Your Platform!