There is no better way to update the look of your home than giving your home a fresh coat of paint. While not as expensive as a total home remodel, a new coat of paint will add to your home's curb appeal and will help protect its exterior. New colors for the siding, trim, and front door will immediately update the first impression impact of your home.Trying to pick out exterior color schemes can be overwhelming and perhaps a little intimidating. When you think about it, color choices are much more high stakes for the exterior of your home than for your half bath downstairs. Anyone who passes by or visits will see the color choices you make. At the very least, you will be living with the color for several years.
5 Tips to Putting Together Exterior Color Schemes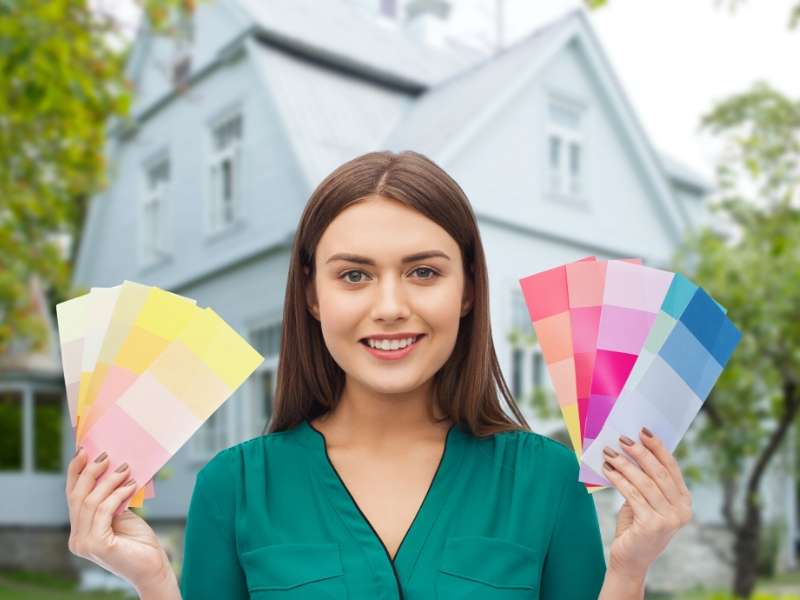 Go Classic
If you have a classic architectural style, it may make sense to stick with classic paint color choices that compliment the build of your home. If you have a Southwest style home, perhaps you want to stick to the palette with influences of warm earth tones, sand, and terra-cotta. If you live in a colonial style home, white siding is almost a requirement in many neighborhoods. This gives you a chance to be creative with trim, shutter, and especially front door colors to personalize your look. Rather than being overpowering, a bright red door on a colonial home with white siding and black shutters is distinctive and welcoming.
Make a Poster Board Swatch
If you have narrowed down your color choices to a few major prospects, it may be a good idea to make huge swatches on poster board. This decision technique is the cousin to applying prospective paint colors onto your siding. The advantage is that you can carry your swatches to different locations around your home's exterior to see what they look like in different conditions. You can also take your swatches with you to start the outdoor fixture selection process.
Cooperate With Your Homeowner Association
If you live in a development that has a homeowners' association, make sure that you check with them first before you get your heart set on a particular color of paint. They most likely will have a trimmed down list of acceptable colors for home exteriors.
Consult With Professionals
An exterior painting company with a professional color consultant can be a huge time saver and help make the color choice process less nerve wracking. For example, Crash of Rhinos painting has a professional color consultant on staff that will consult on color schemes, map your home's exterior, and make digital renderings of what your home will look like with some of the color choices.
When Selecting Exterior Color Schemes Consider Accents
Think of how the fixtures on your home will complement the new colors that you are considering. Light fixtures and door hardware may need to be replaced to better reflect the new look of your home. After your home is painted, you can consider other details that work with your overall look, such as house numbers and outdoor furniture accents. The time and thought that you put into your new exterior paint colors will pay off with an attractive home that will have curb appeal for years to come.
Other posts you might enjoy:
Home Décor – It's All In The Details
Three Things to Know Before You Paint Your House
Tips to Finding Your Inner Creative
Share This Story, Choose Your Platform!