Everyone loves design tips but no more than when you're about to buy your first home. In fact, you may already be thinking about how you'd like to decorate and where you'd like to place your belongings. However, interior design in your first home might be more difficult than you imagine. Everyone wants to get everything in place right away.
After all, if you waited a while for your dream home, you want to be as cozy as possible, as soon as possible. You want to consider the fact that many people get things wrong when they rush to get things done quickly. Here are some interior design tips for when you're moving into your first home.
12 Interior Design Tips for First Time Home Buyers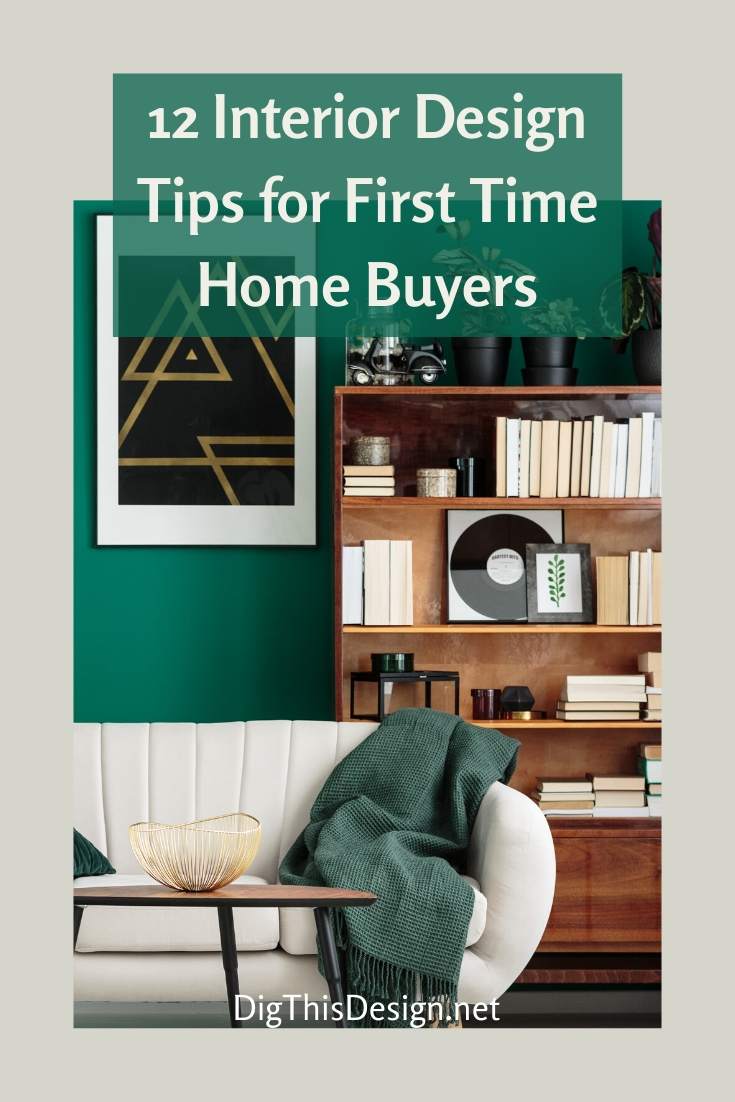 Design Tip 1 – Get a Plan First
A plan can help you to discover what work needs to be done in the house if any. For instance, there's no point in planning to paint the walls if one of them needs to be knocked down for the purpose of a better layout for your family. You can also ask for a measured existing plan to study before you purchase your home, so you have a better idea of where your furniture will fit before you move in and what pieces of furniture will be needed to fill your new home.
If you're able to get access to a floor plan of the house that includes measurements, you'll be able to plan everything, from where your sofa will go to where your favorite lamp will stand. You also might consider working with a design professional that will help you plan your interior design. Typically, you will get the benefit of an expert's opinion and since they are able to buy at trade pricing it might actually save you money from paying retail and pay for their fee.
Design Tip 2 – Don't Rush
One of the best design tips I can give you is to take your time. If you are not working with an interior design professional then, it's especially important to take your time when making permanent decisions. You would hate to run down to the paint store and invest in a paint color only to find that you hate it. Be sure to take your time when making these types of decisions by buying a small amount of paint and applying a swatch of the color to your wall to see if it feels right.
You may think you know the colors you like and the patterns you want, and you may think you know what piece of furniture will be most practical where. Many times people who move into a new home find that they move things around and completely change their design as the months go on. Don't feel like you need to rush to get everything completed. When you move in, take some time to get a feel for the place before you make any final decisions. Your interior design choices don't have to be made overnight.
Design Tip 3 – Lighting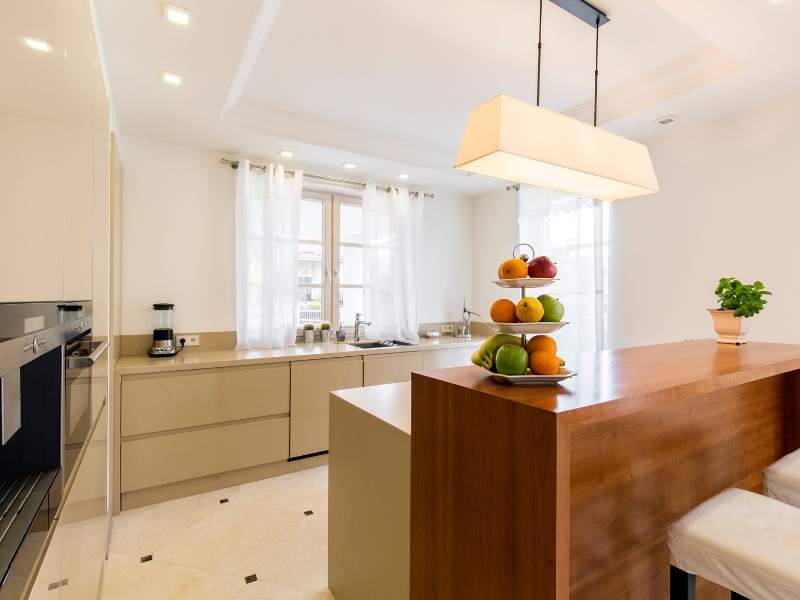 Many people underestimate the power of good lighting in a home until they move in and find out that it is inefficiently lit. The two most important rooms to light well are the kitchen and the bathroom because of all the activities you do there. These rooms require a layered lighting plan and I would recommend working with a professional to get it correct. It's not just the amount of lights there are, but the location and the color of the light are important. A professional will break it down into three zones, general, task, and ambient.
Another type of lighting that is important is natural lighting. Consider your views out the windows and where you need privacy and where you don't. This will help you sort out where you can let the light shine in. Even in the more private rooms, if you have a view out of the window you might want to see, there are window treatments that will allow for a full view when you want it and total privacy when you don't.
Design Tip 4 – Express Yourself
People ask me when interviewing me for design services, what my taste in style is, and I always inform them that it doesn't play into the equation as I am decorating the home to fit your personality. If you've just bought your own home, you have permission to put your own stamp on it. It's why people strive to buy their own homes; because they get to do what they want with it.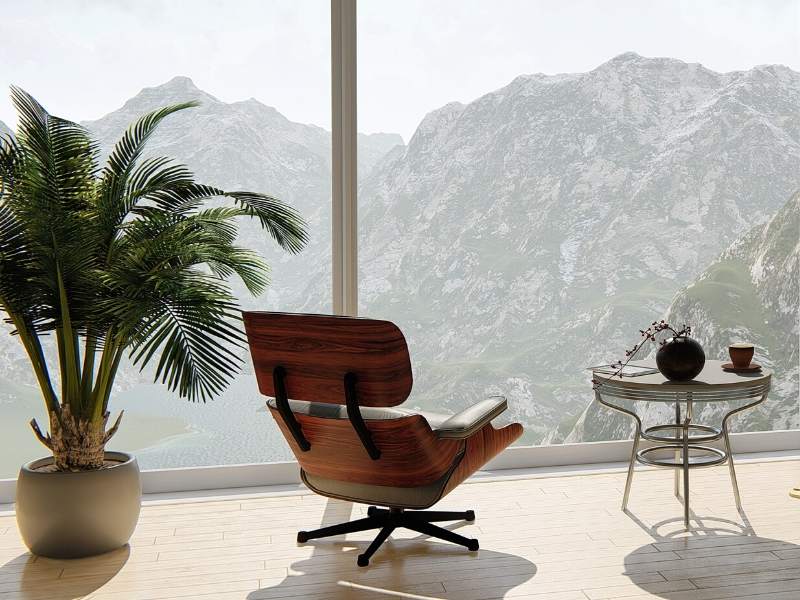 Don't be afraid to be bold when you start to decorate. Use things that express your personality and don't worry about matching everything up. If you're decorating according to your tastes, everything will link together to create your own personal comfort.
Design Tip 5 – Start with a Calm Color Palette
It can be difficult to decide what to put on the walls when you first move in. Will you paint a modern color? Will you wallpaper? Will you fill the walls with artwork? Most people are hasty in their decisions just because they want to make the house their own. If you're unable to decide or want to take your time making your decisions, neutral is the way to go.
Painting all the walls white when you move in will give you a blank canvas, not to mention nice, clean and new walls. You may even find that the light and crisp color works well for you. Neutral palettes with pops of color are a popular trend right now.
Design Tip 6 – Quality First
When it comes to interior design in your own home, you have to think of quality first. You've already paid a lot of money to get into the property and now your home is an investment. Each monthly mortgage payment you make is an extra lump sum that's gone into your future and perhaps the future of further generations.
If you want to make money on your home at some point down the line, don't add things that are of poor quality. Quality doesn't have to be expensive. You can find some wonderful pieces of furniture in charity shops.
Design Tip 7 – Go Cozy by Adding Texture
Textured materials add depth to your design. Think about the rooms you like to relax in, like the family room and make sure you have some cozy throws and textured pillows. This will make your new home feel more like home faster.
Also, consider how you relax at the end of the day. If it's a good book make sure you have a comfortable reading chair with a nice reading lamp. If you like a warm bath be sure you have a tub tray where you can set a glass of wine. Create the home that you want by adding things that make you feel cozy.
Design Tip 8 – Your Bathroom is Your Sanctuary
Your bathroom should be one place in the house where you can totally relax. If the showerhead is pathetic or the bathtub just isn't big enough, you'll need to make changes. Take a look at Fairfax Kitchen and Bath for ideas.
Creating a family-friendly bathroom that promotes relaxation; this is one of the best investments you can make. The bathroom is one of the most detailed rooms and working with a certified bath designer might be the answer to creating a master bathroom that meets all of your needs.
Design Tip 9 – Changing Accessories to Fit Your Mood
Accessories should be changed to fit your mood or the season. They bring character to any room. You want to have pictures in decorative frames of family and friends. Even a specific wall dedicated to a gallery wall is a great idea.
In my own home, I chose a wall in the family room where I displayed pictures of our dogs and the wildlife that live right off our dock, as I live in a coastal community. Accessories allow you to customize your interior and be creative.
Design Tip 10 – Mixed Furniture
I really do not like to walk into a room and have it look like a display at a furniture store, it's just not cool. When it comes to buying furniture for a new home, you want to gather pieces that compliment each other. Mixing and matching furniture can become a fun thing to do. It's kind of like a treasure hunt.
Why not visit a few charity stores or second-hand furniture shops and see what you can find? When doing this you need to look at the bones of a piece, not just the fabric. Fabric can easily be changed and if the furniture piece is good quality then you can reupholster it in a trendy material and no one would ever know it wasn't a brand new piece.
Design Tip 11 – Don't Ignore Your Floors
Just like the paint on your walls, your floors can get marked easily or may become uneven. Just because you've moved into a new home with nice floors, it doesn't mean they'll always stay that way. Remember that you do have options when it comes to your floors.
If you move in thinking you love the floors but then change your mind a few months later, it doesn't necessarily mean you have to spend a large amount of changing things. Sometimes, all you need is a few tins of floor paint to completely transform a room. Soft whites and grays are the new trends this year.
Design Tip 12 – Throw Things Away
You'll be tempted to buy things you may not need to fill your new house, which can easily result in clutter. If you're buying things, remember that you need to get rid of things too. Updating your interior design is great, but it's important to actually update it, rather than add to it.
As a first time home buyer, you can get intimidated by all the interior design that you need to do. Don't let it get you down, just take your time and follow some of these easy design tips and you will be fine.
Images Courtesy of Canva.
Other posts you might enjoy:
Making Small Rooms Appear Bigger
Home Office Design Tips for a Comfortable Workspace
Three Interior Design Tips Adds Elegance to Home Decor
Share This Story, Choose Your Platform!