Those of you who know me as a designer know I am a fanatic when it comes to lighting a room correctly. One of the most important rooms in your home is the kitchen and there are some basic must-dos to having enough of the right kind of light.
Basics to Kitchen Lighting Design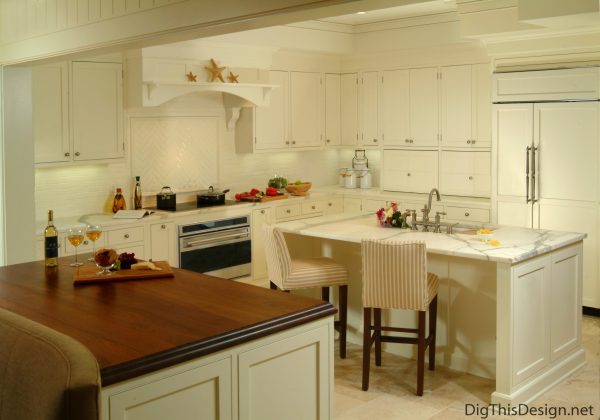 There Are Three Zones of Light
It is important to understand that a proper kitchen should have a layered lighting plan. The reason is there are many different task being performed in this room, from food prep, kids homework, dining, socializing, etc. Each zone needs to be considered individually in order for it to be lit correctly.
General
The general lighting is the pathways circulating throughout your space. This lighting would not need the most intensity and should be just enough to be able to navigate the space safely. So many times I see kitchen plans that only are lighting the kitchen with a grid of general recessed cans, making all the lighting in the kitchen equal and that is just wrong. So, with that said the pathways are where you will be lighting your space with general lighting.
You will want to use a flood lamp for your general lighting because it will flood light within the beamspread and also filter light vertically so your cabinetry is not shadowed. If you were to use an MR16 type of lamp with a more condensed beamspread, it would leave your cabinetry with a dark cave like effect and that is not what you want.
The placement of your general can is very important because placed too close to your cabinetry will leave a bright scallop on the face of your cabinet and that is not attractive. The ideal placement with your general recessed can fixture is placed so that the beamspread will miss the face of the wall cabinet. Remember you are using a flood so the filtered light will be enough to not leave your cabinet face in the dark. For an illustration on how this should be placed read my post on, What Is A True Lighting Design Plan & New LED Technology. Below is a picture of recessed can general lighting placed too close to the cabinetry. This is a beautiful kitchen, but a bad lighting design. This effect could have been avoided by placing the recessed can further away and avoiding the scalloping on the cabinetry face. Rule of thumb, your recessed lighting should not be seen, it should just be there. You want to go for even illumination across all surfaces, no shadowing.
Task
Task lighting is installed over counters where you will be performing task, like at the sink or over an island or peninsula bar. It is a must to have a more intense output of light in these areas and you will want to use a more condensed beamspread, at between 25 degrees to 30 degrees, not a flood. I also, like to use a 3″ aperture for my task lighting and a 5″ for my general lighting, creating two distinct grids.
The picture below is showing just the task lighting recessed cans turned on. This illustrates even illumination, void of any shadows on surfaces. This is achieved by proper spacing with the beamspreads intersecting around 6″ off the countertops. For illustrations of this click on, How to Correctly Light Over The Dining Room Table.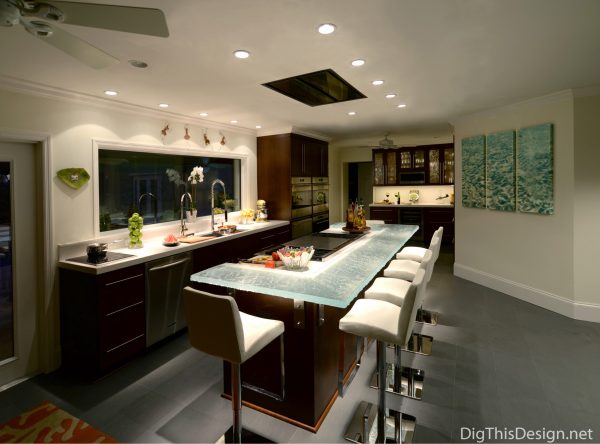 Ambient
The 3rd layer to a correct lighting plan is your ambient lighting. Ambient lighting is your decorative or mood lighting. Interior and under cabinet lighting falls into this category. Once again, you want even illumination, it looks better! How one can do this is with a continuous uninterrupted output of a light source, not with a puck light. Below is the effect of puck lighting being used to light under and the interior of cabinetry. As you can see the open shelves are only lit at the first shelf and the under cabinet lighting is scallops of light, not an evenly lit backsplash.
When lighting the interior of a cabinet you want to run a continuous strip of lighting vertically down the side of the box. By lighting a cabinet vertically, each shelf will be lit with the same amount of lighting and be even. For more on lighting interior and under cabinet lighting go to the tutorial, Tips to Design Inside and Under Your Cabinets.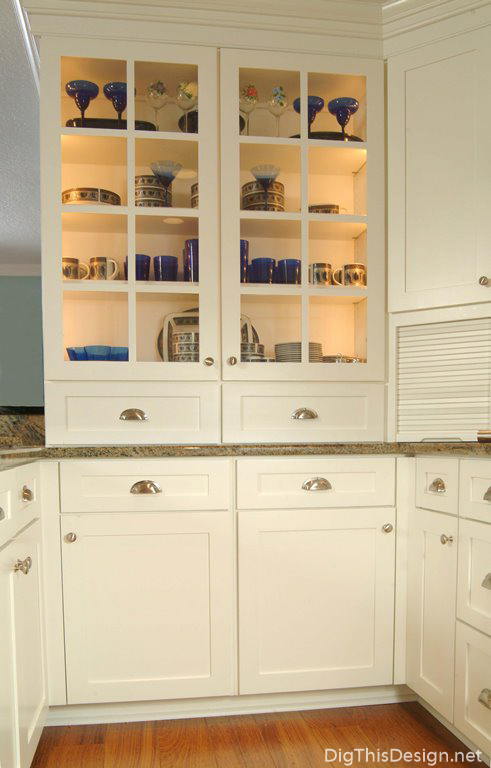 Under cabinet lighting is so important to focal point a beautiful backsplash and it serves as additional lighting at the countertop. You want a continuous light source running horizontally across the bottom of your cabinetry for a flawless look. I recommend installing the fixture as far forward toward the face of the cabinets as possible to balance the lighting better. Below is a great example of lighting correctly under your cabinetry.
LED Lighting 
LED lighting has become the norm for the lighting industry due to its energy efficiencies. What you need to know about this lighting is the color of the  light can visually change your material colors that you paid a lot to have in your new kitchen. Incandescent lamps are the perfect color you are trying to mimic and to do that in an LED you would want around 2800 Kelvin temperature. All lamps come with a CRI rating which stands for COLOR RENDITION INDEX, 100 being perfect and you first want your LED's to be as close to that number as possible, around 90CRI. So, let's summarize; 2800 Kelvin temperature and 90 CRI for your LED fixtures.
Hire a Professional
When it comes to lighting it pays to hire a professional to develop a good lighting plan and a good lighting plan has the actual lamp specified with all the beamspreads and candlepower formulated for you. I am available to do lighting plans that fit your kitchen, just contact me for a quote.
Last Note
Put a dimmer switch on all of your zones giving you the control to set your light levels.
Other posts on lighting design you might enjoy:
Tips To Design Inside & Under Cabinet Lighting from Patricia Davis Brown
Tips to Designing a Layered Lighting Plan for Your Master Bathroom
What is a True Lighting Design Plan & New LED Technology
Decorative Lighting Trends for 2016; What's New?
Share This Story, Choose Your Platform!