There will come a time in your life when you'll realize it's time to say goodbye to a faithful, well-worn pair of designer shoes. You might spend some time in denial about this. Or, perhaps you need to take a couple of moments to fondly recall your journey together. This pair of pumps survived a year of many weddings. These sneakers racked up hundreds of miles of city walking in all kinds of weather. These sandals made the journey with you on that dreamy beach side vacation. The list goes on. 
As heart-wrenching as it is to retire a great pair of shoes, it's also a new beginning. That's right, it's officially time to start shopping for your next pair. But, why search for a mere replacement when you could invest in an upgrade instead?
Here are four factors to keep in mind next time you're buying new designer shoes.
Terrific Tactics for Buying New Designer Shoes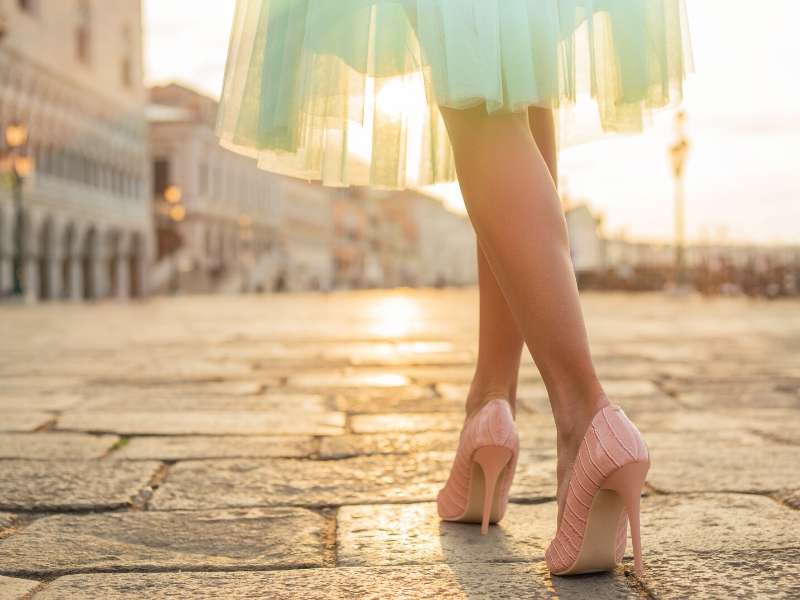 ① The Cost Per Wear
While the initial price tag of designer shoes has certainly caused at least one double-take, it's important to think of this purchase as an investment. The most helpful metric to consider when comparing shoes is the Cost Per Wear (CPW), or the total cost divided by the number of times you'll be able to wear them. The craftsmanship on designer shoes mean they'll typically last longer than faster fashion, so you'll get more mileage out of them (figuratively and literally).
One fashion blogger for Visions of Vogue notes she's been able to wear a certain pair of Valentino heels to every formal event in her calendar for the past five years. On the other hand, choosing a cheaper shoe upfront would have meant replacing it nearly every year.
Rather than evaluating the price tag alone, estimate the CPW you'll get out of well-crafted footwear.
② Unparalleled Comfort
Slipping your foot into a designer shoe might have you feeling a bit like Cinderella trying on that glass slipper from the ball. Quality craftsmanship and premium materials go a long way toward making a shoe as comfortable as it is stylish.
If you're buying a shoe in-store, make sure you put it through its paces. But the beauty of shopping today is that you can also order online designer shoes, try them on at home, then decide whether to keep or return them. Reading through other customers' reviews first can help a lot in figuring out whether shoes fit true to size and feel good on the feet.
③ Mix-and-Match Potential
Always consider the mix-and-match potential for any pair of kicks you buy. Ideally, they will be able to go from day to night effortlessly — looking just as chic at a weekend brunch gathering as they would at happy hour or a party hosted by your coolest friend.
The highest potential for mixing and matching comes from neutral tones — black, white, tan, gray and the like. That's not to say you should steer clear of color by any means, but rather to be aware you'll get the most bang for your buck if you pick a pair that'll match the majority of your wardrobe.
Avoid buying overly trendy shoes; these will have an expiration date compared to more timeless pieces. One stylist recommends avoiding "heavily-printed items or a key fabric trend of the season… as these are immediately dateable."
④ Longevity
Overall longevity takes all these other factors into account: how many years of wear you think you'll be able to get out of the shoes, their quality of craftsmanship and how well you'll be able to incorporate them into your existing wardrobe. Treat designer footwear like an investment — one you'll need to treat with care for years to come.
Buying new designer shoes? You'll want something timeless, well-made and comfortable.
Plan Your 2020 Resolutions…NOW!
How to Personalize Your Wedding from Start to Finish
How to Choose the Perfect Gift for Your Family Members
Share This Story, Choose Your Platform!