The 4th of July is a time for celebration, and what better way to toast the occasion than with refreshing cocktails? However, many traditional cocktail recipes can be laden with added sugars and artificial ingredients. If you're looking to maintain a healthy lifestyle or simply prefer clean, natural flavors, we have you covered.
In this blog post, we will explore a selection of clean drink cocktails that are perfect for your 4th of July celebration. These recipes prioritize fresh, wholesome ingredients without compromising on taste. So let's raise a glass to an Independence Day filled with delicious and guilt-free indulgence!
4th of July Clean Drink Cocktails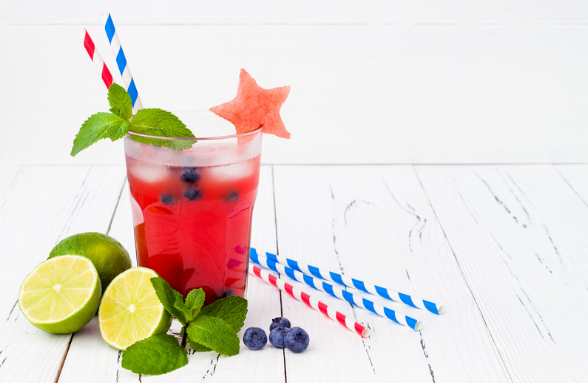 Watermelon Basil Mojito
Kick off your 4th of July festivities with a vibrant Watermelon Basil Mojito. This delightful twist on a classic cocktail combines the refreshing flavors of watermelon, zesty lime, and aromatic basil.
To make this clean drink, blend fresh watermelon chunks and strain the juice into a glass. Add a few torn basil leaves, a squeeze of lime juice, and a splash of sparkling water. For those who prefer a hint of sweetness, a touch of natural sweetener like agave syrup can be added. Garnish with a sprig of fresh basil and a watermelon wedge.
The Watermelon Basil Mojito is a fantastic choice to beat the summer heat and dazzle your taste buds.
Cucumber Mint Gin Fizz
For a cooling and invigorating cocktail, the Cucumber Mint Gin Fizz is a perfect choice. This cocktail boasts the crispness of cucumber, the freshness of mint, and the botanical notes of gin.
Start by muddling cucumber slices and mint leaves in the bottom of a glass. Add ice, a shot of gin, and a squeeze of lime juice. Top it off with sparkling water and gently stir.
The result is a light and effervescent drink that will leave you feeling rejuvenated. Don't forget to garnish with a cucumber slice and a sprig of mint for an added touch of elegance.
Berry Sparkler Mocktail
Not all cocktails need to contain alcohol to be delicious. The Berry Sparkler Mocktail is a festive and family-friendly option that showcases the flavors of summer berries.
Begin by muddling fresh strawberries, raspberries, and blueberries in a glass. Add a squeeze of lemon juice and a drizzle of honey for sweetness. Top it off with sparkling water and stir gently. This vibrant red, white, and blue concoction is perfect for Independence Day, and its burst of fruity flavors will delight both kids and adults. Serve it in a tall glass with a straw and a skewer of fresh berries for a colorful presentation.
Pineapple Coconut Margarita
Transport yourself to a tropical paradise with a Pineapple Coconut Margarita, a delightful blend of tangy pineapple, creamy coconut, and a hint of lime.
To create this tantalizing cocktail, combine fresh pineapple chunks, coconut water, a splash of lime juice, and a shot of tequila in a blender. Blend until smooth and frothy. Rim your glass with coconut flakes and pour the margarita mixture into it. Garnish with a pineapple wedge and a sprig of fresh mint.
The Pineapple Coconut Margarita will instantly transport you to a beachside retreat and add a touch of exotic flair to your 4th of July celebration.
Conclusion
This 4th of July, elevate your celebration with clean drink cocktails that are as wholesome as they are delicious.
The Watermelon Basil Mojito, Cucumber Mint Gin Fizz, and Berry Sparkler Mocktail are just a few examples of the endless possibilities for clean and refreshing beverages. By using fresh fruits, herbs, and natural sweeteners, you can create cocktails that are free from artificial additives and excessive sugars.
So raise your glass to a healthier, tastier way of celebrating Independence Day. Cheers to enjoying the festivities while staying true to your clean living principles!
Other posts you might enjoy:
Clean Drink Happy Hour – Top 5 Healthy Summer Cocktails
Clean Drink Happy Hour Celebrates The 4th of July with The "Pear Sparkler" & More…
Clean Drink Happy Hour on The Road! Watermelon Dream Martini for Hot Summer Days
Share This Story, Choose Your Platform!