DAZZLE your guest with Clean Drink Happy Hour's latest creation, "The Pear Sparkler" for your 4th of July celebration. Once again we went out on the road and bellied up to the bar at Trattoria Dario, where Craig McCarty, the head mixologist for the restaurant was mixing up a 4th of July concoction for our HAPPY HOUR. He introduced us to a gin I was unaware of, The BOTANIST, loaded with botanicals and those of you that know me know I LOVE me some good gin!
The Pear Sparkler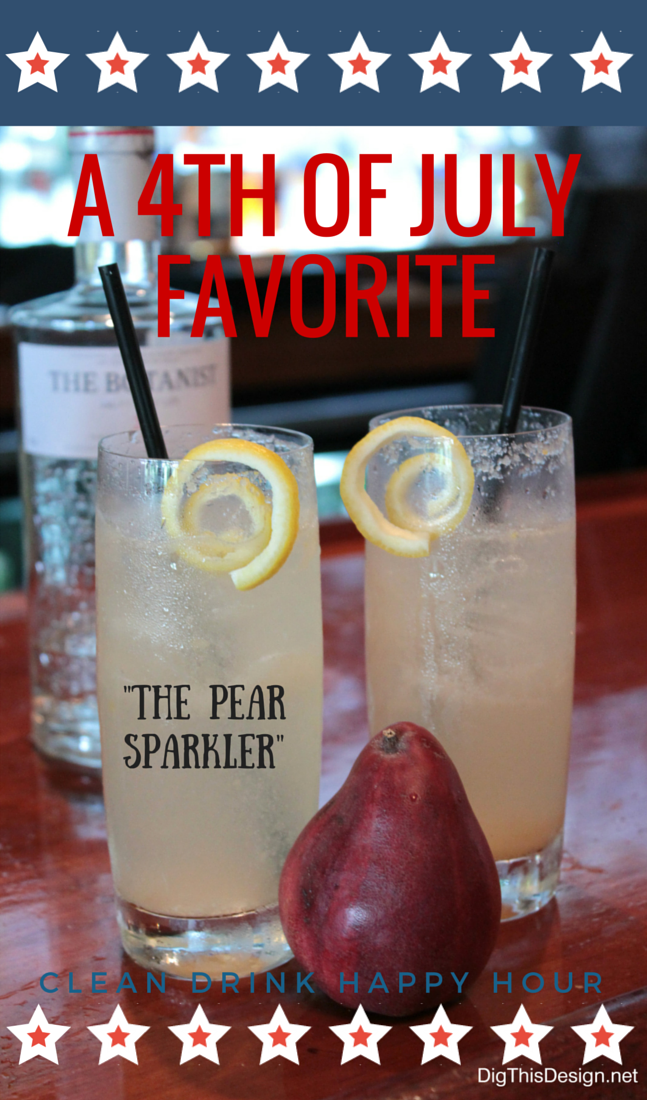 Watch this video of a pro mixologist in action!
Ingredients
1.5 oz. The Botanist Gin
4 oz. Prosecco
6 D'Anjou Pears
Whole Cloves
Lemon zest of one lemon
Juice of 1/2 a lemon
1/4 cup of filtered water
Directions
The puree should be prepared the day before you plan on making this drink. Peel and core the pears, stud them with cloves and roast in the oven at 350 degrees Fahrenheit for 25 minutes, then allow to cool completely in the refrigerator. Remove the cloves and blend on high speed with the lemon zest, lemon juice, and water.
Now that you have your pear puree made, fill a tall glass with ice, pour your gin, add 1 tbs. of the pear puree in each glass, followed by Prosecco. To mix, pour the contents of the glass back and forth slowly into a shaker; watch out for the Prosecco, too much action could make it overreact, be gentle! All this clean drink needs for a garnish is a simple curly lemon peel.
Watermelon Cake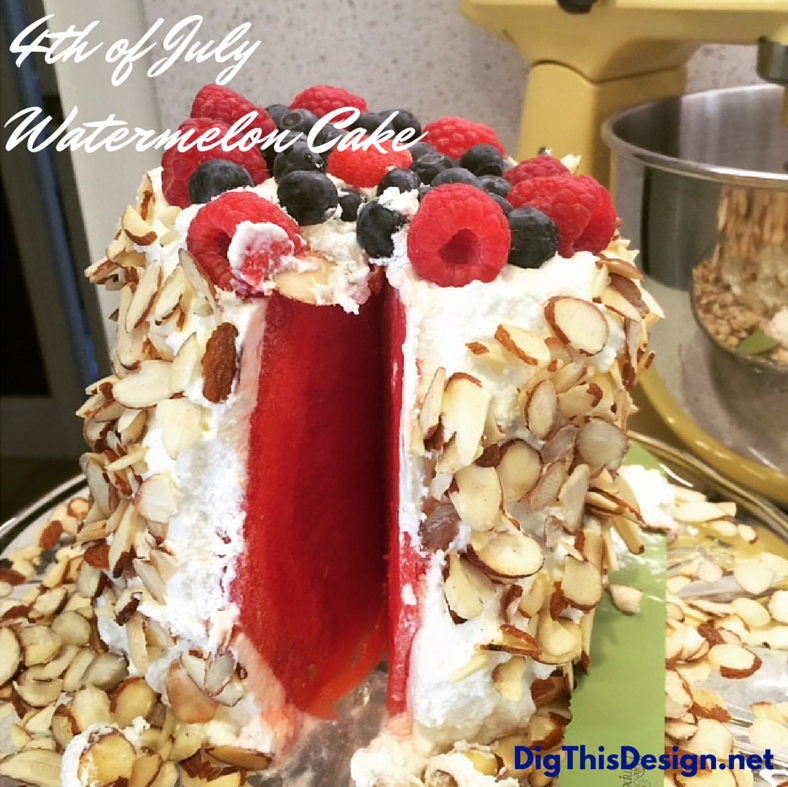 My neighbor Lori Wilson introduced me to this luscious cake, it was almost too beautiful to eat! Follow this easy recipe and impress your guest at your 4th of July festivities.
Ingredients
-1 seedless watermelon
-2 cans coconut milk (full fat milk, left in refrigerator for 6 hours)
-1/2 tsp. vanilla extract
-1 Tbsp raw honey
-1 cup sliced almonds
-Seasonal fresh fruit
Directions
Coconut Whipped Cream
1. You want to place the coconut milk in the refrigerator for 6 hours to separate the cream. The cream will float to the top of the can.
2. Open the can from the bottom and release the milk. Scrape the cream into a bowl.
3. Add vanilla and raw honey to the cream and whip the ingredients with a hand mixer on medium speed and as it blends increase to high speed until fluffy. Your coconut cream will not be as fluffy as dairy, but it will be much healthier! Place in refrigerator until you are ready to use.
Toasted Almonds
1. Heat skillet over medium-high heat until hot.
2. Add almonds to pan and toss until toasted a light brown color, then remove from pan to cool.
Cake
1. Cut off both ends and turn on end and cut out the rind (the red meat of the watermelon). Cut into wedged slices so it will be easy to serve as a cake wedge.
2. Pat dry so the whipped cream adheres.
2. Dip the outside of each wedge into the whipped cream and then the almonds. After you have reassembled on the cake plate add your whipped cream to the top, topping with the fruit of your choice.
GUILTLESS Root Beer

Float
Ingredients
2 Root Beer Floats
– 3 VIRGIL'S ZERO Root Beers
-1 Scoop each of SO Delicious Dairy Free Coconut Milk
Directions
Fill glass with 3/4 root beer and add a scoop of ice cream. Top that off with more root beer and watch it fizzle, for the perfect 4th of July root beer float!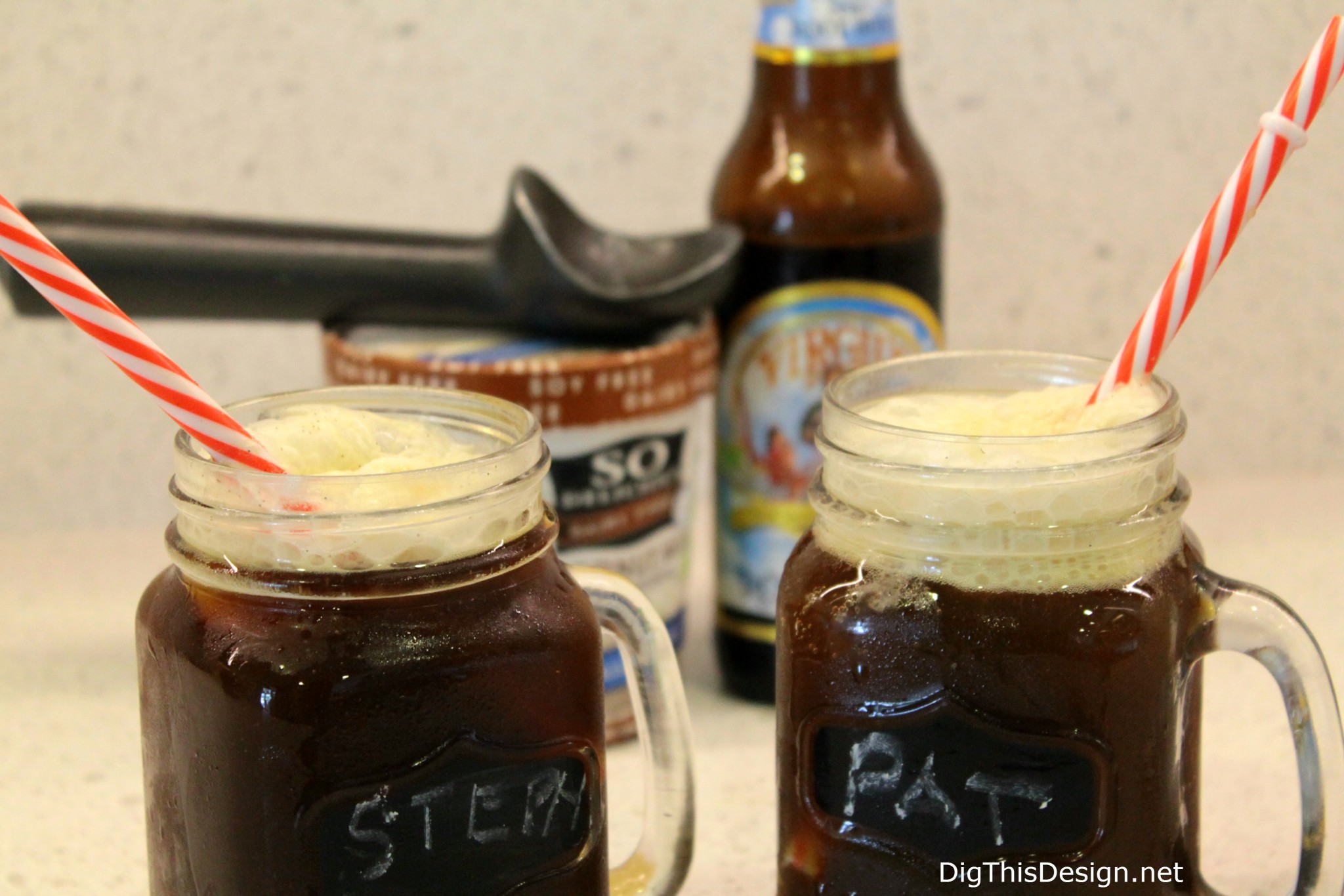 Share This Story, Choose Your Platform!