Winter is soon going to end and it will be time to welcome spring, which brings the joyful celebration of Easter. The colorful spring season and joyful festival of Easter gives us a lot of reasons to have delightful, luscious and vibrant gatherings. To arrange fascinating parties at your place is one of the best parts of the holiday. You can have fun with kids and family by making decorations, enjoying yummy foods, and creating amazing gifts for friends and loved ones.
Picking small fascinations and making inspiring trimmings will become a wholesome pleasure to enjoy the true essence of this happy feat. Gather your kids or friends to make beautification for the bunny party at your garden to relish natural blessings and awesome weather with religious passion. Here are some ideas and tips to make decorations to use for a fabulous and unforgettable party. Let these inspirations drift a bit or apply as they are, in order to get the desired environment of high celebrations of springtime and Easter.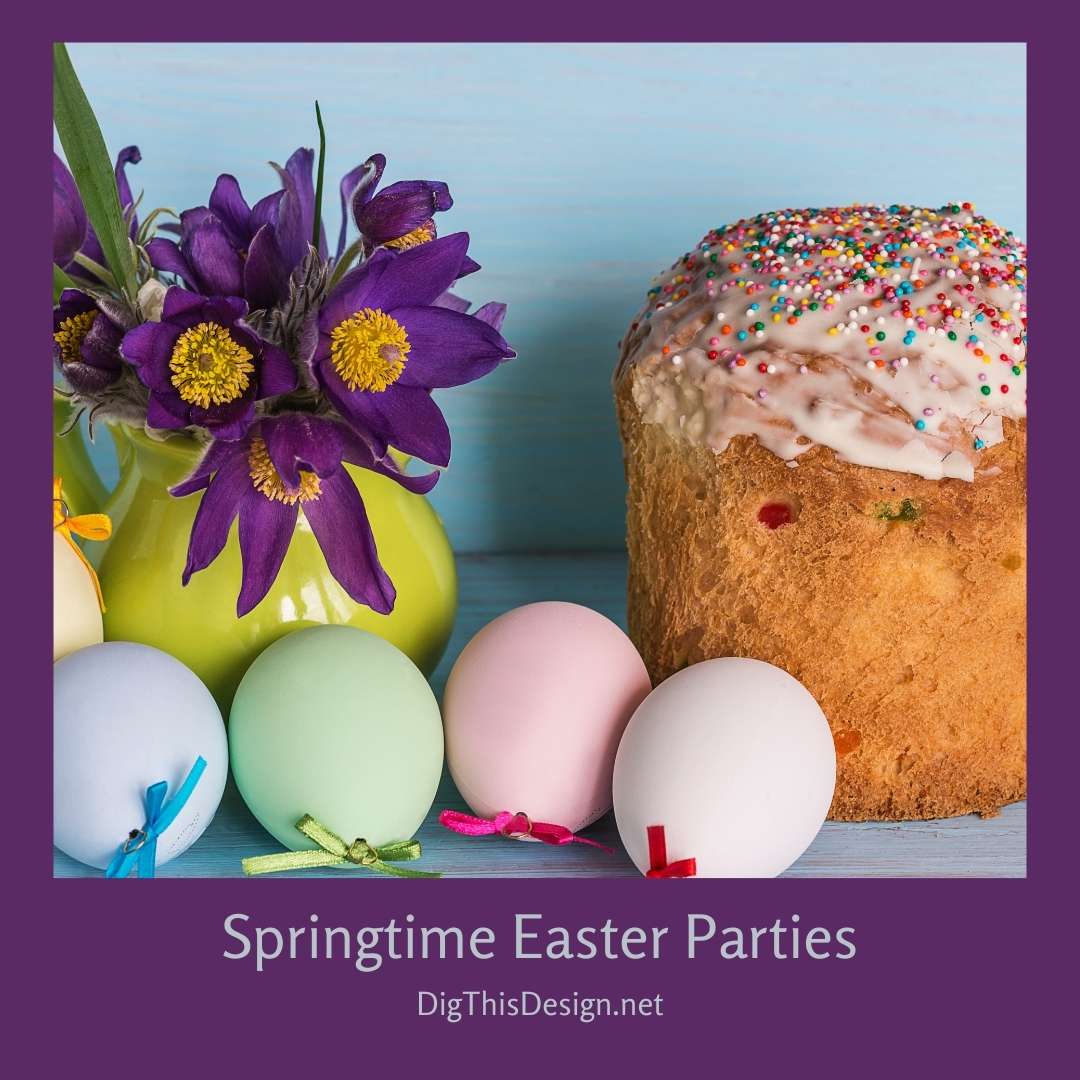 Spring Wreaths
Create pretty spring wreaths with flowers, fake eggs or temptations that strike your imagination. Colorful banners and strings would also be an awesome choice to create and hang on your front door, to embellish all of the outside of your entrance. Bare bush branches can be easily shaped into circles to add Easter bunnies and eggs with nests in multiple hues for beautifying the wreath. Take the styrofoam wreath base and fill it up with white and pink small tulips along with lush green leafs to get a heart-warming wreath, or use other ideas like a bunch of stuffed multi-colored eggs. Grassy wreaths with tiny flowers would also make your front door tempting.
Welcome Notes
To give your guests a warm welcome to the party, you can try out some welcoming notes in diverse materials, styles, and designs. On the front edge of your yard, fix a wooden pole to attach small wooden sign boards and props to cheer the invitees at the door. Design trendy canvas prints in spring colors and have the family name engraved to be hanged along a tree with fancy ribbon. You can also use small canvas with printed best wishes in egg or bunny shapes to gift your guests at the end of party. You can also choose some hilarious quotes, funky figures, or adorable gestures to be printed along with your family name or wishes to be shared with loved ones.
Table Centerpieces
Table tops and settings are one of imperative section of décor in the party arrangement. Bunny party theme will let you decide comfortably about cutlery and tableware you would use on the table. Table-scape and centerpieces would also depict the theme of Easter in color, figure and style. Do-it-yourself ideas of table center pieces for the Easter party include candle holder egg tree to light the dinner table during the party, a tray with a synthetic base of grass with tiny chocolate bunnies and fake flowers and candies, forged bunnies in rows along a long table, a transparent bowl filled with shimmering eggs filled with glitter and glue, or a vase filled with carrots and flowers. These would all provide a fine look at your Easter table.
Flower Arrangements
Flowers are our main temptation of spring, so adding them in with your party décor is a must. There are so many ideas for flower arrangements for spring, choose one that you absolutely love! Small egg shell holders to tuck in fragile stems of spring flowers, flamboyant towers of flourished flowers, vases filled with jelly beans and tulips, or turn an umbrella into a flower container to hang on your front door.
Easter Food Art
Your bunny party embellishments can also be enhanced with the art of food. Try making cute egg birds filled with cooked egg yolks, using black pepper and carrots for the eyes and nose. Or bake bunny biscuits, stuffed Easter bunny bread, Easter sugary treats, pies and cakes, a watermelon bunny tucked with berries, chick cupcakes, or stuffed carrot cones. All of these will surely satisfy the taste buds.
Written by: AtiqUr Rehman, Editor & Managing Writer, Just4Canvas
About the Author
AtiqUr Rehman is an editor and managing writer dedicated to Just4Canvas. He loves to write on many interesting categories like home décor and improvement, art and photography, travel photography, canvas printing and gift ideas.
Images Courtesy of Canva.
Share This Story, Choose Your Platform!