Football season is upon us, which brings fantasy drafts, Sunday afternoons spent in front of the television, and most important…  tailgating!  Whether from the comfort of your couch or from the back of your pick-up, these football foods will satisfy any game craving without forcing you to add another notch in your belt! So, keep reading to get your healthy game day recipes!
Mexicali Dip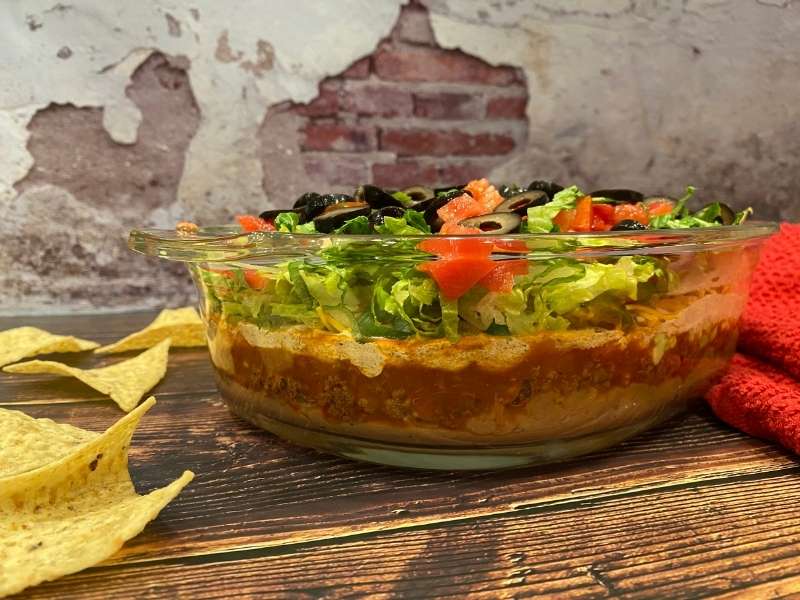 This 5 layer Mexican Dip found on From the Inch is as healthy as it is delicious… and it is delicious! Serve baked tortilla chips instead of fried for an even healthier snack.
Ingredients
2 tspns. olive oil
1 medium red onion, diced
2 cloves garlic, minced
1 15oz. can black beans, drained and rinsed (low sodium)
3 chipotle peppers in adobo sauce from the can, minced (you can use less for not as spicy)
4 Tbl. lime juice
1/4 tspn. ground cumin
1 Tbl.water
1/2 tspn. salt
2 cups corn kernels, frozen
2 ripe avocados
1/4 cup chopped cilantro leaves
4 medium tomatoes, seeded and diced (about 2 cups)
1/4 cup thinly sliced scallions
1 Tbl. finely diced jalapeno pepper
3/4 cup shredded extra-sharp Cheddar
Directions
Heat the oil in a skillet over medium-high heat.  Add the onions and cook until they soften about 3 minutes.  Stir in the garlic and cook for 2 minutes more.  Put half of the onion mixture into a food processor or blender with the black beans, chipotle peppers, 2 Tbl. of the lime juice, cumin, water, and salt.  Puree until smooth. Set aside.  Add the corn to the skillet with the remaining onion mixture and cook for about 3 minutes.  Remove from the heat and stir in the cilantro leaves.  In a small bowl, mash the avocado with the remaining lime juice.  In a medium bowl, toss together the tomatoes, scallion, and jalapeno.  Season tomato mixture with salt and pepper to taste.  Spread the black bean dip into the bottom of an 8×8 glass baking dish or serving dish.  Top with the corn mixture, spreading it out to form a single layer over the beans, repeat with the avocado, then the tomatoes.  Top with cheese. Serve with your choice of chips for a sure winner on a healthy game day.
Buffalo Chicken Wings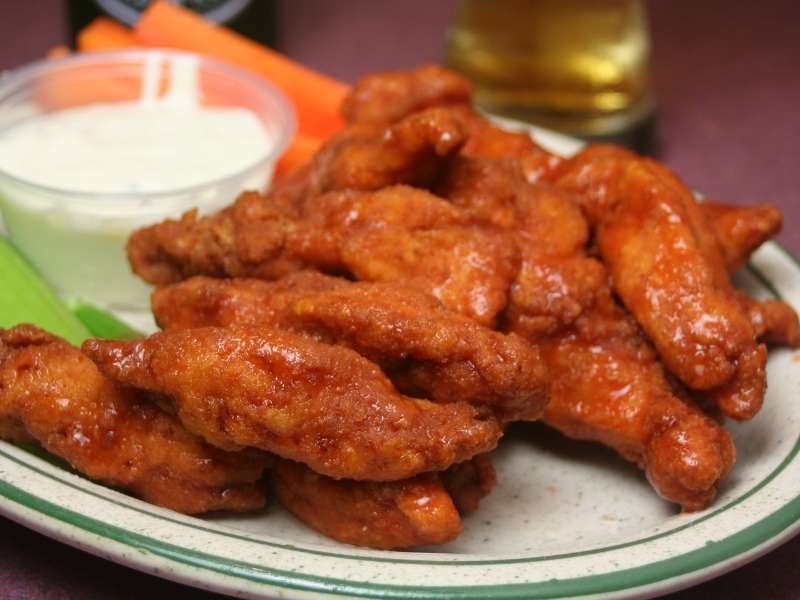 Make your Buffalo Wings heart-healthy with this recipe from Better Homes and Gardens! Or – when cooking your favorite wing recipe just be sure to remove the skin from the chicken, omit the butter, and bake them instead of frying!
Ingredients
24 chicken drummettes, skinned*
1/4 cup bottled cayenne pepper sauce
2 teaspoons cider vinegar
1/2 teaspoon garlic powder
1/2 teaspoon ground ginger
3/4 cup fat-free sour cream
1/2 cup crumbled blue cheese
1 green onion, chopped
1 tablespoon white wine vinegar
1 tablespoon lemon juice
1 teaspoon sugar
Carrot and celery sticks
Directions
In a large bowl toss the drummettes with 2 tablespoons of the cayenne pepper sauce, 1 teaspoon of the cider vinegar, garlic powder, and ginger.
Arrange drummettes on the unheated rack of a broiler pan. Broil 4 to 5 inches from the heat for 15 to 20 minutes or until chicken is tender and no longer pink, turning once. Drizzle chicken with the remaining 2 tablespoons of cayenne pepper sauce and 1 teaspoon cider vinegar.
Meanwhile, in a small bowl combine sour cream, blue cheese, green onion, white wine vinegar, lemon juice, and sugar. Serve dressing with chicken drummettes and carrot and celery sticks.
Portable Veggie Tray
What a convenient way to serve veggies and dip! A portable baguette stacked with your favorite veggies and low-cal dip is a perfect snack for an afternoon of football.
Ingredients
A baguette, sliced

Your favorite low-fat dip or spreadable cheese (the thicker the dip, the better veggies will stand)
Selection of sliced veggies – like peppers, carrots and celery
Directions
Peel or cut out a "valley" in the middle of each slice of baguette. Fill with 1 tbsp of dip. Stand veggies in the middle.
Turkey Chili
Substitute ground turkey in your favorite chili recipe, or try this easy and delicious Turkey Chili recipe from Tasty Kitchen, for a healthier version of a staple fall meal.
Ingredients
2 Tablespoons Extra Virgin Olive Oil
1 cup Yellow Onion, Diced
2 cloves Garlic, Minced
1-½ pound Ground Turkey Breast
1 can (15 Oz. Can) Petite Diced Tomatoes
2 cans (15 0z. Can) Tomato Sauce
1 can (15 Oz. Can) Black Beans, Rinsed And Drained
3 Tablespoons Chili Powder (more To Taste)
1 Tablespoon Cumin (more To Taste)
2 cups Green Pepper, Diced
1 cup Shredded Cheese
Salt And Pepper
Directions
Warm extra virgin olive oil in a deep stock pot over medium-high heat. Add diced onion and garlic; saute until tender.
Add ground turkey breast; season with salt and pepper and cook through, about 6 minutes.
Add petite diced tomatoes, tomato sauce, and black beans.
Add chili powder and cumin to taste.
Reduce heat to medium-low; add green pepper.
Simmer 10-20 minutes, until green pepper is tender.
Serve with shredded cheese sprinkled on top. A scoop of fresh guacamole is also perfect for this recipe!
***Notes: the spices in this recipe are for a relatively mild chili. If you like your chili with a kick, I would definitely recommend adding more spice to your taste! I typically end up adding a bit more chili powder to mine if my husband isn't around (he can't handle heat!).
Also – if you would like your green peppers to be a bit softer, I'd add them in with the onions at the beginning of the recipe. I like a bit of difference in texture in comparison to the soft tomatoes, beans, and turkey, so adding them towards the end is just a personal preference!
Images Courtesy of Canva.
Other Posts You Might Enjoy:
Interviewing Mom, Tips on Being a FASHIONISTA at 89! Recipes For Mother's Day Bubbly & Brunch
Healthy Hot Dog Recipes For Memorial Day
Champagne Recipes for Cocktails and Cupcakes For the New Year
Share This Story, Choose Your Platform!