Moving to a new home during the fall season brings its own unique set of challenges and opportunities. As the leaves change color and the air becomes crisp, you can take advantage of the pleasant weather while addressing some specific considerations for your move. This article will provide eleven essential moving tips to make your fall move as smooth and enjoyable as the season.
Moving Tips for a Fall Move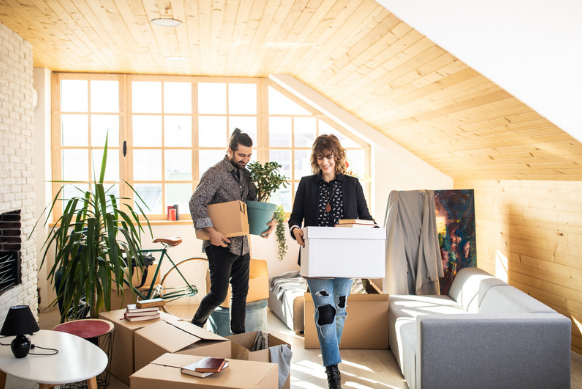 Plan Ahead:
Start planning your move well in advance. Autumn is a popular time for relocation, and scheduling movers or rental trucks can become challenging. Make your arrangements as early as possible to secure the dates you want.
Declutter and Donate:
Before packing, go through your belongings and declutter. Donate or sell items you no longer need or want. It will make your move easier and lower your moving costs.
Consider Professional Movers:
Hiring professional moving services like White glove logistics can be a game-changer if managing a move during the fall season seems overwhelming. They have the experience and equipment to navigate potential weather challenges and ensure your belongings arrive at your new home safely and on time. 
Prepare for Weather Variability:
Fall weather can be unpredictable. Pack clothes for varying temperatures and be ready for rain. Keep an eye on the weather forecast for your moving day and have appropriate gear on hand.
Use Leaf Bags for Packing:
Instead of traditional cardboard boxes, consider using large leaf bags for packing lightweight items like clothing and bedding. They are durable, cost-effective, and can be disposed of quickly.
Protect Your Floors:
Autumn brings wet and muddy conditions. Lay down protective materials like cardboard or plastic sheets to prevent dirt from being tracked into your old or new home.
Keep Essentials Accessible:
Pack a separate box or bag with essential items you'll need on moving day and the first night in your new home. This may include toiletries, a change of clothes, important documents, and basic kitchen supplies.
Take Advantage of Daylight:
With shorter days, it's crucial to maximize your use of daylight. Start early in the morning to maximize available sunlight and finish tasks before nightfall.
Pack Fragile Items Carefully:
Be extra cautious with fragile items like glassware and ceramics. Use plenty of packing paper and bubble wrap to protect them from potential bumps during the move.
Update Your Address:
Remember to update your address with the post office, banks, utilities, and other relevant organizations before you move. This ensures your mail and services are redirected to your new address.
Enjoy the Season:
Moving in the fall can be a delightful experience. Take breaks to savor the beauty of autumn, go for a walk in the colorful leaves, and treat yourself to a warm beverage to celebrate your successful move.
Moving during the fall season can be both picturesque and practical. With careful planning, preparation, and an awareness of the unique challenges and opportunities autumn presents, you can ensure a smooth transition to your new home while enjoying the season's beauty. By following these eleven essential tips, you'll be on your way to a successful, stress-free fall move.
Other posts you might enjoy:
Moving to A New House? Follow this Ultimate Checklist
Share This Story, Choose Your Platform!