Moving is an emotional experience. It means saying goodbye to a home where you likely made special memories. Not to mention you decorated that home to your liking (which may have taken you years!).  We have good news – you don't have to start all over. Follow these 5 design tips when decorating your new home.
5 Design Tips for Your New Home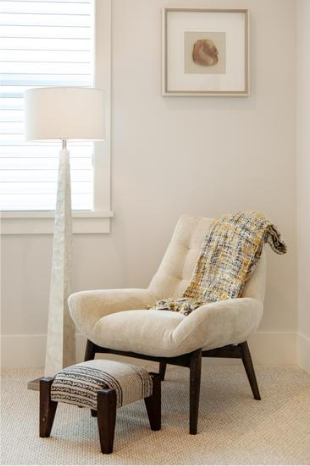 Design by Patricia Davis Brown Designs
1. Get Your Things Moved In and Unpacked 
Nothing stagnates the designing process more than knowing the moving process isn't really complete. That's why you need to get in touch with a moving company. By hiring professionals, all of your things will be packaged properly and will make sure none of your possessions get damaged. When you arrive in your new home, the boxes will be ready to unpack. You'll then be free to delve fully into the design process.
2. The Best Design Tip – Paint Your Walls
How can you claim a space as yours if it has wall colors you didn't choose? Painting a room has a much deeper effect than just changing the color of the walls. It gives you the opportunity to completely change the energy of space. For example, maybe the master bedroom is a calming blue, but you'd rather have something that inspires you to get up in the morning. This color may be a vibrant yellow or a rose pink.
If you're trying to figure out which color to choose, ask yourself, "What do I want my mood to be when I walk into my bedroom and what color makes me feel this way?"
3. Choose a Design Style
Choosing a design style is the most difficult part of designing. Once you decide on a theme everything else will fall into place quickly. A room's theme is the color palette, decorations, and layout that come together into one cohesive statement. Essentially, showing your personality with your design style.
If you don't know where to start, here are a few ideas to get you started:
Bohemian
Classical
Rustic
Modern
Retro (70s, 80s, etc)
Industrial
4. Picking Accessories 
Decorations are difficult to get right. Too little and the place looks sparse. Too many and you get a cluttered feel that is difficult to clean, and can even contribute to stress.
To combat this, pick out one decoration that is going to be the center of attention. It might be a vibrantly colored plant, or a unique vase, or anything else that catches your attention. Everything else needs to complement it instead of dividing the viewer's attention.
5. Creating the Proper Flow to the Space
It's important to choose the anchor pieces, such as the living room couch or the master bed. Once the anchor pieces are selected then you layer in accent pieces that accommodate the flow of the room. You want to measure your rooms and make sure that your anchor furniture pieces fit and do not overwhelm the space. You want proper circulation in and throughout the space that makes sense.
Claiming Your New Space
Your house should be much more than the place you go to at the end of the day. It should be an expression of who you are and a source of pride. When you follow these steps, you'll see the surrounding area blossom into something you never imagined it could be.
Good luck and have fun!
Other posts you might enjoy:
5 Design Tips to Make Any Bathroom Look Amazing
Design Tips to Increase the Value of Your Home
7 Sustainable Landscaping Design Tips for Your Backyard
10 Home Interior Design Tips for Timeless Style
Share This Story, Choose Your Platform!