How your bathroom looks can affect your mood for the entire day since this is the first place you usually go to the moment you wake up. You'll likely start your day with very low energy if you wake up to a boring and old-looking bathroom. Having a bathroom that looks new and unique, on the other hand, will surely perk you up. So, if you want to make your bathroom look amazing, continue reading to learn some great tips.
Make Your Bathroom Look Amazing with These 5 Tips
If you no longer look forward to spending time in your bathroom, it might be time to do some remodeling. So, consider making your bathroom look like a showpiece in a spa. Or, you may simply want to make it more appealing.
But, whatever your motivation, the following are easy design tips to make your bathroom look elegant and amazing.
① Choose Your Favorite Style for a Fantastic Bathroom Theme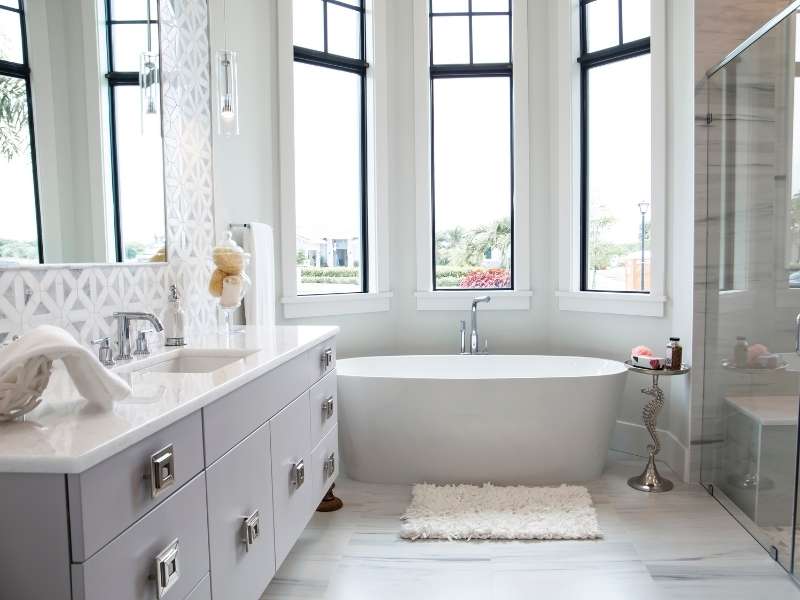 The first thing to consider when making your bathroom look amazing is your theme. For instance, you might opt for either a country or a modern look. However, there are lots of themes from which to choose to make your bathroom look amazing
Aside from taking inspirations from in-demand trends, you can also work with your existing bathroom furniture, instead of buying new pieces to fit a theme you have in mind. Taking this direction allows you to make your bathroom look amazing without breaking the bank.
Choosing a theme for your bathroom is important because it streamlines your efforts in deciding what pieces to add.
② Bathtubs as a Focal Point Make Your Bathroom Look Amazing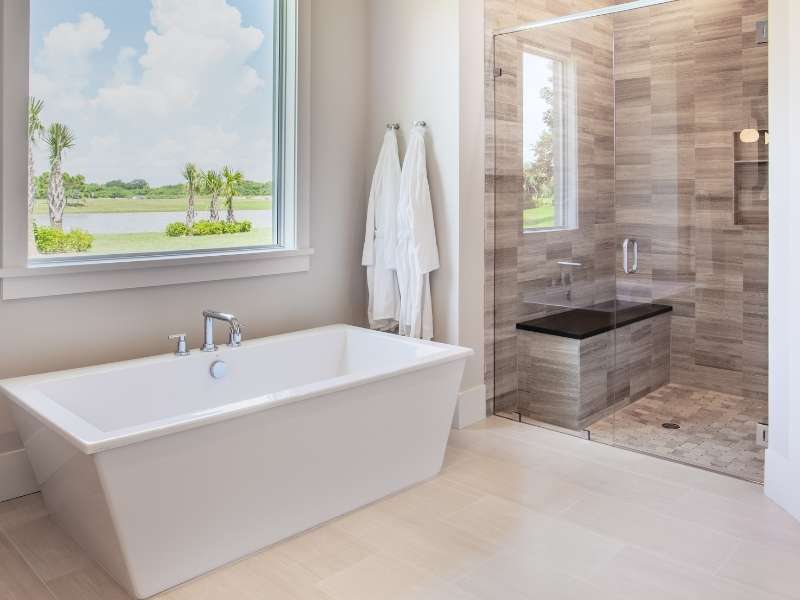 Investing in a bathtub is one of the easiest ways to make your bathroom look amazing because this can be used as the focal point of the space. But, with the number of options available today, choosing the perfect bathtub is a challenge for many.
So, first, try to find one with a unique shape and design for an attractive and functional bathroom. Also, consider the convenience of a walk in tub shower combo for added comfort and luxury. Make sure you optimize the entire area by placing every item strategically. Never forget those family members with mobility issues or elders who might need a little extra help. If it is the case, you should place high quality and good looking grab bars to reduce any chances of getting injured and increasing general comfort.
Since the bathtub is the biggest item inside your bathroom, make sure to select a color that complements the overall theme of your bathroom. For example, if you desire an all-white bathroom, look at bathtubs that come in white or other similar hues.
③ Be Sure to Add Lots of Bathroom Storage for Convenience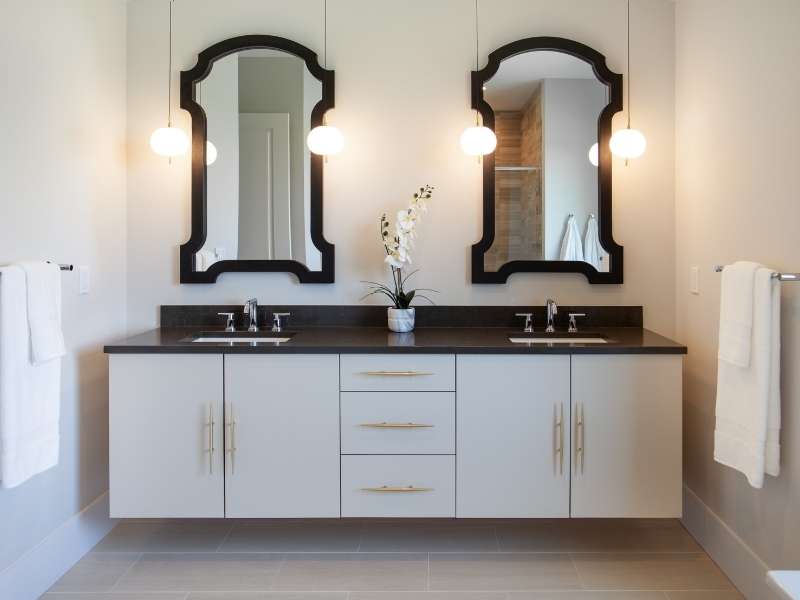 Another effective design tip to make your bathroom look amazing is to make sure to install enough shelves and cabinets. Investing in expensive furniture or fixtures for your bathroom will be useless if the room is not an example or organization.
Depending on your set budget and the theme you want to achieve, you can invest in wall shelves or add more cabinets under the sink. If you want to take it up a notch, you can also buy wicker baskets or drawer carts to store extra items.
Having enough storage spaces is a very important factor, especially if you want organization in your bathroom
④ The Right Accessories Make Your Bathroom Look Amazing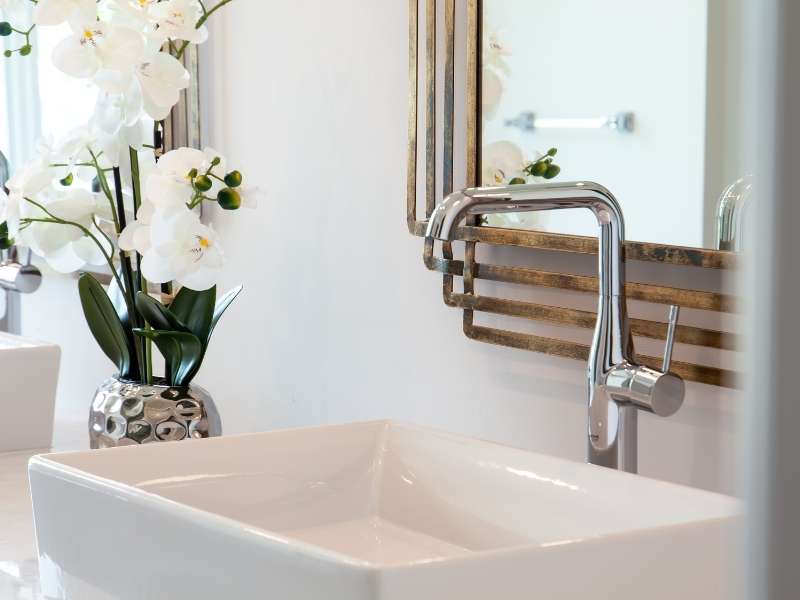 One of the best ways to make any bathroom look amazing is to use accessories that reflect the theme of your bathroom. For instance, for a modern bathroom, work in a few houseplants to add pops of fresh greenery. Also, add artwork to your bathroom walls for an extra special touch.
Also, try out rugs that fit the design of your bathroom. These rugs can be found in many different colors and designs, and will add some spice to your bathroom. In addition, these rugs can wipe off moisture from your feet, decreasing your susceptibility to slip and fall accidents whenever you step out of the shower.
⑤ Add a Stunning Bathroom Vanity for Function & Style
Adding a new bathroom vanity is another great way to make your bathroom look amazing. Pick a stylish vanity that compliments your chosen style. Some people use their bathroom vanities to apply makeup and prepare themselves for the day.
Of course, you'll want to select a style that fits with the rest of the bathroom to get that designer feel.
Let Your Creativity Shine to Make Your Bathroom Look Amazing!
Follow the tips in this article and you might be surprised at how easy it it to design your bathroom from top to bottom. With a little creativity, you can create an ambiance that has never been seen before in any bathroom!
If you have any suggestions or tips to add, please do so in the comments below. You will also find links below to take you to more fantastic articles about all things design for your home or business.
Images Courtesy of Canva.
Other Posts You Might Enjoy:
3 Ways to Create a Modern Design in your Bathroom
Tips To Designing A Layered Lighting Plan For Your Master Bathroom
Clearlight Designs • Gorgeous Backlit Bathroom Mirrors
Designs of the Year: A Guide to the Top Bathroom Trends of 2020
Share This Story, Choose Your Platform!