Are you looking for ways to spruce up your bathroom but don't know the trends for 2020? Whether you're making minor cosmetic fixes or big design overhauls, it's important to consider what's hot and what's not before you get to work.
Your research becomes even more important when you realize that the average renovation often comes to $10,000 or more. So, you want to make sure that you're putting your money to good use.
Curious to learn more? Keep reading to learn about the top bathroom trends of 2020!
Top Bathroom Trends of 2020
Bathroom Trends Always Involve White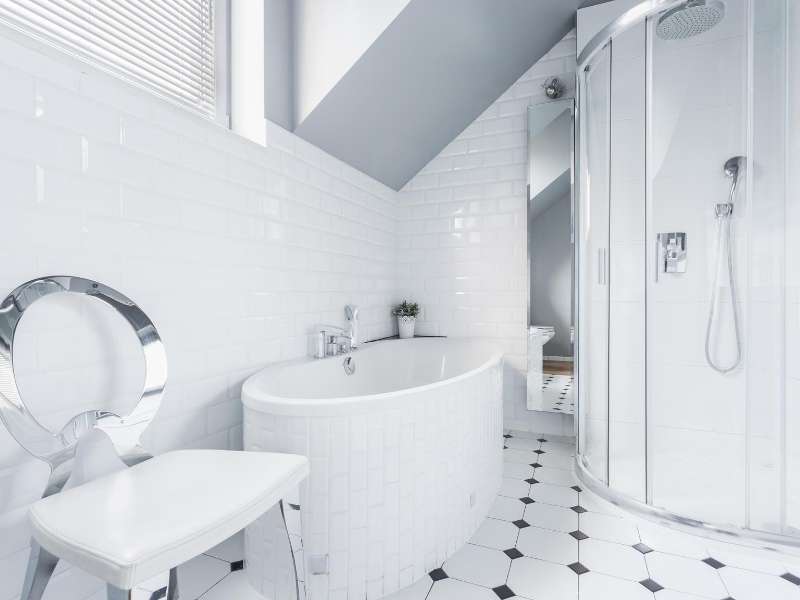 With so many ways to add splashes of color and pattern to your bathroom space, it may come as a surprise that white is a popular choice. But white bathrooms are always in style. A clean white bathroom is a refreshing space where you can start your day or kick back in the tub.
There are ways to elevate a white bathroom above the bland, sterile bathrooms you might remember from childhood. Think about mixing in some subway tile for a subtle bit of texture. Or, try a shag rug in white for a softer look.
Add a Soaking Tub to Your Space
Luxurious bathtubs are a popular feature to include in bathroom renovations. If you want to think about your bathroom as a sanctuary, choose a tub that suits your style and situate it beneath a window or some dimmable lights for the perfect ambiance.
Freestanding tubs sit anywhere and become the centerpiece of your bathroom. With smaller or more challenging spaces, try drop-in or alcove tubs to achieve the perfect relaxation station regardless of size limitations.
Need a few other options? You can go for a sleek and modern design to keep things minimalist. Or, try a retro Art Deco tub for some throwback sophistication. Also, if you're really feeling bold, try a freestanding black tub that sits on some warm-white marble flooring.
Warm Tones Warm Up Your Space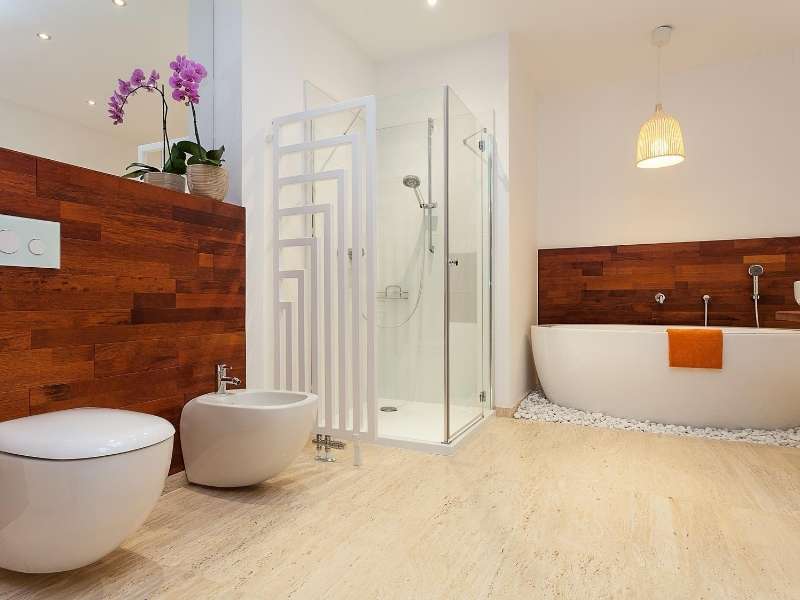 While white is fresh and clean, there's a movement toward using warmer tones in bathroom spaces. Pink and blush tones add a hint of warmth to any space, but they're especially welcome in bathrooms.
Also consider adding stonework or tiles to your space with warm undertones. Or, stock your linen closet with some mauve-colored towels for some easy warm accents. If you have a window in your bathroom, the sunlight will help these warm tones glow!
Go Darker With Your Color Scheme
If white or warm tones aren't your idea of the perfect remodel color palette — go darker. In fact, it's a popular trend to choose deeper blues and grays. Or, even black if you're feeling daring. Pairing with shiny fixtures or some clean white tiles, looks refined yet welcoming.
Deeper colors and values add drama to your space, and they might be a welcome departure from more neutral colors. If the rest of your home is draped in beige, don't be afraid to get a little moodier with your bathroom design!
Don't Overlook Marble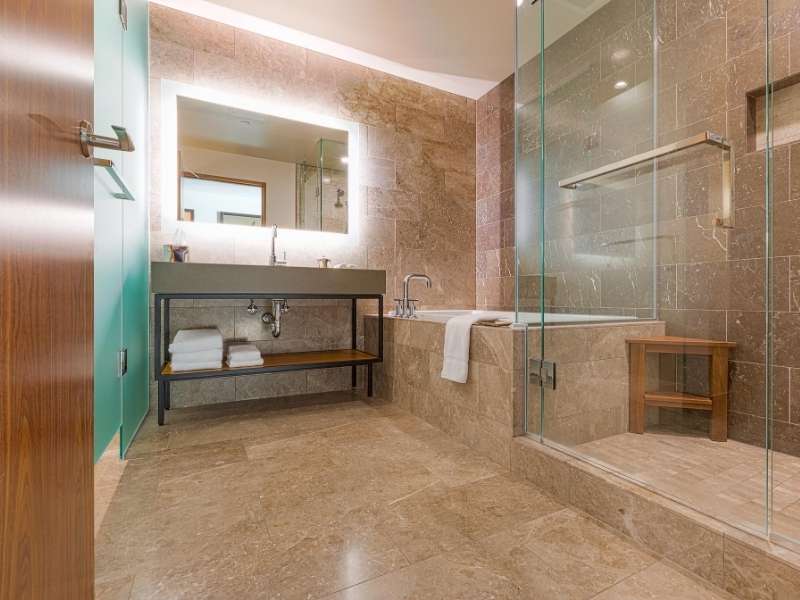 When you think of luxury, you probably think of marble. As a building material and decorative trendsetter, marble remains a classic choice. And it's available in a variety of styles and finishes ranging from glossy and high-contrast to soft and neutral.
Marble countertops will always impress, and marble floors will feel cool and comfortable beneath your feet on hot summer days. If making your bathroom into a luxurious getaway is your goal, find some creative ways to incorporate marble into your remodel.
Use Concrete for a Modern Feel
Whether you're looking for a punchier design or something subtle and cool, concrete is an excellent choice of material. In fact, it is one of the hottest bathroom trends. If your preference is muted or industrial, concrete creates the ambiance you want.
Go with concrete countertops with squared-off edges and concrete walls for an angular, modern look. Then, add a few pops of greenery with some ornamental grass or plants, and some fresh white towels for a touch of contrast.
Keep Wall Tiles on One Wall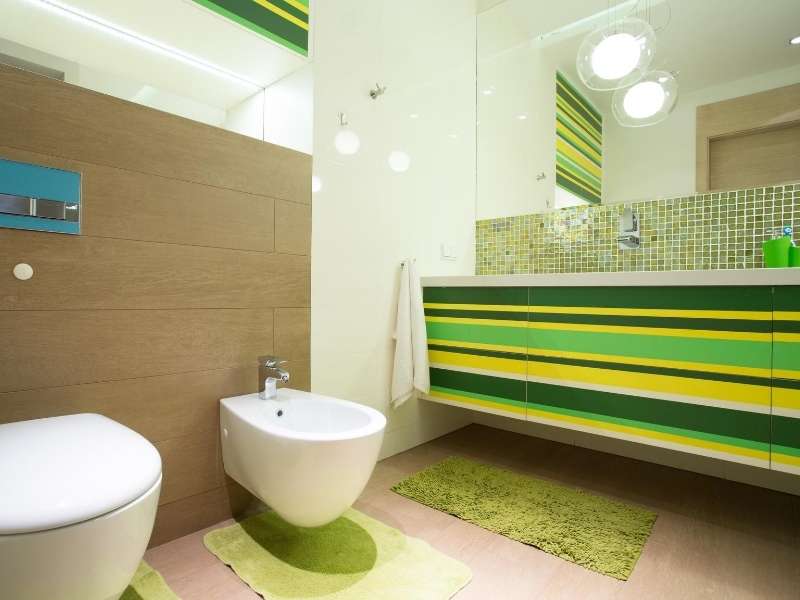 Are you concerned that too much pattern or color will look busy in your space? Then confine the intensity to one wall. Accent walls are trendy in other parts of the home, and now they're a popular choice in bathroom updates.
Whether you want to do your entire space in vibrant tiles or just prefer having tiles on one wall, it's on-trend. Moreover, it's become a popular choice these days to use tile work on one accent wall while keeping the other walls painted in neutrals.
Jazz Up Your Floors
When it comes to renovating a bathroom, another trendy choice is to go with pattern floor tiles. Hand painted floor tiles offer unique beauty that impresses your guests. Too much pattern in any space feels overwhelming, but when used selectively, patterns add a punch of color and energy.
You also might try adding abstract designs or floral motifs for some intricate beauty. Plus you'll have floors that are entirely original! Purchase hand towels or a shower curtain featuring one of the colors from your tiles, and you'll have a harmonious bathroom space.
Refresh Your Sink
You spend plenty of time washing your face or brushing your teeth at your bathroom sink, so don't overlook the importance of this key feature. Whether ultra-modern or rustic stone, a sink has the power to be your bathroom's centerpiece.
One trend is to install two single vanities side-by-side as opposed to one double vanity. This choice can call attention to the clean lines or intricate details of your sink. It also ensures that you won't be competing for counter space!
Another choice to consider if you have a bigger bathroom space is a double-vanity bathroom island. This design choice moves your sinks away from the wall so you'll be able to access it from any direction.
Custom bathroom sinks are the perfect way to get exactly what you want without settling. For instance, a concrete sink is far from being the bland basin we might expect. Rather, they are a versatile choice that to dress up in just about any color or design.
Brass Is Back
Did it ever really go away? We often think of the 80s or 90s when we think of brass, but this shiny material has had a resurgence as a popular choice in bathroom designs.
Pair brass fixtures with some slate flooring or a muted concrete sink to create a little visual tension (in a good way). The shine of brass suggests a sense of luxury, and it forms an effective contrast against materials that are more subdued.
Swap Out Your Seat Cover
Not all bathroom makeovers have to be expensive or extensive. A simple and trendy update is to swap out your current toilet seat cover for something new. Switch from boring white to a splash of color with pink or blue, or get dramatic with black.
If you love wood grain and want it to have a prominent place in your bathroom redesign, switch to a toilet seat with some walnut or cherry grain swirling throughout the surface. You also can look into matching the seat to your new hand towels or shower curtains.
A new toilet seat cover is an easy and cost-effective way to create change. Especially if your bathroom is limited on space, small updates like this are the way to go.
Make Your Design Choices Asymmetrical
Yes, that's right — not everything has to be in perfect balance in your bathroom. Instead, you can add some asymmetry to the mix to create a more inventive space.
Think about hanging an organically-shaped mirror a little to the left of center above your sink. Or, go a little right of center. 
A few potted plants are simple ways to add color and texture to space, but try clustering them in unexpected places. Don't get too hung up on trying to arrange them in neat, symmetrical bunches on either side of your tub. Your space will look more dynamic if you embrace some asymmetry.
Now, Start Renovating!
Bathroom trends may come and go, so it's important to know what you want when you approach a bathroom redo. You don't have to strip away everything and start over if that's beyond your budget. You can make dynamic and luxurious changes with even the smallest updates!
When you're ready for fresh design tips that will energize your style, check back for more informative articles!
Images Courtesy of Canva.
Bathroom Design Trends for Spring 2015
Clearlight Designs • Gorgeous Backlit Bathroom Mirrors
7 Creative Design Tips for Your Small Bathroom
Tips To Designing A Layered Lighting Plan For Your Master Bathroom
Share This Story, Choose Your Platform!