Clearlight Designs began with etched glass designs with an exceptional technique that was honed to perfection over time. It all began when one day in Darwin, Australia, Warwick Pascoe brought home a sandblaster and began his experimentations with glass etchings. Over the years, the company has grown to international status and now offers a wide array of mirrors. So, let's take a closer look at a few of the amazing styles Clearlight Designs offers.
Breathtaking Design • Clearlight Backlit Bathroom Mirrors
Round and Etched
The iridescence of the led lighting designed into this mirror has a soft, glowing effect. Additionally, the led lights last for 24 years for worry-free longevity. Years of design and hard work lead to what you see today. Moreover, each one of these mirrors is a design masterpiece – with or without the etching. One benefit to the installation of these mirrors is that the lighting is built right into the mirror so that you need no additional fixtures.
Installing one of these mirrors is easier than mounting a TV to the wall. First, there are two parts to these mirrors that consist of the lighted mirror itself and the hanging structure. Then to begin, simply screw the hanging structure to your wall and lock the mirror into place. Can anything be easier?
Just imagine looking at this mirror each morning. How could you help but walk away relaxed and ready to start a productive day? Moreover, what better scene than an ocean bed for a beautiful statement in your bathroom?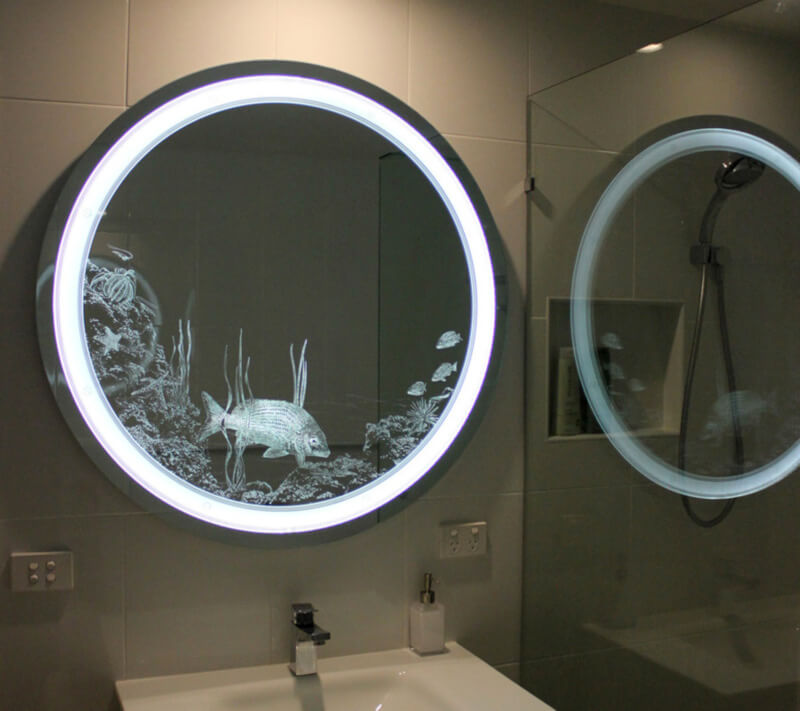 Halo Mirror
LEDs wrap around the back of this mirror that gives it the "Halo" effect. Clearlight Designs mirrors have silver rather than copper backing making them the highest possible quality. Moreover, did I mention that the LED lights are designed to last for a minimum of 24 years? But if something happens and you do need to place the lighting, they are also designed so that is very easy to replace the lights!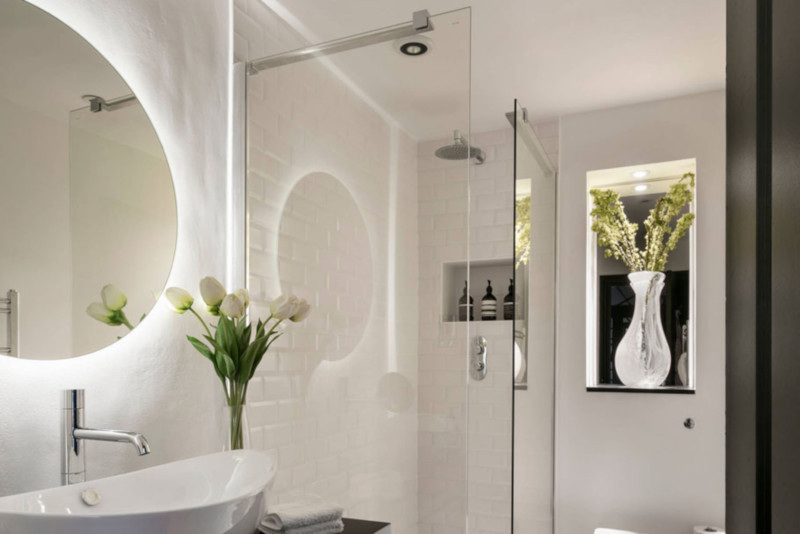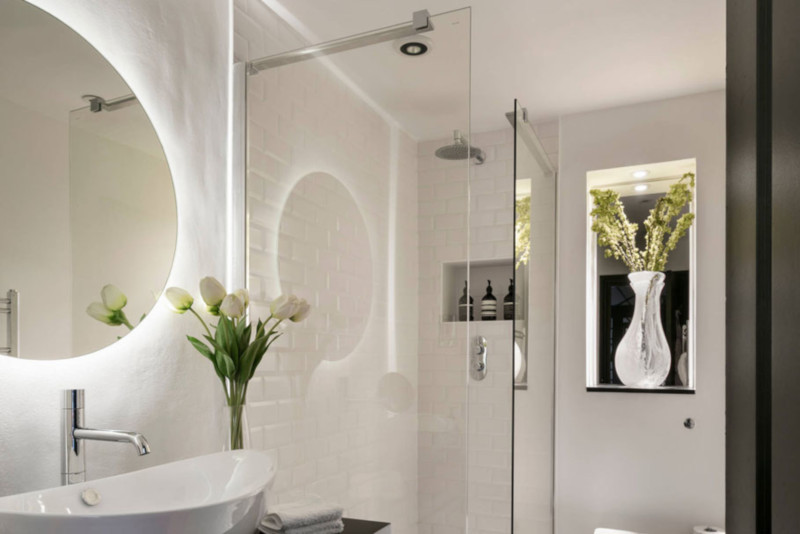 Verge Illuminated Mirror
This mirror is shown in a bedroom and is over a make-up desk. But, these illuminated mirrors will fit into your designs in other places in your home. For instance, they also look fabulous in your foyers or even your hallways.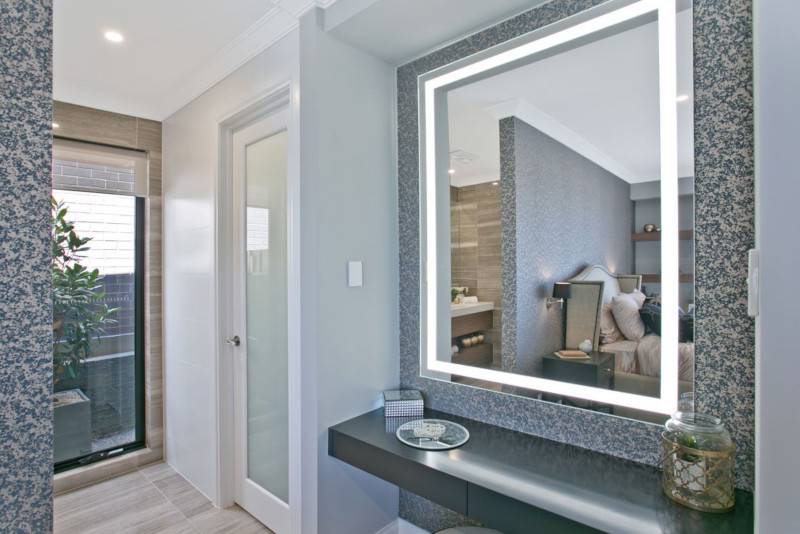 Focus Bathroom Lighted Mirror
This understated yet brilliant soft strip of LED lighting across the top of the mirror is absolute genius. For a minimal yet still very inviting bathroom, this is an excellent choice. Additionally, the really nice thing about Clearlight Designs Illuminated MIrrors is that they will fit with just about any design scheme.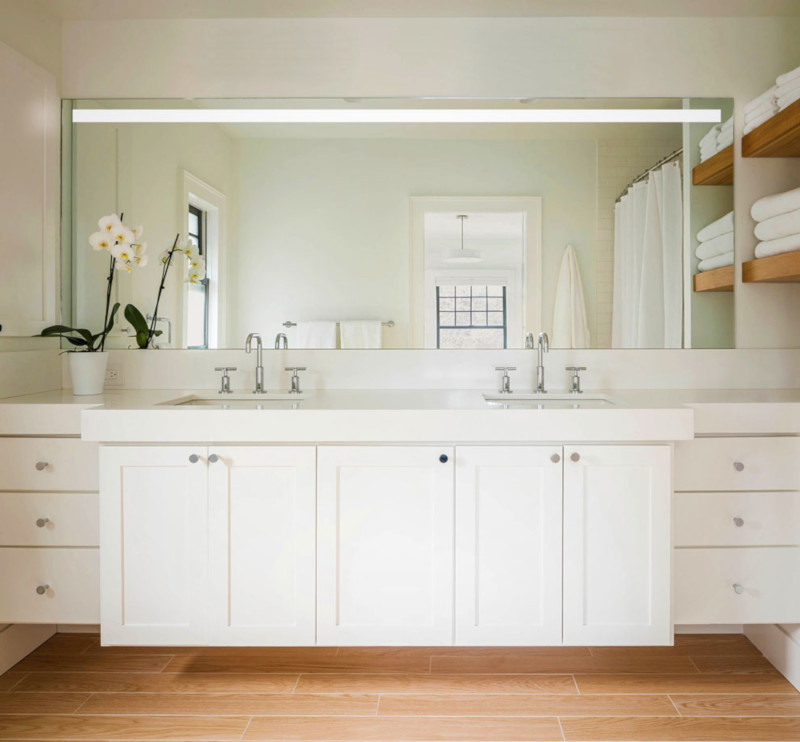 This only brushes the surface of what Clearlight Designs have to offer. Visit them today for an exciting moment of discovery when you realize how many options you have. I encourage you to spend some time looking through the mirror designs on the Clearlight Designs website because I am certain you will be both enchanted and amazed.
Other Posts You Might Enjoy:
6 Ideas for a Spacious Small Bathroom
5 Tips to Add Ambiance and Tranquility to Your Spa Bathroom
7 Easy Tips for an Eco-Green Sustainable Bathroom
6 Inspiring Glass Countertops for Your Kitchen or Bathroom
Share This Story, Choose Your Platform!