Are you thinking about creating a more modern design in your bathroom with some of the current trends?  If so, there is a wide selection of modern options from minimal to bold design from which you can make great choices. A bathroom remodel is a chance for you to run wild with your creativity and have a lot of fun.
Have you had the same bathroom design for some time now and you want to try something more modern? This article suggests three ways that you can create a modern design in your bathroom.
Modern Designs for your Bathroom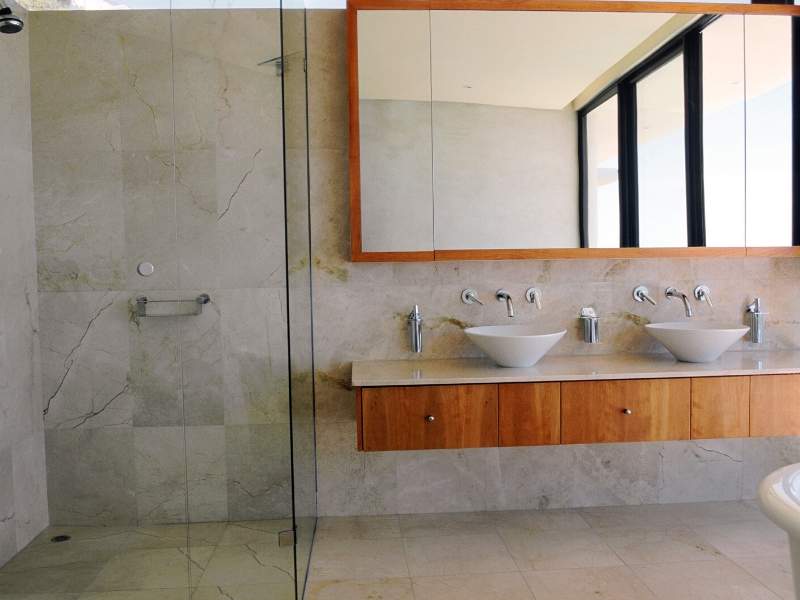 Statement Bathroom Accessories
When you start to design your bathroom, the first thing that comes to mind might not be accessories. However, if you're going for more of contemporary design, the accessories can make a world of a difference in modern bathroom design. There are so many statement pieces available for your selection. You might want to consider a focal point like a bold and unique bathroom fixture. A statement example would be a graphic pendant light fixture above a freestanding egg-shaped tub for something that really stands out.
Try a Walk-in Shower
There are numerous choices of bath and shower designs for your bathroom. If you want something modern think about replacing a shower curtain with a clear glass wall that will not cut down visually on the size of your bathroom. This would be a good opportunity to do a mosaic tile on your new shower walls for a "wow" factor!
What is trending right now is using glass walls to create a separate room within the bathroom that includes the shower and the soaking tub. Glass is a great option as it allows the natural light to move through the space giving it a larger feeling.
If you want a modern shower but have challenges with mobility, click here to learn about some of the best bathroom solutions that Mobility Plus suggests. The idea should be to choose a shower or bath that is accessible yet stylish and appealing to the eyes.
Consider Minimalist Décor
In the world of design, minimalist décor seems to be getting increasingly popular. It could be because it offers sleek and sophisticated designs that exhibit good use of space. In case you don't know exactly what minimalist design is, it refers to the use of industrial materials and geometric forms in an open-concept space and typically consists of a monochromatic color scheme.
Your bathroom can become one of your favorite rooms if it's well designed. You should create something that is expressive of who you are and what you like visually. Most importantly, it should provide all of the comforts that an ideal and modern bathroom can.
Other Posts You Might Enjoy:
How to Design a Minimalist Home Office
Top Tips for Creating a Modern Home
Design Projects: 3 Unique Mediums in Which Designers Work
Share This Story, Choose Your Platform!