I just want to first say that Memorial Day is a holiday to honor the men and women who died in active military service defending this country's right to freedom. My father was a U.S. Air Force officer in World War II and the Korean war. I miss and love him dearly. I will think about my dad and the countless other heroes this Memorial Day.
Hot Dog Recipes With a HealthyTwist
Make sure you start with an all beef frank for the healthiest hot dog recipes. I always try to go organic if possible to avoid unhealthy fillers and preservatives.

Who doesn't love a good hot dog? Healthy hot dogs are my menu of choice for a Memorial Day celebration. I like to invite friends and ask them to bring ingredients for preparing a healthy topping we could all share on our dogs. Cooking is fun and when done together it makes for a fun party celebration
Prepare Together
An island kitchen is perfect for this type of interactive party, you can spread out and all pitch in while preparing the hot dog recipes.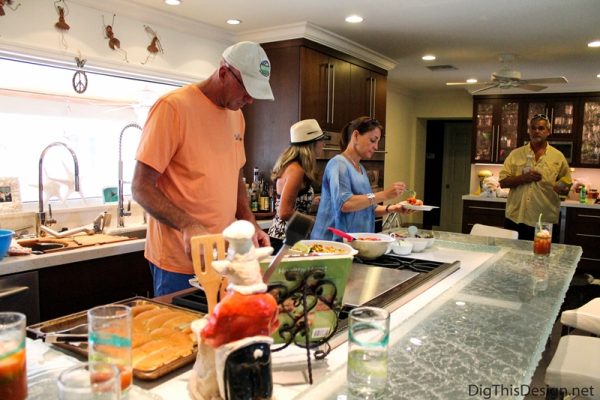 It works out well if you delegate tasks such as someone cutting up the vegetables and fruits, another manning the drink bar. My husband Lee loves to use his griddle so he is always the griddle master.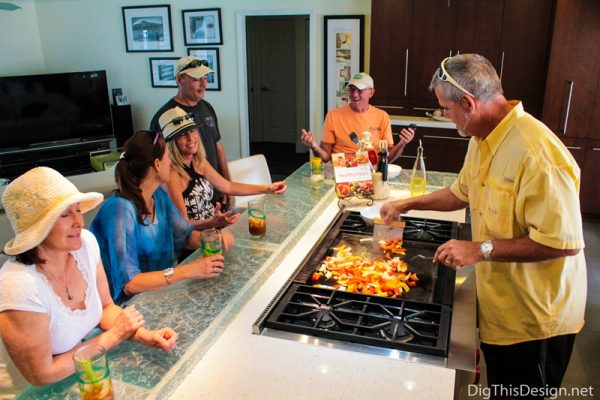 Try a Little of Everything
I think the best way to serve your guest at a gourmet hot dog party is to set it up buffet style. This gives everyone the freedom to create their own dogs just the way they like them.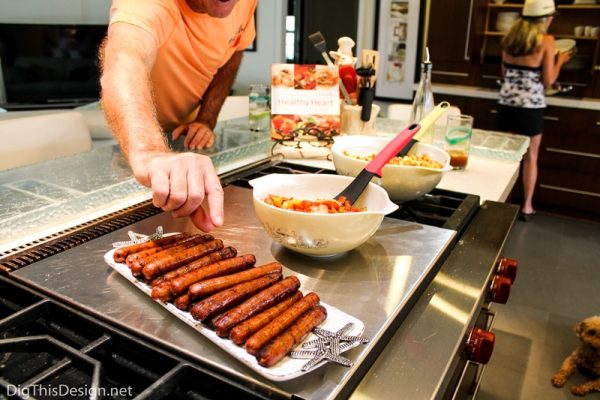 We had three healthy toppings and that was the right amount to be able to try them all. You could also cut a dog in half if three dogs are too much food for you, that way they are kind of like mini dog sliders.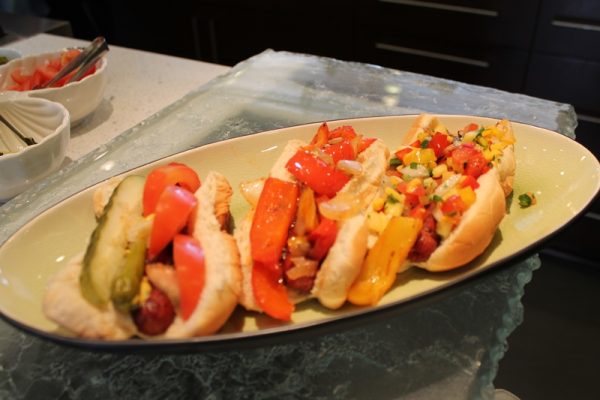 Share Toppings – Hot Dog Recipes
The Chicago Dog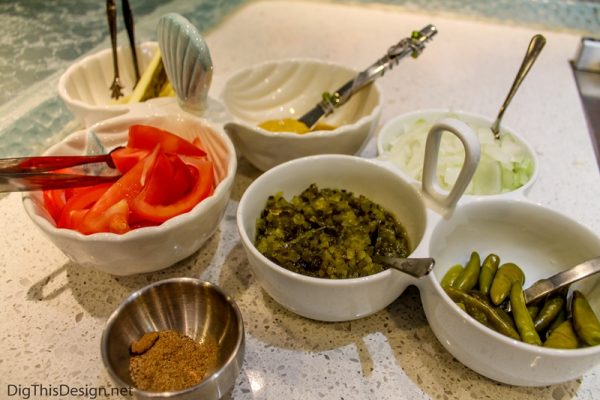 Ingredients
1 all beef hot dog
1 hot dog bun
1 tablespoon yellow mustard
1 tablespoon sweet green pickle relish
1 tablespoon chopped onion
4 tomato wedges
1dill pickle spear
2 sport peppers
1 dash celery salt
Directions
Place hot dog in a steamed bun. Apply toppings in this order:
yellow mustard, sweet green pickle relish, onion, tomato wedges, pickle spear, sport peppers, and celery salt. Nestle the tomatoes between the hot dog and the top of the bun. Place the pickle between the hot dog and the bottom of the bun.
Fruit Salsa 
Ingredients
2 mangos, peeled, seeded and chopped (fresh or frozen)
2 small peaches, halved, pitted, and cut into 1/2 inch dices
1 cup diced fresh pineapple
4 tomatoes, chopped
1 white onion, diced
1 red bell pepper, diced
1 yellow bell pepper, diced
1 cup chopped fresh cilantro
1 clove garlic, minced
2 tablespoons lime juice
1 teaspoon salt
3/4 cup water
Directions
Place first 8 ingredients in a mixing bowl. Stir in the garlic, lime juice, salt, and water. Cover and refrigerate at least one hour before serving.
Fajita Style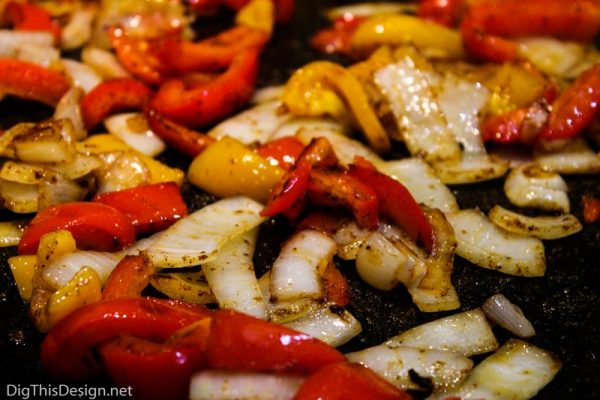 Ingredients 
1 red bell pepper, chopped
1 yellow bell pepper, chopped
1 sweet onion, chopped
3 tablespoons olive oil
1 tablespoon cornstarch
2 teaspoons chili powder
1 teaspoons chili powder
1 teaspoon salt
1 teaspoon paprika
1 teaspoon white sugar
1/2 teaspoon onion powder
1/2 teaspoon garlic powder
1/4 teaspoon cayenne pepper
1/2 teaspoon ground cumin
Directions for Seasoning
Stir cornstarch, chili powder, salt, paprika, sugar, onion powder, garlic powder, cayenne pepper, and cumin together in a small bowl.
Directions for Pepers and Onions
Slice peppers.
Cut onion in half and then in half again.
Heat griddle to medium heat and add olive oil.
Once griddle is hot  add  peppers and onions to sauté.
Season with your fajita seasoning to your liking.
Dogs kind of party!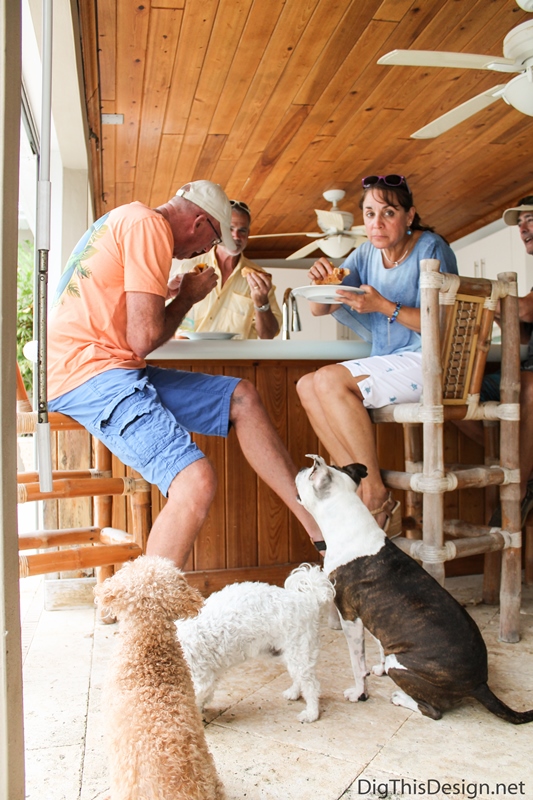 Other posts you might enjoy:
Share This Story, Choose Your Platform!