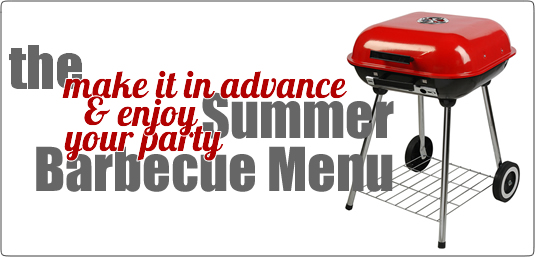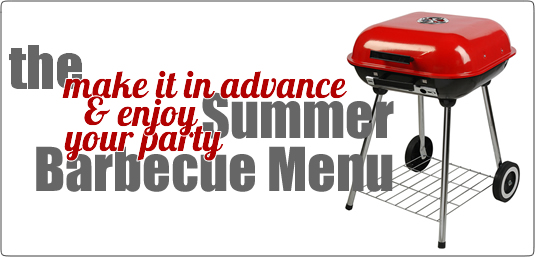 Backyard barbecues are in full swing and we want to be sure that you're out enjoying the party and not stuck in the kitchen. So, we've put together this summer barbecue menu of three delicious courses you can prepare in advance (the night before even!) and bring out when you're ready to grill and eat.
Main Dish: Pork and Pineapple Kabobs
We got this recipe from Kraft – so we know it's not only delicious and easy to make, but it's also got a good chance of being a kid-pleaser too! You can assemble these kabobs earlier in the day, or the night before and bring them out when you're ready to grill.
Ingredients
1/2 cup Kraft Original BBQ Sauce
2 Tbsp. Dijon mustard
1 Tbsp. finely chopped fresh rosemary
1 lb. (450 g) boneless pork chops, cut into 1-inch pieces
1 cup fresh pineapple chunks (1 inch)
1 cup green pepper squares (1 inch)
1/2 cup red onion chunks (1 inch)
Directions
MIX first 3 ingredients. Reserve 1/4 cup sauce for later use. Pour remaining sauce over chops in shallow dish; turn chops over to coat both sides of each. Refrigerate 15 min. to marinate.
HEAT barbecue to medium-high heat. Remove meat from marinade; discard marinade. Thread meat onto 8 skewers alternately with pineapple, peppers and onions.
GRILL 12 to 14 min. or until meat is done, turning occasionally and brushing with reserved sauce.
Side Dish: Bacon Potato Bundles
We found this recipe on AllRecipes.com – with "bacon" in the title, we couldn't pass it up! Plus, it's really easy to make and you can put it all together in advance and just bring it out when you're ready to grill.
Ingredients
4 large baking potatoes, peeled and quartered
8 slices onion
8 green peppers, sliced
4 bacon strips
salt and pepper to taste
Directions
Place the potatoes on four pieces of greased heavy-duty aluminum foil. Place onion and green pepper between potato quarters; top with bacon. Sprinkle with salt and pepper. Wrap in foil. Grill, covered, over medium-high heat for 40-50 minutes or until the potatoes are tender, turning once.
Dessert: No-Bake Chocolate Peanut Butter Refrigerator Cake
When it's hot outside, the last thing you want to do is turn on the oven! So, we found this no-bake recipe for cake (it's clever – you'll see!) from Woman's Day.
Ingredients
2 1/2 cup(s) heavy (whipping) cream
1 bag(s) (10 oz) peanut butter chips
18 whole(s) chocolate graham crackers
Directions
Heat 2⁄3 cup cream in a large microwave-safe bowl until steaming. Add chips; whisk until smooth. Slowly whisk in remaining cream. Chill 15 minutes.
Beat with mixer just until soft peaks form. Arrange 3 crackers, side by side, long edges touching, on serving plate. Spread evenly with 1⁄2 cup cream mixture. Repeat for 4 more layers; add 1 more layer crackers. Chill 1 hour. Chill remaining cream.
Spread top and sides of cake with cream. Chill 4 hours or up to 2 days.
Decorate with peanut butter chips, if desired. Slice with a serrated knife using a sawing motion.
(Photo by Mark Ferri)