Whereas many people use their microwave solely for popcorn or reheating leftovers, you might be surprised at the capabilities of this cooking machine. Try one of the following quick and simple microwave recipes to expand your notion of what this powerhouse can accomplish.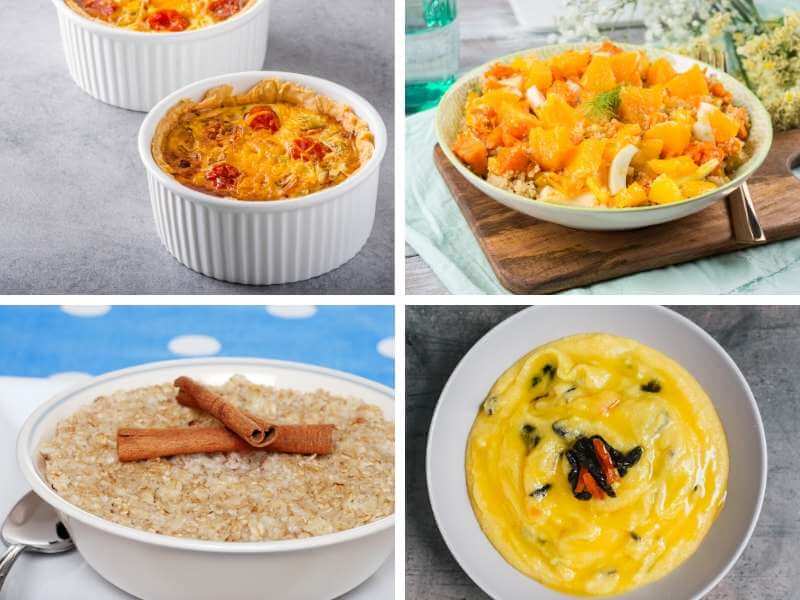 1 • One-Minute Quiche
Combine an egg, 1 teaspoon melted unsalted butter, 1 1/2 tablespoons milk or milk substitute, a pinch of salt and pepper in a mug and whisk until smooth. Add 4 small halved grape tomatoes, 1/8 cup torn fresh bread pieces, 1 tablespoon grated cheese, and 1 teaspoon chopped fresh herbs (chives or Italian parsley work great). Before microwaving, make sure the added items are evenly dispersed and not sitting at the bottom. Heat for 1 minute and bon appétit!
2 • Perfect Polenta
Place 1/2 cup cornmeal (finely ground), 2 teaspoons oil, 1 garlic clove (minced), 1-teaspoon fresh thyme, a dash of salt, and 1 3/4 cups of water in a sizable microwave safe dish. Heat on high for 2 1/2 minutes. Remove, stir and heat for 2 1/2 more minutes – or until thick and there are minimal amounts of excess water. Put aside for 1 minute and then add 1/3 cup grated cheese.
3 • Easy Oatmeal
Combine 1/2 cup rolled oats, ½-cup milk or milk substitute, 1-tablespoon nut butter and a dash of cinnamon. Cook on high for 1 minute, stir, and heat for an additional minute, or until creamy and tender. Top with bananas and/or berries.
4 • Fast French Toast
Cube one or two pieces of bread (any type) and place inside a mug that you've buttered the inside of. Press it down a bit. In a different cup combine an egg, 2 tablespoons milk or milk substitute, a dash of cinnamon, one drop of vanilla extract (optional) and mix well. Add it to the cup with the bread, giving it a minute to soak and absorb. Microwave for 1 minute, heating in 10-second increments until it's fully cooked and your eggs are no longer runny. Serve with syrup.
5 • Orange Quinoa
Mix together 1-cup quinoa, 1-cup water, 1 1/4 cups orange juice, and 1 teaspoon dried thyme in a microwave-safe bowl. Heat on high (covered) for 8 minutes. Remove cover, stir and heat an additional 6 minutes. If called for, continue microwaving in 1-minute spans (adding extra liquid if necessary) until cooked.
Images Courtesy of Canva.
Share This Story, Choose Your Platform!