Your home improvements can make a difference to your home's value. A well-maintained home façade has a better curb appeal and can enhance the overall value of your home.  Whether you're planning to sell your home or just update it, now is the time for a home exterior upgrade.
Home Improvements that Add Value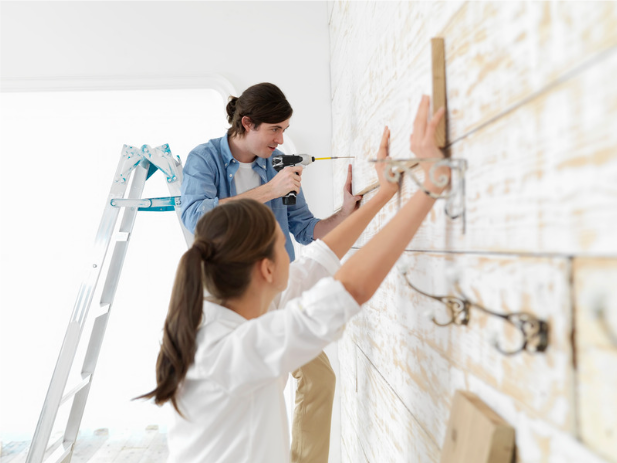 As you renovate your home, it's essential to weigh the pros and cons of each upgrade you're planning to implement. Keep in mind that not all home exterior upgrades are created equal. While some may increase your home value, others may cost you more with little return on investment.
To help you get started, here are some of the best home improvements that can give your home exterior a makeover and maximize your property's value:
Hire a Professional House Painting Service
Unless you're skilled in painting home exteriors, save yourself the hassle and hire a professional offering house painting service. Applying a fresh coat of paint on your home exterior not only increases your property value but may also give an excellent first impression.
Unlike other home improvements, it's a cost-effective way to transform your home's aesthetic appeal. If your house still looks well-painted, you can consider painting the front door and focusing on the flaking areas. You can also pressure wash the exterior to remove debris, dirt, and grime.
Home Improvements that Matter – Window Replacements
Replacing your home's old windows is another home improvement that can boost your property's value, If your windows are already a decade old they would be more prone to damage. You can be sure that window replacements are always an intelligent investment.
With today's technological advancements, new windows are more energy-efficient and can help cut utility costs. If your windows are energy-efficient, your heating and cooling system can quickly keep your home's temperature comfortable and consistent.
Update Your Garage Door
A scuffed garage door can be a major deal breaker for some prospective buyers. It's one of the evident elements in your home that can be seen easily from the street. Updating your garage door can increase the value of your home as it improves curb appeal.
There are some ways to update your garage door. Rather than replacing it with a new one, you can repaint it to look better. Not only is it cost-effective, but it also makes your garage door look nicer.
Overlooked Home Improvements – Outdoor Lighting
Nothing can improve a property's ambiance like good outdoor lighting. While they only function at night, they can significantly alter your house's exterior appeal. For instance, ground lights can highlight tall plants or trees and porch lights can give your front entryway a welcoming glow. Exterior lighting can highlight your exterior architecture.
The better your home exterior looks, the higher the chances you'll sell your property at top dollar. If you have the budget, add new outdoor lights to elevate your property's overall appeal.
Landscaping
Landscaping is an essential component of any home. It can frame your home's exterior while also increasing its curb appeal. Most homebuyers prefer a landscaped home over unkempt yards if you're selling your home.
However, regarding landscaping, you must remember that it goes beyond simply choosing what shrubs or flowers to plant in the ground. With that, it may be best to consider hiring a landscape professional to ensure the best outcome.
Energy Efficient Home Improvement – Replacing Siding
If your siding doesn't look good and you want to bring charm to your home exterior, consider replacing it with a new siding. It's another worthwhile home improvement because of its benefits, such as increased property value and energy efficiency. Depending on your budget, you can opt for the insulated vinyl or fiber-cement siding, which is energy-efficient and offers your home exterior a fresh look. 
Conclusion
These are just some of the many home improvements you can consider to boost your property's value. While you have the freedom to choose any upgrade for your home, it's best to assess your needs and budget to get your desired results. More importantly, consult design and construction materials to ensure quality in your home upgrade project.
Other posts you might enjoy:
How New Gutters Can Boost Your Property Value
5 Tips and Tricks to Concrete Projects at Home
Remodeling on a Budget – Tips to Create a dream Living Space
Share This Story, Choose Your Platform!