Many homeowners install garage doors because of safety reasons. However, garage doors are not only for adding an extra layer of security in houses.
For instance, homeowners who wish to sell their properties must realize that the garage door plays a critical role in home value. Not only that, but it is also an integral part of your curb appeal!
Therefore, we caution you to include a beautiful well-though-out garage door design with which we believe you will agree after reading these four reasons.
4 Reasons Why Your Garage Door Design Matters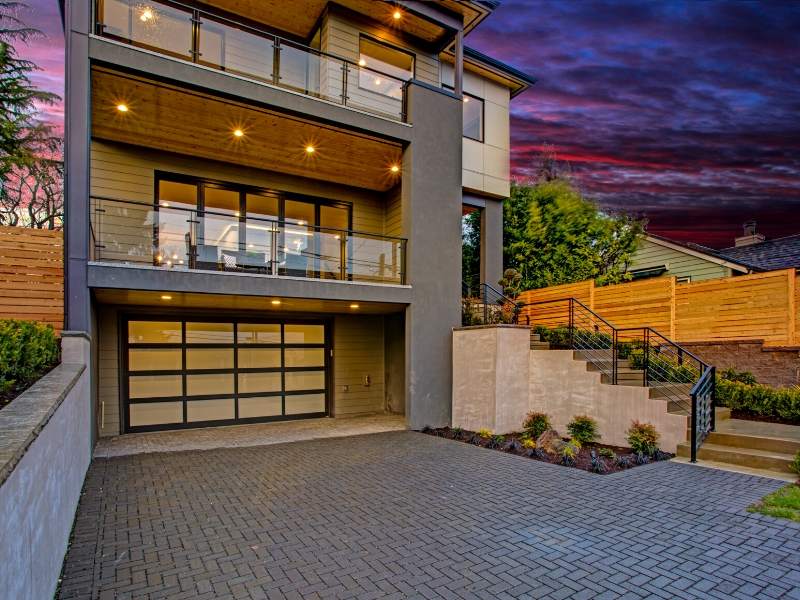 ⎆ Improves Curb Appeal
These entryways are considerably large, and these doors bring a cohesive quality to a home's exterior. Garage door designs also deliver balance to a dwelling's exterior aesthetics, especially since the doorway creates a significant presence when looking at the property from outside.
The right garage door should complement other design elements to establish a visual harmony. Several homebuyers admire this coherence, which makes your property more appealing than other homes for sale in the neighborhood.
You may also gain a relatively high price for your home with the right garage door design. But, don't forget about garage door maintenance to help keep the beauty of this doorway. It may not matter if the large entryway matches other exterior design elements if it looks banged up.
⎆ Matches the Materials for Exteriors
Garage door design doesn't only encompass the looks of the doorway. Thus, don't forget about the material of the door to maintain the proper balance for your home's exteriors.
Imagine the following scenario: perhaps you live in a home that is made out of a combination of wood and concrete. However, your current garage door has a steel construction. The imbalance of materials creates a disharmonious contrast that may put unwanted focus to the garage door.
In other words, you'd want people to notice your garage door, but you shouldn't disregard the other design elements of your house's exteriors. Therefore, you must match the material of your garage doorway to the other components of the dwelling.
So, if your home has a wood and concrete construction, opt for installing a wooden garage door. Consider garage door replacement if the materials of the entryway clash with the components of the rest of the property.
⎆ Restore an Original Charm
Old homes may have gone through several renovations and design changes from different owners. You might not get the garage door design you want once you buy a property developed over half-a-century ago.
A modern-looking garage door may not fit a dwelling with a vintage design. Perhaps you bought the property at a low price, but now you want to change the garage doorway to restore the classic beauty of the home.
Thankfully, that objective isn't impossible to achieve. Choose between a range of garage door designs to match the vintage charm of the rest of the abode. Select from materials like African Mahogany and Ironwood with a four- or five-layer construction to help restore the distinct style and quality of the garage door and your home's exteriors.
⎆ Extra Features
A gorgeous garage door doesn't mean it can't bring extra functionality to household members. Today, many garage door manufacturers develop additional features to their products for the convenience of homeowners.
For instance, you might be using your garage as an extra room for guests. If so, a garage doorway with adequate levels of insulation should provide sufficient heat to individuals staying in the room during the cold months.
Another feature to consider is glazing. Many garage doors now have windows to help complement the clean-lined geometry found in several modern architectures. Glazed panels present household members with an abundance of natural light to enter the garage during the day. At night, the doors emit a warm glow when lit from behind.
Reliable garage door manufacturers may also offer customization options for their customers. For example, consider applying tint to the doorway's glazing to add an extra layer of privacy to the room.
The right design may also help reduce energy consumption in your garage. A garage that allows entry for natural light reduces the number of times you need to turn the lights in the room. Moreover, a garage door with proper insulation helps reduce the costs of using heat for the property.
Conclusion
Think about the garage door design when you're planning to install or replace this entryway. The door you pick should match exterior design elements and provide household members and guests with the necessary features for accessibility and comfort.
Ask a reliable garage door company today about your choices, so you won't have to worry about saving face when flaunting the harmonious aesthetics of your abode.
How To Get Rid Of Bed Bugs, Rats and Pigeons
6 Types of Architects: Choosing The Right One For Your Project
How Modern City Property is Developing in 2020
Aesthetics and Security: 8 Steps to Select the Perfect Fence for Your Home
Share This Story, Choose Your Platform!