There are dozens of popular money-making ideas that always emerge, from online poker to selling your Beanie Babies collection. Do they work? Are they worth it? Can I make extra money from selling them?
The thing is, with a 9 to 5 job you might make more money and it's guaranteed however a part-time online job definitely helps increase your yearly income.  
In actual fact, online money can be made in real ways — millions of individuals do this every day. There are lots of ways to make extra money that you can explore at home with your laptop and an internet connection, from being an independent digital nomad to a growing entrepreneur. If you want to make extra money, continue reading to learn for some interesting suggestions.
Need Extra Money? Try These Ideas!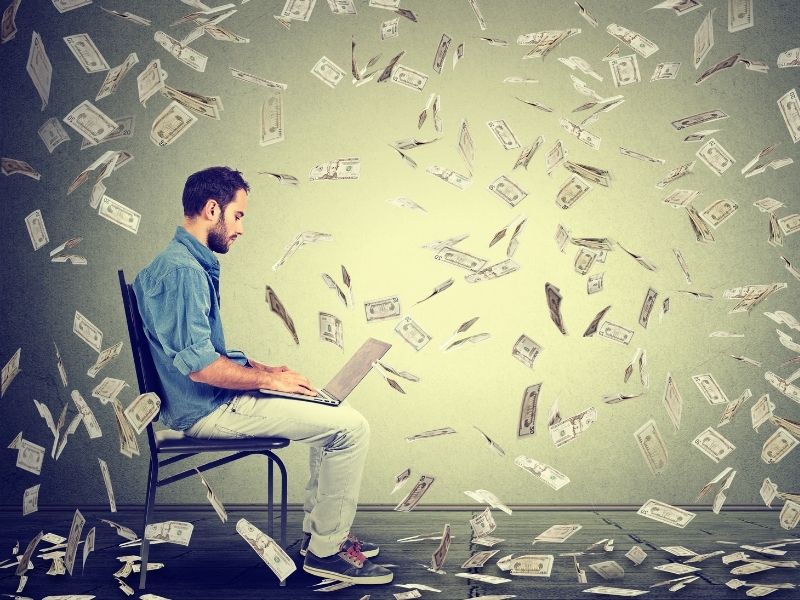 1. Affiliate marketing. 
Affiliate marketing is one of the most popular online money-making methods. Over the years, its popularity has gone up and down, but it remains a steady means of making money online. The best thing about affiliate marketing is that many companies, from Shopify, Amazon, and Uber to FabFitFun, offer affiliate programs.
Affiliate marketing enables you to make a living through the promotion of other products. You can earn a profit for sales by marketing retail products, software, applications, and more if you are a knowledgeable marketer. While the commissions are modest, remember that you may be an affiliate for various brands and include multiple affiliate links on one blog article.
If you really want to make affiliate marketing create money online, it is essential to concentrate on content marketing. You essentially develop an asset or market you can fit yourself into by building a blog with multiple high-quality content pages.
2. Create an online course. 
Knowledge sharing is one of the best ways of making money online. You can increase your share of knowledge through the creation of online courses if you are an expert on a topic. You can offer your course at Udemy or if you already have an online audience you can offer it on your own social media or website. In selling online courses, some businesses earn up to $5,000 a month. It is also a passive income where you are earning money. 
To start creating a course the best bet is to take another course on the subject, if you enjoy it you can use that as a template to produce a similar, even better course. Try to recognize the things you liked in the course and could have been improved. After you have released your course you will also want to have a space for feedback and reviews. Then concentrate on developing material to fix major complaints and emulate positive parts that consumers enjoy.
You can select how you want customers to pay for the course on the site you release it on. You don't have to do anything to promote it when you sell your course on Udemy. It virtually can be set up and forgotten. If you are releasing it on your own website you need to do more work to promote it. You might also run ads to promote the course if the course is housed on your own website. You may also develop an email list for the same audience to continue supporting future courses.
3. Freelancing. 
The best method to make extra money is to take your 9 – 5 job and do it online. You may, for instance, promote your skills and locate online clients who are ready to pay for them. Whether you are an author, administrative assistant, graphic designer, instructor, or developer, you will be able to find online freelance work.
For each industry of freelance work, there is an infinite array of websites. There are freelance sites, such as Fiverr, Freelancer, Upwork, and others where you can apply for tasks on specific online job boards. You will be able to sell the additional transferable skills you might have to increase your income stream and get more jobs.
You need to start establishing a good portfolio and resume to generate money as a freelancer online. This could mean doing some free work for some well-known mid-level brands. You can start approaching potential major customers online to earn additional money if you have a good portfolio. Remember, freelancing is a numbers game: the more applications you fill out or proposals you submit – the more likely you are to receive a reply.
4. Learn strategies and play casino games.
If you aren't up to date with the opportunities that online casinos have created for many people you may be surprised that a live casino is no longer only for passing time. Many people actually make cash from playing games like blackjack and baccarat online – especially if you're good at it. 
If you know how to make the most of your wins you can easily become someone who profits. Spend time on simulation apps and sites to learn strategies before moving on to playing with real money. Online casinos such as Energy Casino offer a range of games to choose from. The key to increasing your chances of winning is to choose one type of casino game, stick to it and become a better player. 
5. Put your writing skills to use. 
More brands are looking for skilled writers to develop content, with an increasing interest in content marketing. Having a niche is the secret to creating success as a writer. A lot of authors are generalists, from cuisine to technology, writing for a wide range of areas. But with a particular emphasis on your writing and knowledge, you can create superior information to write about and therefore sell.
You bring a different perspective for content when you have experience in the field. Then your articles are more genuine and marketable. This is precisely what brands want to pay for – your opinions, experiences, and information in your field.
If someone requests a sample to write a marketing sample, send a marketing sample, not an article about finance. It is difficult for an employment manager if they cannot see a suitable sample of writing. They need it in order to know how well you grasp the particular business. So, continue to use your skills to take advantage of experience-friendly opportunities.
In conclusion.
Use these interesting suggestions to make extra money when you need it. Set up your systems and stick with it until it starts paying off. If you have any questions or suggestions, we always love to hear from you in the comments below. Also below are links to more fantastic articles about ALL things DESIGN for your home or business.
Images Courtesy of Canva.
Other Posts You Might Enjoy:
4 Expert Steps to a Fabulous Garden Makeover
Make Your Move Simpler By Using Technology
Top 5 Mistakes that 1st Time Home Buyers Make
How Much Money Rooftop Solar Systems Can Save
https://digthisdesign.net/wp-content/uploads/2021/09/Easy-Ways-To-Make-Extra-Money-Online1.jpg
788
940
Susan Daniels
http://development.digthisdesign.net/wp-content/uploads/2016/11/OLD_DigThisDesign_logo.jpg
Susan Daniels
2021-09-06 01:00:00
2021-09-05 11:29:13
Easy Ways To Make Extra Money Online