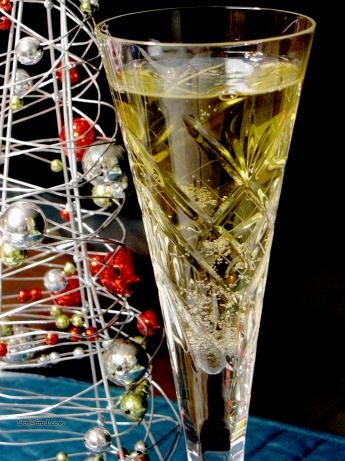 Only a few more days till our nations celebration of freedom, patriotism, and liberty!  What a way to spend this holiday than with family, friends, and loved ones.  During this celebration a little adult drinking has been known to happen and what ways can you make your drinks or cocktails stand out from the rest.  Today we have some beautiful cocktail inspirations with recipes to make your
fourth of July
one to remember.
Fourth Of July Cocktail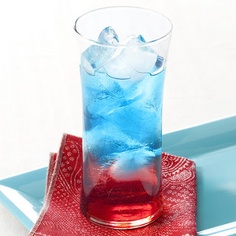 Ingredients
1 ounce watermelon schnapps
1 big splash cranberry juice
1 very thin slice jalapeno or serrano pepper
1 slice lemon
1 slice lime
1 1/2 ounces tequila
1/4 ounce blue curacao
1/2 ounce simple syrup
Watermelon wedge, for garnish (optional)
Directions
Mix the schnapps and cranberry juice in a shaker

Pour into an ice-filled glass.

Muddle the jalapeno pepper, lemon and lime slices, tequila, blue curacao and simple syrup (to make a batch, dissolve sugar in equal parts hot water and chill) in the shaker.

Slowly strain into the glass over the red layer.

Garnish with watermelon, if desired.
This recipe was found at foodnetwork.com
Star Spangled Gourmet Shots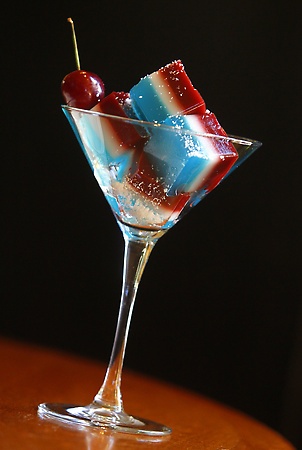 (Dig This Cocktail On Pinterest)
Ingredients
One layer of bing cherry puree with agar
Second Layer is Coconut milk
Third layer is Blue Curacao liqueur and Rum
A fresh coconut garnish and a bing cherry (Optional)
Patriot Jello Shots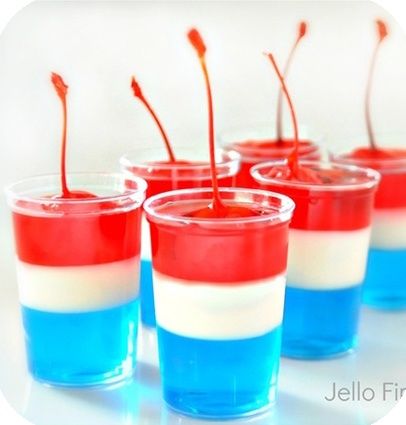 (Dig This Cocktail On Pinterest)
Ingredients
You'll need 50 1oz plastic cups, or 25 2oz cups
Red & Blue layers:
3oz box of red Jello
3oz box of blue Jello
2 cups vodka
2 cups water
White layer:
2/3 cup heavy cream
2/3 cup milk
2/3 cup vanilla vodka
1/4 cup sugar
1 teaspoon vanilla extract
1 1/2 teaspoons Knox powdered gelatin
1 1/2 tablespoons water
Directions
Blue layer; Heat 1 cup water, add blue Jello mix, stir until dissolved. Add 1 cup vodka, stir. NOTE; this recipe is pretty strong. If you want less intense jello shots I would go with 1 1/4 cups water to 3/4 cups vodka. I wouldn't make them any stronger though, because the gelatin in the jello needs the water to set the alcohol. Not enough water, and they might not set.
Distribute evenly into 50 1oz cups, filling only 1/3 full, then refrigerate until set, about 1-2 hours.
Next is the white layer; this is the most difficult part of these tricolor shots! Place powdered gelatin and water in small bowl, let soak for 5 minutes to allow the gelatin to "bloom". In a medium saucepan, heat cream, milk, sugar and vanilla extract to a simmer, stirring occasionally. Remove from heat, add gelatin and stir to dissolve. Add vanilla vodka. Let cool 10-15 minutes before topping blue layer.
Once blue layer is set and the white mixture has cooled, pour an equal amount of the white mixture on top of the blue. You're almost there!
Finally the red layer; it is the same exact thing as the blue. Heat 1 cup water, add red Jello mix, stir until dissolved. Add 1 cup vodka, stir. Cool 5-10 minutes.
Once the white layer has set, and red mixture cooled, fill the cups the rest of the way until full. Refrigerate until set, about 1-2 hours.
7. Enjoy some patriotic jello shots!! Garnish with mini flags on toothpicks. Looks super cute, plus using the toothpick to release the jello from the sides of the plastic cup makes it come out easily without breaking apart.
Recipe found on holiblogs.com
Apple Sparkler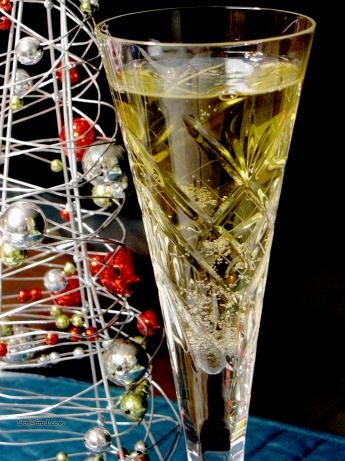 (Dig This Cocktail On Pinterest)
Ingredients
1 ounce brandy

1/2 cup apple juice (the better the juice, the better the cocktail!)

4 tablespoons soda water

apple, thin slices, to garnish
Directions
Fill a martini shaker halfway with ice cubes.

Add brandy and apple juice.

Cover and shake vigorously until very cold.

Strain into 2 champagne glasses.

Add 2 tablespoons soda water into each glass and garnish with apple slices.
Recipe found on Food.com
https://digthisdesign.net/wp-content/uploads/2013/07/178c6d0c7011cf86f60f021f421980bd.jpg
461
345
Patricia Davis Brown
http://development.digthisdesign.net/wp-content/uploads/2016/11/OLD_DigThisDesign_logo.jpg
Patricia Davis Brown
2013-07-02 12:15:03
2017-02-25 09:32:22
4th Of July Cocktails